Marcelo Lotufo – Craig M. Cogut Dissertation Fellowship
Marcelo Lotufo is a Comparative Literature Ph.D student at Brown University. He received his B.A. from the State University of Campinas, Brazil and a M.A. in Comparative Literature from Brown University. His Ph.D dissertation reexamines the role of literature in the nation building processes of Brazil and Argentina through the lens of contemporary debates on the relationship between aesthetics and politics. Marcelo's research interests include critical theory, postcolonial studies, power relations between North and South or center and periphery, Latin American literature, and literary criticism. He has published articles and reviews in several academic journals such as Hispania, Elipsis, Brazil/Brasil and Remate de Males. Marcelo is also interested in contemporary Brazilian and American literature and is currently translating a collection of John Yau's poetry into Portuguese.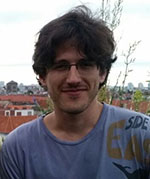 ---
Justina Hwang - Craig M. Cogut Dissertation Fellowship
Justina Hwang is a PhD candidate in the History Department. She has a B.A. in History from the University of California, Irvine, with a focus on Latin American history and a M.A. in Latin American history from Brown University. Her research interests are modern Latin American History, the Cold War, Social Revolution, modern Taiwanese history, and Chinese Diaspora(s). Her dissertation project examines the Republic of China's international relations with South and Central America during the Cold War period.