The International Relations Department Undergraduate Group (IR DUG) is an organization consisting of IR concentrators and potential concentrators. The DUG is intended to be both a resource for students exploring the IR concentration and a means of organizing events of interest to IR concentrators or others interested in international relations.
IR DUG Leaders
Drashti Brahmbhatt '19 (studying abroad fall '17)
At Brown, by studying International Relations, I hope to gain a multidisciplinary understanding of global issues through the lenses of anthropology, political science, economics and history. After studying abroad in Turkey and Azerbaijan, my appreciation for foreign relations spiked and since then, I have been dedicating myself to studying languages, politics, and humanitarian crises that affect the world. In the future I hope to use my IR degree to work in the UN, State Department or a think tank.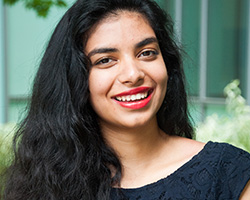 Saanya Jain '19
I was born in India but grew up in Tunisia. My experiences there have shaped my desire to empower communities through social entrepreneurship, a goal that I hope to further through a multidisciplinary path in the IR Program. At Brown, I have been able to explore refugee issues in classes as well as by writing for The College Hill Independent. As a part of the IR DUG, I hope to create more awareness about the program and create a supportive community for concentrators.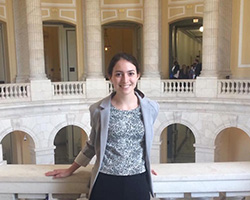 Isabela Karibjanian '19
At Brown, the IR curriculum has allowed me to explore my passion for understanding the intersection of human rights, security, and governance, and has provided me with the tools I need to view these issues from an interdisciplinary perspective. As a member of the IR DUG, I hope to help foster community within the concentration and promote inclusivity. Next semester, I will be studying abroad in France at L'Institut d'études politiques de Lyon, and I hope to eventually use my IR degree in a policymaking or public service capacity.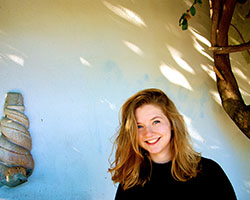 Amélie-Sophie Vavrovsky '18
Living and connecting with people from all over the world has instilled in me a deep sense of global social responsibility. Since my sophomore year, I have had the immense privilege of conducting research with Watson´s outstanding faculty members. Brown´s International Relations program equips me with both the necessary quantitative and qualitative analysis skills for policy making while also constantly feeding my curiosity and encouraging me to explore new fields of study. Looking forward, I hope to use my IR degree to better serve our world-community and help draft fairer policies working at the European Union or the Ministry of Foreign Affairs at home in Austria.
IR DUG Activities
Annual themed speaker series
Concentration information sessions and social events
Professor dinners
Advising hours
Degree days events