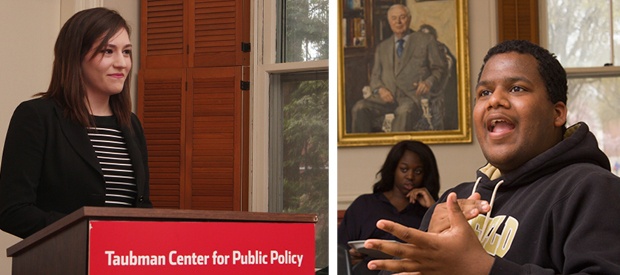 Why public policy?

Real-world relevance.
The policy issues of the twenty-first century are as pressing as they are interconnected. They manifest and are apparent in the latest scholarship, in the national and international news, and also on the streets, and the balance sheets, of Providence. Through internships (many of which are fully funded), Brown's engaged scholar program, and classes taught by a diverse faculty with enormous practical experience as well as outstanding academic credentials, students who opt for a public policy concentration learn to apply their skills and perspectives on the ground, and thus gain valuable professional preparation.
Commitment to positive social change.
In keeping with Brown University's mission, the public policy concentration draws faculty and students with a commitment to service in its broadest sense.  Now housed at the Watson Institute for International and Public Affairs, the concentration is built around the normative principle that knowledge and understanding are key assets in building a just and peaceful world.
Multidisciplinary thinking.
Brown's public policy concentration draws from expertise in different academic and professional disciplines.  Working closely with the advising team, students will develop their own curriculum of study that integrates core courses, electives and a capstone experience to develop a toolbox of practical, analytical,and presentational skills.  These will likely encompass data fluency, survey methods, data coding, ethnographic interview methods, discourse analysis, effective team and project management, and op-ed and memo writing.
You'll emerge with:
a command of the fundamental tools of policy analysis, including case studies, survey research, and statistical analysis.
an understanding of the role of institutions in policy making and implementation.
subject-area knowledge in an area of your choice, including education, health care, social welfare, criminal justice, urban challenges, and aging.
Public Policy Program graduates find meaningful work in all levels of government as well as in consulting and nonprofit organizations.
Want to learn more about the concentration?
Sign up for office hours on our contact page!