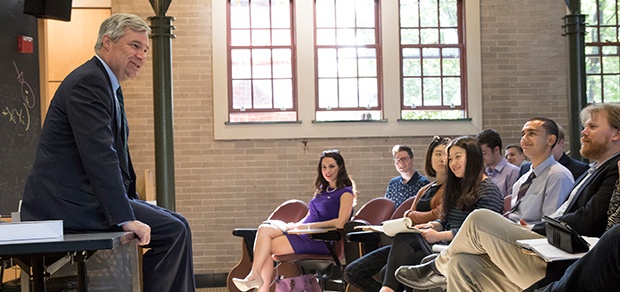 U.S. Senator Sheldon Whitehouse with Brown MPA students.

About the Brown MPA
The Brown Master of Public Affairs (MPA) degree is a one-year (summer – fall – spring) full-time degree that provides students with the analytical foundation and management tools they need to tackle the policy problems of today. The program prepares students for careers spanning public service, all levels of government, NGOs, foundations, and the private sector.
In addition to core courses, students will choose a policy specialization. Students typically identify their specialization after the summer term, though many students will come to Brown with a policy area in mind.
Unique features of the one-year MPA include:
Flexible curriculum that emphasizes analytical skills, domain knowledge, and field experience
Small class size and accessible faculty
High-touch learning experience with dedicated career planning support
Faculty composed of world-renowned researchers and experienced practitioners
Merit-based scholarships
Brown is the only Ivy League institution to offer a one-year MPA