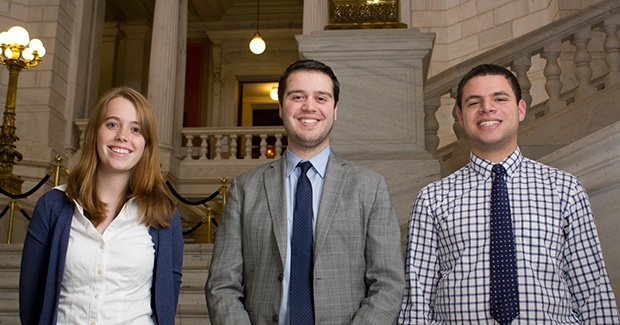 Public Policy interns have worked in the Rhode Island Governor's policy office.
Honors Thesis
A two-semester course [PLCY 1990 and 1991]. Paper and presentation required. See the honors and thesis page for more information.
Independent Study*
Can be taken with any public policy professor. Paper required; presentation optional.
Internship
An internship in the field of public policy can count as your capstone experience, but it must occur in the summer after junior year or during senior year and be approved in advance by your concentration advisor. Presentation required.
UTRA Assistantship or Research Assistantship*
Students can either complete a paper or presentation based on this experience.
Designated Senior Seminar
Any class listed under PLCY 1820 fulfills the capstone requirement. Students may also petition to count a senior seminar offered through political science or international relations.
Students in the Engaged Scholars program should consult with their advisor to ensure that their concentration capstone, chosen from the options above, fulfills the requirements of the Engaged Scholar Program.
* Research and UTRA assistantships must be undertaken with a public policy professor and can take place during the summer of your junior year.