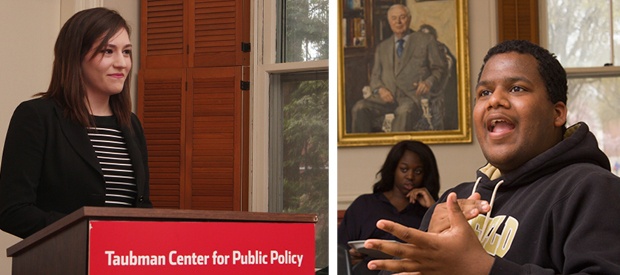 Why public policy?
A concentration in Public Policy develops the skills and confidence needed to tackle the increasingly complex policy issues of the 21st century. Analytical decision-making and an interdisciplinary course of study will prepare you well for any advanced degree or career path you choose. Internships offer valuable professional preparation for all public policy concentrators and an honors/senior thesis program is available for those who excel in their academic coursework.
You'll emerge with:
a command of the fundamental tools of policy analysis, including case studies, survey research, and statistical analysis.
an understanding of the role of institutions in policy making and implementation.
subject-area knowledge in an area of your choice, including education, health care, social welfare, criminal justice, urban challenges, and aging.
Brown Public Policy Program graduates find meaningful work in all levels of government as well as in consulting and non-profit organizations. To help you learn more about careers in public policy, we have compiled an expansive list, Career Resources, of many policy-making organizations in the private, public, and non-profit sectors. Perusing this list will broaden your understanding of the many ways you can leverage your study of public policy to become an agent of positive change in the world.