Izetta Autumn Mobley
Izetta Autumn Mobley is a native Washingtonian with more than 15 years of experience working as a facilitator and social justice educator specializing in organizational climate and development, youth engagement, and diversity and equity. In 2001, she was a Diversity Yes! Kellogg Foundation grantee, exploring the critical connections between equity, multiculturalism, and the service-learning movement. Her work produced a paper on the history and role of Black women in the Civil Rights and community service Movements.
Ms. Mobley has served on several boards, including the National Network for Youth and the now defunct youth journalism organization, Children's Express. In 2000, she helped to organize and conceive the first National Youth Summit, co-sponsored by the National Youth Leadership Council and Points of Light Foundation. Ms. Mobley has appeared on National Public Radio's All Things Considered, Good Morning America, and C-Span.
She has planned, facilitated, and presented in conferences on student diversity leadership, race, gender and sexuality, social justice, and youth empowerment. Prior to pursuing her Ph.D. in American Studies, Izetta created and launched a Diversity Office at a national education nonprofit dedicated to addressing the college access gap, where she served as the organization's first Senior Diversity Officer. Her doctoral research examines the ways in which Black bodies are depicted in visual culture. Her Her most recent work, Micromatic, will be featured in the 2014 Powerlines Journal.
Ms. Mobley has extensive experience within the art field: working with the National Endowment for the Arts, the Institute of Museum and Library Services, and the National Museum of African Art. Ms. Mobley works as a museum educator, community capacity builder, and project manager.
---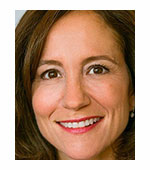 Pamela Reeves
Pamela Reeves, a 1987 Brown graduate and member of the Board of Trustees, advises international organizations, foundations, and companies on building public-private partnerships and developing gender strategies to achieve both business and public purpose results. She is the Senior Advisor for Gender Strategy to the Executive Office of Melinda Gates, and she is the former Director of Secretary of State Hillary Rodham Clinton's International Fund for Women and Girls at the United States Department of State.
Reeves serves as a Senior Fellow in International and Public Affairs and teaches on global women's issues. She has served as senior advisor to the Nike Foundation, where she created the Girl Declaration program and built international support for a global development agenda for adolescent girls.  She advised the United Nations Foundation's Data 2x program, and, earlier in her career, served as the U.N.'s human rights officer in Liberia during that country's civil war. She served as advisor to the election commissions of Guatemala, El Salvador, Nicaragua, Panama, Curacao, Tanzania, Equatorial Guinea, Haiti, and the Palestinian Authority. 
Pamela Reeves is a member of the boards of directors of Women for Women International and the Kakenya Center for Excellence in Kenya. She holds a B.A. in international relations from Brown University and an M.A. in international relations from Yale University.
---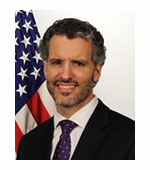 John Tambornino
John Tambornino​'s teaching reflects the animating concerns of his career - political science, public engagement, and social justice – having taught political theory and public policy, and addressed issues of poverty and disadvantage in the U.S., through positions in the Executive Branch, Congress, and in academia. He is Senior Advisor (career staff) in the White House Office of Management and Budget, leading cross-cutting initiatives to strengthen government capacity to use evidence to improve public policy. His prior public service includes serving as Senior Advisor to Congressman Jim McDermott (D-WA) as an APSA Congressional Fellow, serving as Director of Economic Support for Families in the Office of the Secretary at the U.S. Department of Health and Human Services, and in senior career positions at the Social Security Administration and at Health and Human Services.
Through these positions, he has connected social science to policy development and program administration, and developed expertise in poverty, disability, public assistance, social insurance, health care, financial services, and program evaluation. He has been faculty at Western Washington University, New York University, and Johns Hopkins University, where he received the Excellence-in-Teaching Award. His academic writings include The Corporeal Turn: Passion, Necessity, Politics (Rowman & Littlefield); with Jason Frank, Vocations of Political Theory (University of Minnesota Press); articles and essays in Political Theory, Perspectives on Politics, Journal of Political Philosophy, Polity, and Theory & Event; and he has authored a variety of government studies and reports. He earned a BA (Phi Beta Kappa/Magna Cum Laude) in Philosophy and Political Science from Macalester College, and a Ph.D. in Political Science from Johns Hopkins, where he was a James Hart Fellow.
---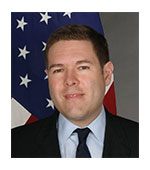 David E. Wade 
David E. Wade is a Fellow at the Carnegie Endowment for International Peace where he works on global climate change, global oceans, and foreign policy issues including the future of the State Department and the 2015 Iran nuclear agreement. He is also a public affairs strategist advising leading global corporations, universities, and organizations, drawing on over two decades spent at the highest levels of the State Department, on Capitol Hill, and on two national presidential campaigns.
Wade was the Chief of Staff to the US Department of State for more than two years. Foreign Policy Magazine described Wade as "the driving force behind the Department's day to day operations… running a huge bureaucracy." Wade was awarded the State Department's highest honor, the Distinguished Honor Award, and appointed by Secretary Kerry to serve on the Foreign Affairs Policy Board.
For five years from 2008 through January, 2013, Wade served in the Senate as a Chief of Staff, overseeing and directing John Kerry's operation as Chairman of the Senate Foreign Relations Committee as well as his broader political operation, including Kerry's work on President Obama's 2012 re-election campaign presidential debate prep.
Wade is a veteran of two presidential campaigns, serving as the National Traveling Press Secretary for John Kerry for President and Kerry-Edwards 2004, and the national spokesperson and traveling communications chief for the successful 2008 vice presidential campaign of Joe Biden.
Wade's opinion and analysis columns have been published in The Atlantic, Reuters Opinion, Foreign Policy, Slate, The Boston Globe, The Hill, Politico, and The Boston Herald.
He is a 1997 graduate of Brown University, and was a 1996 Harry Truman Scholar and 2011 John C. Stennis Fellow. He proudly serves on the Advisory Board to Brown University's Watson Institute for International and Public Affairs and the Board of The American Security Project, and is a Life Member of the Council on Foreign Relations.