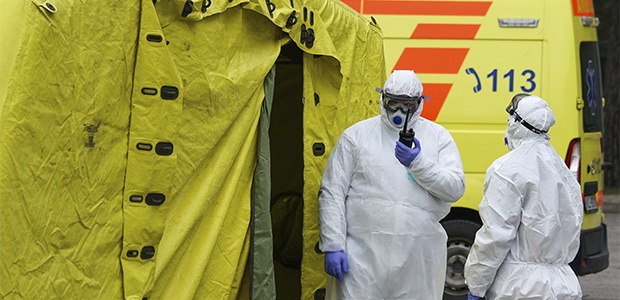 Overview
CHRHS has partnered with Project HOPE to develop and implement a COVID-19 training program for health workers to rapidly scale-up response efforts in high-risk countries. This COVID-19 training teaches and evaluates trainees on core competencies, including biology and transmission mechanisms; infection prevention and control; contact tracing; screening and triage; diagnosis and management; stabilization and resuscitation; health facility operations and surge capacity; and risk communication and public health messaging. The training utilizes the Training-of-Trainers model to engage master trainers and coach new trainers, allowing Project HOPE and CHRHS to quickly build a cadre of competent instructors who can then teach the material to other health workers in their community. To ensure health facilities worldwide can quickly benefit from this training, the curriculum is designed for widespread replication and has been made publicly available.
CHRHS and Project HOPE are now currently rolling out a global COVID Vaccines Training of Trainers course.
Access the Training
Available as a self-paced eLearning for health care professionals, as well as in a training of trainers curriculum, the materials are offered at no cost, so that individuals, providers and health systems can freely access the content.
Full Training of Trainers Program 
The primary audience is trainers of health care workers, public health professionals, health care leadership, and key frontline personnel. Qualified health care professionals who complete the training will be able to train other health workers within their networks to respond rapidly and efficiently to the threat of COVID-19 while also protecting their own health.
Designed for ease of remote access, the curriculum includes downloadable manuals, training modules, videos and more that can be used for self-guided learning as well as in instructor-led educational settings. The training covers the core competencies that will strengthen the capacity of health care workers and other frontline personnel to respond to COVID-19. This includes how to respond in resource-limited environments.
If you have questions contact covid19training@projecthope.org
Complete the brief online form to request access to the COVID-19 training curriculum materials >
eLearning program
COVID-19 Vaccine Training for Health Workers (Disaster Ready) - The training, developed by Project HOPE and Brown University's Center for Human Rights and Humanitarian Studies, follows the World Health Organization's guidelines and vaccination strategy. Participants learn about proper vaccine storage, preparation, and administration. They are also trained on how to respond to questions and concerns raised by local populations. 
COVID-19 Training for Health Workers: Preparedness and Response - Learn to safely and effectively screen, triage, and treat patients with COVID-19 through this FREE online training program provided in collaboration by Project HOPE, DisasterReady, and the Center for Human Rights and Humanitarian Studies at the Watson Institute of Brown University. The primary audience is health workers and public health professionals seeking a self-paced comprehensive training on COVID-19 they can apply immediately in the workplace. The COVID-19 eLearning courses are available on disasterready.org and are adaptions of the larger training curriculum. The modules include knowledge checks to reinforce key information. Each module will take approximately 30 minutes to complete and is available on demand.