Director's Message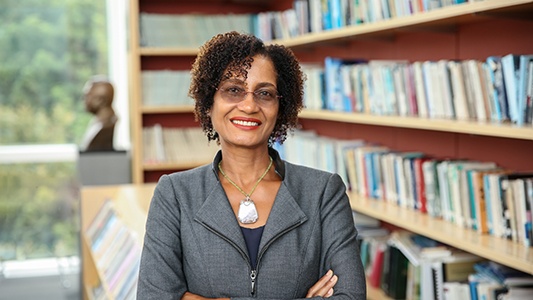 Welcome to the Center for Latin American and Caribbean Studies (CLACS) at Brown!
CLACS, founded in 1984, is Brown's oldest area studies center. Our goal is to create a vibrant community of faculty, graduate students and professionals teaching, researching and working on Latin America, the Caribbean, and the Latinx and Caribbean diasporas. We have over 100 affiliates working in a wide range of disciplines in the humanities, physical and social sciences and medicine who help to drive CLACS's dynamic programming of talks, cultural events and discussions of current events. We encourage interdisciplinarity in the study of these regions by offering an undergraduate concentration and doctoral certificate in Latin American and Caribbean Studies (LACA). Every year, with the generous support of the Craig M. Cogut fund, we host visiting scholars who enrich our teaching and enhance our intellectual community. We also have generous donor support for graduate students working on Latin America and the Caribbean.
We are committed to strengthening our academic community by providing more opportunities for faculty and graduate students at Brown to share their work, opening spaces for more collaborative research and teaching. We are also committed to engaging more closely with our diasporic communities in Providence and Rhode Island.
CLACS is housed in the Watson Institute for International and Public Affairs and is part of a dynamic environment of centers and teaching programs. We contribute to Watson's commitment to promoting a just and peaceful world through research, teaching and public engagement.
Patsy Lewis
Director
Visiting Professor of International and Public Affairs and Faculty Fellow, Watson Institute for International and Public Affairs