Friday, February 7, 2020
1:00 – 6:00 p.m.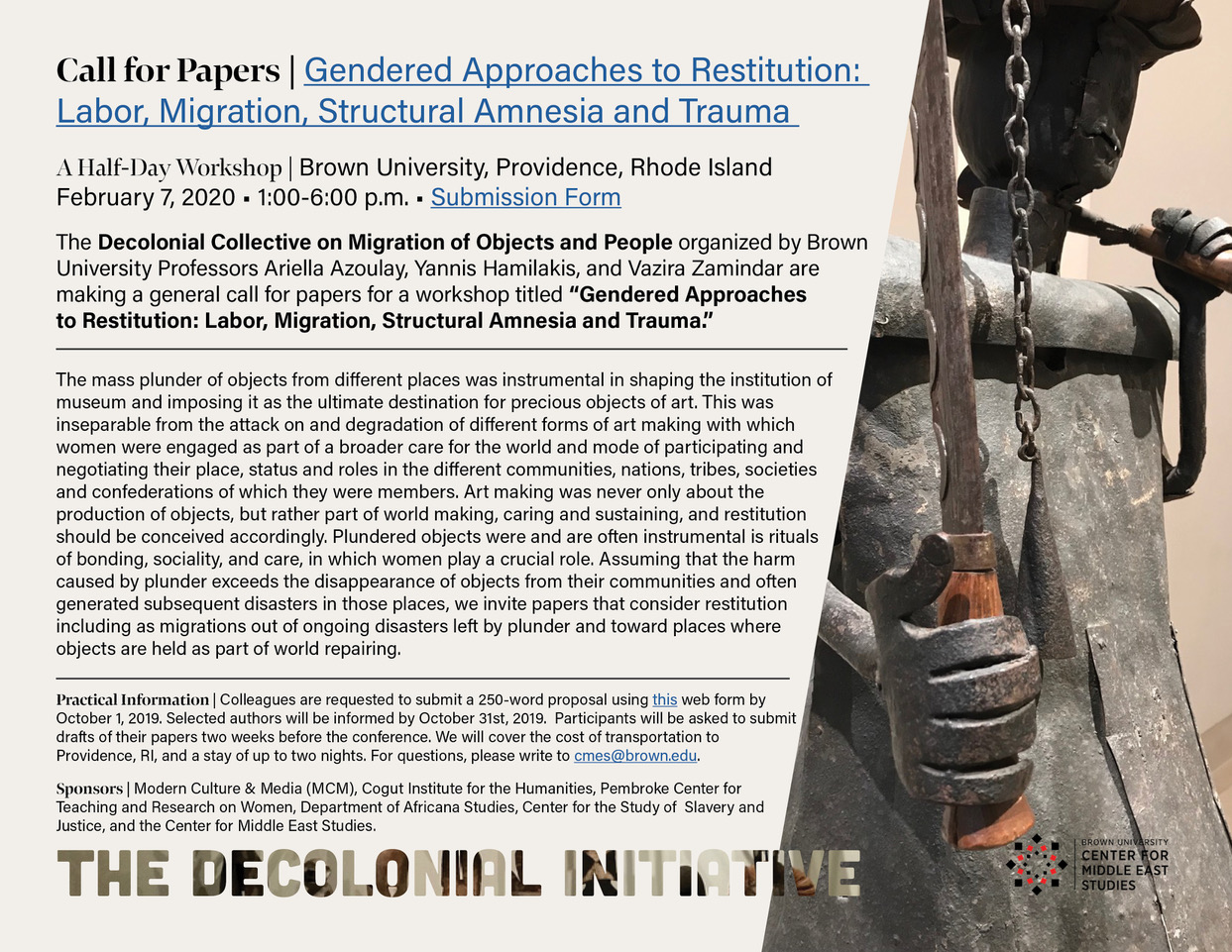 The Decolonial Collective on Migration of Objects and People organized by Brown University professors Ariella Azoulay, Yannis Hamilakis, and Vazira Zamindar are making a general call for papers for a workshop titled "Gendered Approaches to Restitution: Labor, Migration, Structural Amnesia and Trauma."
---
The mass plunder of objects from different places was instrumental in shaping the institution of museum and imposing it as the ultimate destination for precious objects of art. This was inseparable from the attack on and degradation of different forms of art-making with which women were engaged as part of a broader care for the world and mode of participating and negotiating their place, status and roles in the different communities, nations, tribes, societies and confederations of which they were members. Plundered objects were and are often instrumental in rituals of bonding, sociality, and care, in which women play a crucial role. Art-making was never only about the production of objects, but rather part of world-making, caring and sustaining; and restitution should be conceived accordingly.
Assuming that the harm caused by plunder exceeds the disappearance of objects from their communities, and often generated subsequent disasters in those places, we invite papers that consider restitution, including migrations out of ongoing disasters left by plunder and toward places where objects are held, as part of world repairing.
We particularly welcome proposals by young scholars, and on any region of the world.
---
Practical Information
Colleagues are requested to submit a 250-word proposal using this web form by October 1, 2019.
Selected authors will be informed by October 31, 2019.
Participants will be asked to submit drafts of their papers two weeks before the conference.
Middle East Studies will cover the cost of transportation to Providence, Rhode Island, and a stay of up to two nights.
For questions, please write to cmes@brown.edu
Sponsors: Cogut Institute for the Humanities, Pembroke Center for Teaching and Research on Women, Department of Africana Studies, Center for the Study of  Slavery and Justice, and the Center for Middle East Studies.