Middle East Studies is pleased to announce the launch of "1948 – Once Upon a Palestine", a film series curated byAriella Azoulay, Assistant Professor of Comparative Literature and Modern Culture and Media. The program is co-sponsored by the department of Modern Culture and Media.
All films are open to the public and will have English subtitles.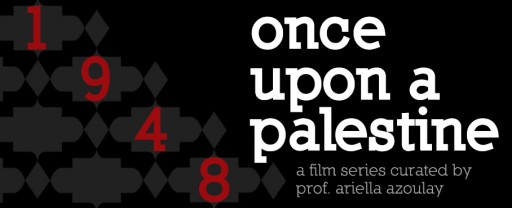 "1948 – Once Upon A Palestine"
Movie series curated by:
Ariella Azoulay, assistant professor of Comparative Literature and Modern Culture and Media
Organized by the Middle East Studies program
Co-sponsored by Modern Culture and Media department
Joukowsky Forum, Watson Institute
Tuesdays at 5:30 p.m.
1948 became a mythological year in the process of the ruination of Palestine and the creation of Israel that lasted several years. This films series, directed by filmmakers from different origins (Palestinian, Syrian, French, British or Israeli), invites the public to join an open and ongoing conversation about the impact of the events of that year on Palestinians and Jews. Documenting something that goes beyond the suffering of the victims and the glory of the victors, transcending more conventional expectation to either expose details of the catastrophe or veil it from view, some of these films enable spectators to witness a variety of forms of Jewish-Palestinian co-existence to which the event of 1948 put an end. Surprisingly, after almost six decades and a half, not many more films have been made on the 1948 catastrophe, and interestingly enough some of those included in this series are based on literary texts (Kanafani, Khouyi and Izhar), as if their makers needed some authority with which to share the burden of accounting for what happened.
The series is part of an ongoing research project to re-visit the history of Palestine-Israel outside the framework imposed by the paradigm of an unending "national conflict", and to study the catastrophe of 1948 as not merely an internal Palestinian affair.
Each film will be presented by the series' curator or by guests lecturer and their screening will be followed by an open discussion.
Fall 2014
September 9,Khirbat' Khize,director: Ram Loevy (1978), Israel (Hebrew, English subtitles, 48 min)
and "al-Midya", director: Dani Gal (2014), Israel (Arabic/Hebrew, English subtitles, 26 min)
Presented by Ariella Azoulay
September 30,Hill 24 Doesn't Answer (Giv'a 24 Eina Ona‎),director: Thorold Dickinson (1955), Israel (Hebrew/English, English subtitles, 101 min)
Presented by Orly Lubin
October 28,The Dupes (al-Makhdu'un), director: Tewfik Saleh (1972), Syria (Arabic, English subtitles, 107 min)
Based on Men in the Sun by Ghassan Kanafani
Presented by Mayssun Succarie
November 11,1948, director: Mohammad Bakri (1998), Palestine-Israel (Arabic, English subtitles, 54 min)
Spring 2015
February 17,The Time that Remains,director: Elia Suleiman (2009), France (Arabic/Hebrew/English, English subtitles, 109 min)
Presented by Ariella Azoulay
March 3, Return to Haifa,director: Kasem Hawal (1982), Palestine (Arabic, English subtitles, 84 min)
Based on Ghassan Kanafani
and Ma'loul Celebrates its Destruction,director: Michel Kheilifi (1984), Israel/Palestine (Arabic, English subtitles, 30 min)
Presented by Ariella Azoulay
March 17, Kings and Extras – Digging for a Palestinian Image, director: Azza al-Hassan (2004), Palestine and Germany (Arabic, English subtitles, 62 min)
Presented by Azza al-Hassan
April 21,Jaffa — The Orange's Clockwork,director: Eyal Sivan (2010), Israel, Arabic/Hebrew/English, English subtitles, 88 min)
and Civil Aliance, Palestine 47-48,director: Ariella Azoulay (2012) Israel/Palestine (Arabic, English subtitles, 50 min)
Presented by Ariella Azoulay