Abby Linn '15
A couple of years after graduation, where in the world are you - and what are you working on?
I am currently working as the Operations Manager or more officially the "On-Site Administrator" of a non-profit boarding school in the southern state of Tamil Nadu, India about two hours outside of Bangalore called "Shanti Bhavan." This school takes children from the poorest socioeconomic backgrounds in India at the age of 4 and helps them to become confident and intelligent critical thinkers by the time they graduate in 12th grade. Most of the students at the school come from the "untouchable caste" or Dalit caste in India, which unfortunately still strongly prevails, especially in more rural areas of India.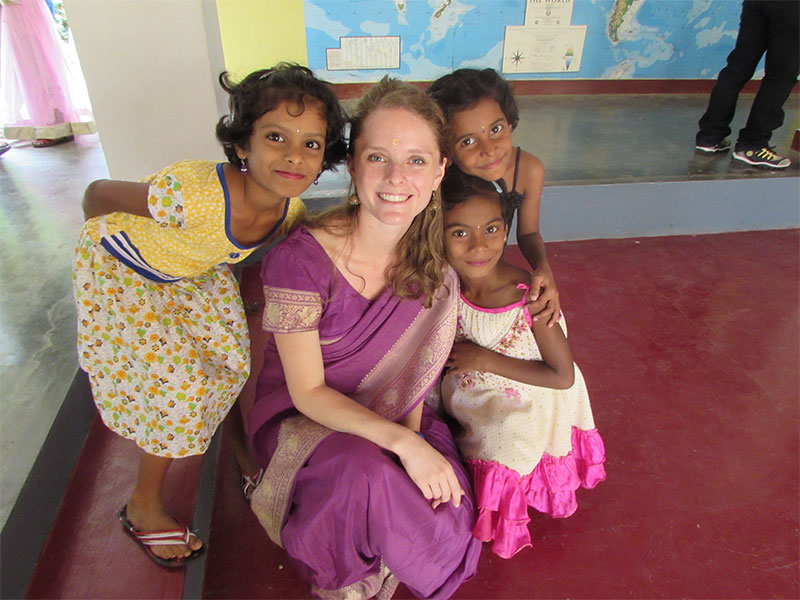 My job has four main components:
-My primary job is to manage and help to organize a group of anywhere from 2-11 volunteer teachers usually coming from the U.S. or Europe. I help to make their schedule, provide professional development, help them to build their curriculum and make exams, and make sure they are essentially doing everything they need to be doing.
-My second job is to do a lot of administrative work regarding sponsorships and donors of the school. As it is a non-profit, we rely heavily on donors and sponsors for the school and for the children more specifically. We have multiple visitors come to the school from companies or individuals who are current donors or past donors. I help to plan their visit, organize tour groups, organize group discussions with the kids, and even facilitate workshops. I also help to connect the children with their sponsors through organizing letter writing, making videos, and sending photos. 
-My third job is teaching. As we are a non-profit, the number of volunteers fluctuates throughout the year. These past two months we have had two volunteer teachers so I've been taking over a large amount of classes that range from 11th and 12th economics, 6th language, 8th and 9th history and civics, and 4th science. I follow a syllabus but make all of my own lesson plans and exams.
-Another part of my job is to help the kids develop themselves into leaders. I take over partial disciplinary responsibilities and talk to kids when they have issues such as stealing, talking back to teachers, and cheating. I hold leadership workshops with the children to develop their interview skills, public speaking, and other interpersonal skills. 
This position is for one year and has so far been an extremely exhausting but at the same time exhilarating experience. I am learning so much about how to work with different types of people and to learn patience and discipline in how I manage my workload and mentally handle monitoring 250 kids at a time. 
How do you find that your education at Brown, and specifically your concentration in Middle East Studies, informs your work and the way you approach it?
My Middle East Studies degree at Brown helped immensely with helping me to get to where I am right now. It helped me to gain a really strong passion for developmental economics, women's rights, and the importance of education. Seeing what has unfolded in the Middle East over the past couple of years and how an education can have an influence on a society, I have become passionate about helping to create economic or educational opportunities for as many people as possible. My study abroad in Jordan made me really interested in how to help women to become more educationally and financially independent. This led me to take part in a teaching fellowship last year at Match Charter Middle School in Boston, and to work in a school this year in rural India. 
Now a graduate with experience in the "real world," what advice would you have for current students at Brown and specifically at Brown MES?
My advice for Brown students are to really focus on doing things that get you more connected to the real world. Sometimes when I studied I felt that I was in a bit of a "bubble" and I couldn't make the connection with what I was studying and how that could actually impact the real world. Being able to do a lot of tutoring with students in the local area and work with groups such as Students for Education Reform helped me to see what I could do once I left Brown. Having hands-on internships where you are seeing your impact on a community really helped to rejuvenate me and motivate me more in my studies to keep working hard. If you follow your passions and what you are really interested, ask questions, and keep an open mind, you will be amazed at the opportunities that open their door for you. 
Interview by Kutay Onayli '17