Ayşe Şanlı explores geography and the politics of border-making in contemporary Europe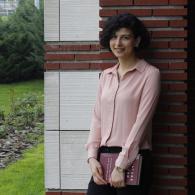 This summer, I conducted anthropological fieldwork in Sicily, Italy as the first step of my dissertation project. Over several weeks in June, July, and August, I conducted my research in Catania, Sicily with short trips to a few other cities on the island. 
I am interested in the intersections of geography and the politics of border-making in contemporary Europe and their everyday repercussions within the context of the current "refugee crisis." My summer fieldwork had two main methodological tools: participant-observation and semi-structured interviews. I visited several NGOs and community centers in Catania and conducted interviews with social workers, volunteers, and specialists on migration. For the participant-observation, I focused on two centers that work with and provide assistance to migrants. These two methods allowed me to have a preliminary sense of perceptions and experiences of contemporary migration, migration-related work, and discourses around migration in Sicily. Additionally, my observations in public places such as city squares, cafés, shops, and train stations provided me with more insights on both the everyday routines of and the interactions between local Sicilians and migrants, who are from various countries in the Middle East and North Africa, Sub-Saharan Africa, and South Asia. 
When it comes to migration, summers are significant for the Southern European countries, as the number of sea-crossings increases during these months. This summer, Italy had a particularly hectic agenda, as the Italian government's anti-immigrant policies increasingly targeted immigrants and asylum seekers in the country, as well as the civil society and the activists who rescued migrants in the Mediterranean. However, by the end of my field visit, the notorious Minister of the Interior Matteo Salvini's government dissolved, creating a visible excitement among migrants as well as social workers and activists. 
Hence, this summer was very essential and productive for me, as my fieldwork provided me with further questions to consider for my longer doctoral project. On a personal level, it was also very interesting to observe the emerging security measures and practices at airports while traveling to and within the European Union countries.  I am very grateful to the Center for Middle East Studies for supporting my research with their generous funding.