Through MES Research Travel Award funds, Laurel Darcy Hackley investigates petroglyphs and rock art in Egypt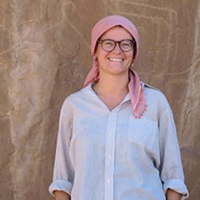 The Middle East Studies Research Travel Award provided travel support for the final stage of my dissertation research in Egypt this summer. My dissertation focuses on the social landscapes of the Egyptian deserts from 3000-1100 BCE. The project dismantles the idea held by many scholars that the desert landscapes surrounding the Nile valley were viewed as frightening, chaotic, and anathema to the "order" and "fertility" of the agricultural land in the valley. In order to do this, I am bringing together spatial, archaeological, historical, and art-historical datasets to consider the scope and motives of human activity in the Egyptian deserts, as well as how the desert regions were viewed within the Nile Valley. I examine the deserts as integrated social landscapes, spaces where meaning and memory accrue over time through economic activity, cultic activity, mythopoeia, and place-making practices. 
During this phase of my dissertation research, I visited archaeological sites in Egypt's Eastern desert, including the temple of Kanais and numerous petroglyph sites in and near the Wadi Baramiyya (between Edfu and Marsa Alam).  New security regulations prevented me from visiting all the sites I had planned to, but I was nevertheless able to conduct a considerable amount of research where it was permitted. Traveling by 4x4, I visited ten distinct areas of petroglyphs and other rock inscriptions.  At each site, I took photographs, made both documentary and impressionistic drawings, and recorded the location of features with a handheld GPS. It was important to visit these sites in person, because although many of them have been recorded or published previously, the publications often do not include information on topography, geology, or relationship with other inscriptions and glyphs. This information is critical to the questions that I am asking in my dissertation project. The data I collected this August will become part of my larger analysis of the spatial, temporal, and geological factors that determine the siting of petroglyphs and other human interventions in the desert landscape. 
The work from this trip will form the core of a dissertation chapter, which investigates petroglyphs and rock art as part of an ancient technology for way-marking and navigation in arid environments. Insights and data from this trip will also contribute substantially to two other chapters: one on mining and other economic activities in the Eastern desert during my study period, and one on cult activity and the construction of desert temples and shrines.