Research Travel Award winner Martin Uildriks – Early 20th Century Archaeological Praxis through the Mesa'eed Archives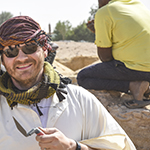 The Center for Middle East Studies' Research Travel Award enabled me to conduct archival research at the beginning of this year at the Museum of Fine Arts (MFA) in Boston for my dissertation. My dissertation examines the utility of archival resources for contemporary scholarship through analysis and publication of the cemetery of Mesa'eed, an archaeological site in Egypt that was excavated over a century ago and dates back to the fourth millennium BCE, to Egypt's so-called Predynastic period. Hundreds of cemeteries like Mesa'eed were excavated over the last century, mainly by European institutions, which then usually organized and controlled the distribution of artifacts and excavation documentation. Very few cemeteries of this period remain intact and many of their excavating institutions reorganized or disappeared, which is why artifacts and documentation often got dispersed, went missing or even perished. Mesa'eed was excavated in 1910-1913 under the aegis of the MFA in Boston, which subsequently received thousands of artifacts from the site. The MFA also holds a substantial amount of records detailing the excavations, such as diaries, packing lists, notes, drawings, letters and correspondences, artifact registers, and hundreds of photographs. 
Mesa'eed then presents a significant and unusually complete dossier for current scholarship on the Predynastic period. Moreover, this site was relatively large compared to other contemporaneous cemetery sites in Egypt and was located in an area where many important social and historical developments took place that eventually led to Egypt's first bureaucratic and royal systems and monuments; it then also contributes significantly to understanding early Egyptian developments. However, Mesa'eed was excavated when Egypt was under semi-colonial control and studies of Egypt's Predynastic period now ask vastly different questions, using new and vastly different techniques and methods to answer them. The Mesa'eed archives are then not only exceptional since they survived the test of time in such superb condition and now remain together in one place, or because scholars now rarely get the opportunity to study such a large Predynastic cemetery in conjunction with such complete excavation records, but they have never been published or subject of holistic analyses and now form a time-capsule that is in a position to answer some important and unaddressed questions in archaeology, anthropology, museum studies and the cultural heritage sector at large: what use do such archives have for contemporary scholarship and how can they still contribute to contemporary research of the Predynastic period? 
Last year I digitized most of the paper documentation at the MFA to understand how many artifacts were found, where these artifacts are now, and what kinds of artifacts they are. I found out that only a few artifacts remained in Cairo at the National Museum, while most artifacts went to the MFA and the Peabody Museum of Archaeology & Ethnology at Harvard University. Most artifacts are still at these institutions, while only a handful were lent or sold to a third party. In October and November I began work at the Peabody Museum and developed a portable database system, which allowed me to quickly cross-reference the digitized MFA archival records with artifacts in the Peabody's storage to identify Mesa'eed material. I then photographed, described and drew all relevant pieces at the Peabody Museum; the Research Travel Award enabled me to spend February and March in the MFA's basement where I began identification and documentation of Mesa'eed materials. The work at the Peabody and the MFA will form the basis for three of my dissertation chapters that examine these pieces through temporal, spatial and cultural lenses. My work at the MFA was unfortunately cut short because of the COVID-19 outbreak, but I am hopeful to pick up work at the MFA after the summer as soon as the MFA reopens its doors.