Join the Costs of War Teaching Campaign
#TeachingCostsofWar
Educators: now, more than ever, it is vital to engage students in critical conversations about the U.S.-led wars that followed 9/11. Click the link below to add your name to the Costs of War Teaching Campaign and join our growing community of scholars dedicated to teaching the costs of war.
Add your name to the Costs of War Teaching Campaign
The United States and the world has marked 20 years since the attacks of September 11, 2001 and the beginning of the U.S. "war on terror." The wars the U.S. government has waged in the last 20 years in Afghanistan, Iraq, Pakistan, Syria, Somalia, Libya, Yemen, and elsewhere have been a catastrophe for the United States and the world. Over 929,000 people have died as a direct result of these wars, and several times as many more have died due to war's reverberating effects. At least 38 million people have been displaced from their homes. There have been countless other social, political, and environmental costs. U.S. taxpayers have spent more than $8 trillion on these wars -- trillions that could have gone to education, housing, public health, or pandemic preparedness.
Yet in the U.S. there is relatively little public understanding of the post-9/11 wars or their causes and consequences. Often, Americans' only knowledge comes from mainstream media, government talking points, and popular movies and television. There has been a severe lack of elementary, secondary, post-secondary, and general public education about the wars and their profound impacts.
As a supporter, you can help advance the movement to end endless wars by:
Spending at least one class period, a week, a month, or longer on this topic;
---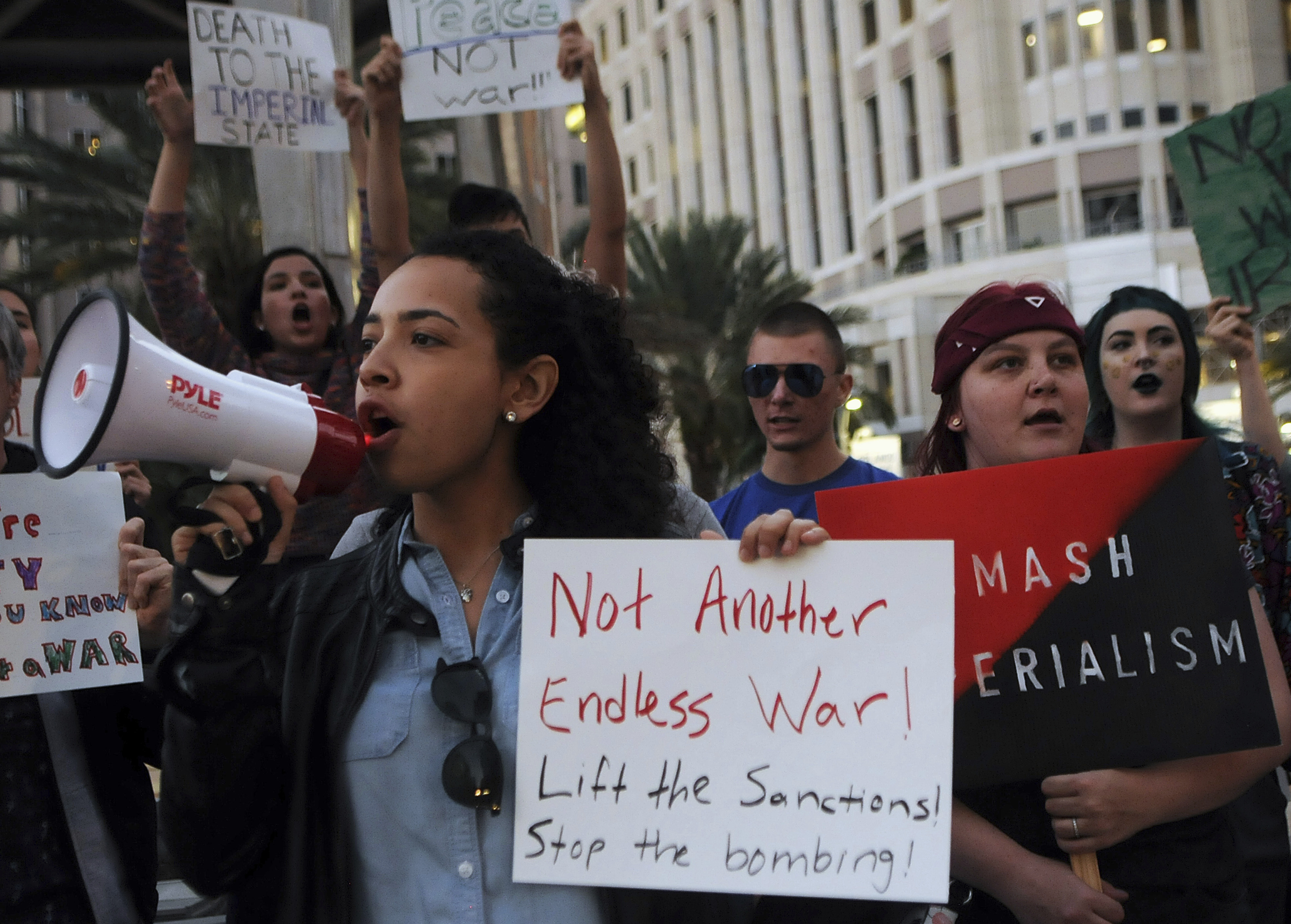 A protester holding a placard chants slogans on a megaphone during the demonstration. Protest against a potential war between the United States and Iran. Similar anti-war protests were held today across the country in the wake of U.S. President Donald Trump's ordering of the killing of a top Iranian general in Iraq, and escalating tensions between the two countries. (Photo by Paul Hennessy / SOPA Images/Sipa USA)(Sipa via AP Images)
---