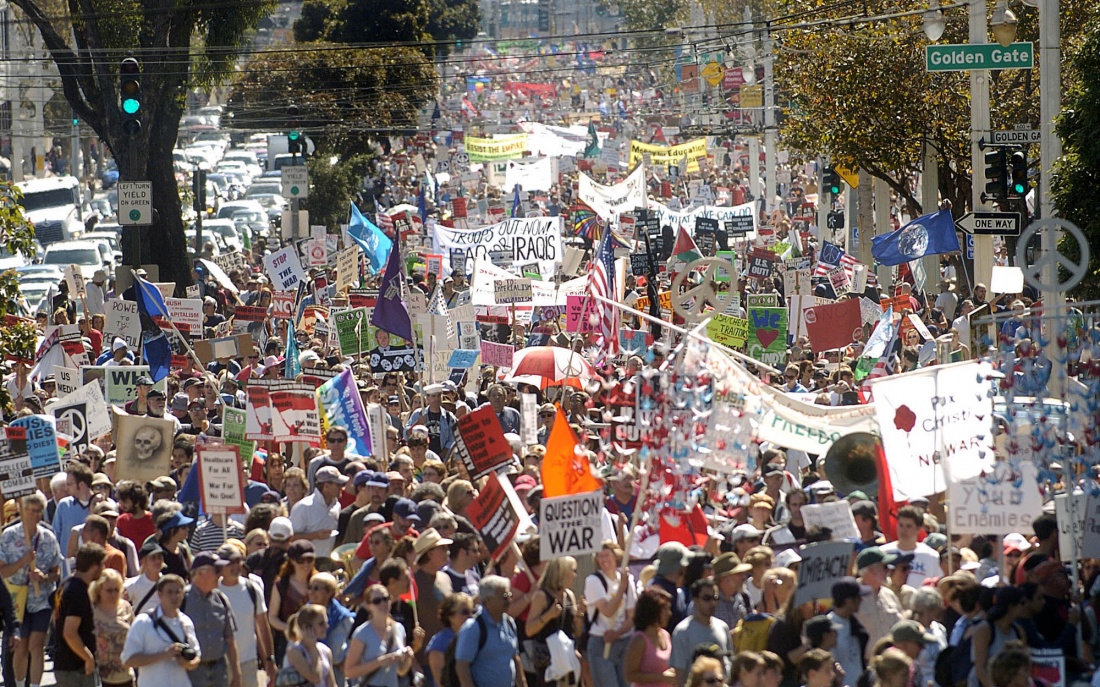 Thousands of demonstrators march through San Francisco to protest the war in Iraq on Saturday, Sept. 24, 2005. (AP Photo/Noah Berger)
CODEPINK is a women-led grassroots organization working to end U.S. wars and militarism, support peace and human rights initiatives, and redirect our tax dollars into healthcare, education, green jobs and other life-affirming programs. You can learn more about CODEPINK's "Divest from the War Machine" campaign here or click here for opportunities to volunteer. 
Dissenters is leading a new generation of young people to reclaim our resources from the war industry, reinvest in life-giving services, and repair collaborative relationships with the earth and people around the world. We're building chapters across the country and running direct action campaigns to force our institutions to divest from endless wars and reinvest in what our communities actually need to be safe: healthcare, education, and a Green New Deal. From campuses to Congress, we're building grassroots power to end endless wars, cut off corporate war elites, and reinvest in true safety.
For more information, visit wearedissenters.org or check out Dissenters' DNA Guide.
The Friends Committee on National Legislation, a Quaker lobby for peace and justice, supports a network of 125+ grassroots Advocacy Teams across the country. These teams receive in-depth training and support on how to advocate more effectively, and they work in community to lobby Congress regularly, publish in the media, and organize local outreach events, aiming to build momentum for key legislative victories. In 2021, the Advocacy Teams are advocating to end endless wars by repealing the 2002 and 2001 Authorizations for Use of Military Force.
You can read more about the Advocacy Teams here, or go to www.fcnl.org/advocacyteams to join or start a local team in your community. 
Peace Action is a peace organization whose focus is on preventing the deployment of nuclear weapons in space, thwarting weapons sales to countries with human rights violations, and promoting a new United States foreign policy based on common security and peaceful resolution to international conflicts. Peace Action believes that every person has the right to live without the threat of nuclear weapons, that war is not a suitable response to conflict, and that the United States has the resources to both protect and provide for its citizens. You can find a list of local affiliates and ways to get involved here.
The Poor People's Campaign: A National Call for Moral Revival has picked up Rev. Dr. Martin Luther King Jr.'s unfinished work in the call for a "revolution of values" in America. From Alaska to Arkansas, the Bronx to the border, people are coming together to confront the interlocking evils of systemic racism, poverty, ecological devastation, militarism and the war economy, and the distorted moral narrative of religious nationalism. We understand that as a nation we are at a critical juncture — that we need a movement that will shift the moral narrative, impact policies and elections at every level of government, and build lasting power for poor and impacted people. Find your state committee and ways to take action in your community here.
Brown War Watch is the Brown campus' anti-war & peace activist student group. Founded in 2017, the group educates and agitates against aggressive US militarism through weekly discussion meetings, public lectures and panels, film screenings, protests, and written analysis.
Brown War Watch welcomes people of all political persuasions and religious beliefs, united by the quest to build a more peaceful planet, dismantle the profligate war machine, and raise awareness about conflicts around the world, including the alarming rise in tensions between the world's superpowers.
For more information - email BWW at brownwarwatch@brown.edu, visit our website: brownwarwatch.com, or follow us on social media: @brownwarwatch.
Is there an advocacy organization or resource that should be included here or shared with the Costs of War Campus Initiative community? Reach out to mimikhealy@gmail.com.
---