Featured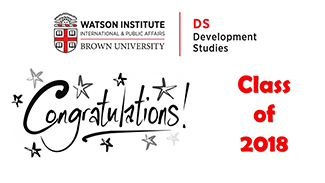 Award Recipients
Magna cum laude
Akira Camargo
Jake Gogats
Emma Laura Kurihara
Aarish Rojiani
Honors in DS
Leah Hardenberg
Liliana Hertling
Zachary Witkin
Academic Excellence in DS
Aarish Rojiani
Watson Institute OutstandingThesis Award
Leah Hardenberg
"Breastfeeding Trends across Socioeconomic Status in Mexico and Implications for Current Promotion Efforts"
The DS DUG is an organization led by undergraduate DS concentrators serving the dual purpose of organizing DS-related campus-wide events and advocating for increased university resources to continue the expansion of the DS program.
Get involved. Join the DS DUG today!