Conversation Starter: New Watson Quad Is About Bringing People Together
This past June, work began on an ambitious project designed to accommodate the Watson Institute's growth and reflect its commitment to fostering community. The project entails construction of a new building and renovation of an existing one. Joined by a bridge, the two buildings will expand the Watson Institute's footprint by 31,000 square feet, adding a large commons for socializing and events, classrooms, meeting and study space, offices, and a cafe. In addition to enjoyable outdoor space, carefully planned landscaping will create connections among the four Watson buildings as well as to the Brown campus. The new buildings will be located at 63-65 Charlesfield and 280 Brook Street.
The buildings are expected to be completed during the Fall 2018 semester.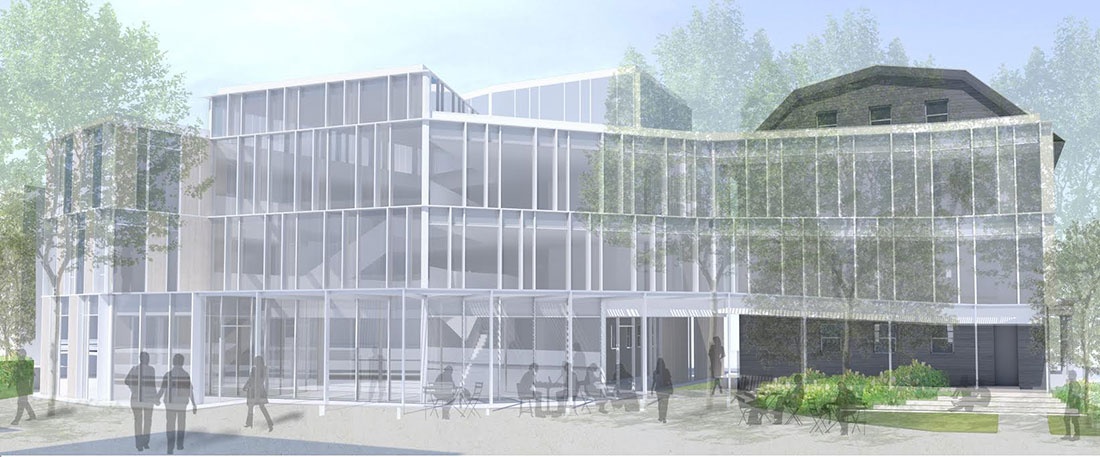 Watson sat down with Ed Steinfeld, director of the Watson Institute, and asked him about the project.
WI: What is the main purpose of the new building?
ES: From the start, the idea behind the design was that if we are serious about inclusion—of different kinds of people, students, faculty, visitors, perspectives, concentrations—the physical space has to reflect that. The current buildings [at 111 Thayer Street and 59 Charlesfield] are beautiful, but they don't represent the entirety of who and what we are. The new building project is an opportunity for us to redefine and create our space. At its core, it is about public space.
WI: What do you mean by "public?"
ES: I mean space that is not "owned." I mean a commons, a space that is shared by all. Or, to refer back to Ancient Greece, an agora—a central public gathering place. A place where all people, no matter who they are and whether or not they're connected to Watson, are welcome. A place where anyone can walk in, grab a cup of coffee and sit around and chat or do work. My hope is that people will be bumping into people and all kind of conversations will begin. To me that's what learning is fundamentally about. I don't care where one is in the formal Watson hierarchy, or what program or concentration one's in; everyone bears knowledge and experience.
WI: How do you see this building's role on the larger Brown campus?
ES: I hope it will be a gateway to the campus. But also I hope people passing through it will stop a while and see what's going on. I want it to be a destination for people who are interested in international and public affairs, and even those who don't think they are. It's our academic mission to include as many voices as possible. I want my biggest problem to be that the building is too noisy and there are way too many people using it. If I had that problem, it wouldn't be a problem.
---
| | | |
| --- | --- | --- |
| Beam Signing | Expansion Project Update | |
| | | |
| | |   |
Live Stream of Building Progress
For more renderings and updates visit Brown University's facilties page.
News from Brown: Brown celebrates launch of Watson Institute expansion