Governance and Leadership in Challenging Times
Study Group Spring Semester 2018
Visiting Fellow Tom Perez
Registration, capped at 50 students, will open at 8 a.m. on February 1, 2018. Registration will close on Monday, February 5 at 8 a.m., and an email confirming registration or wait list will follow shortly thereafter.
In today's turbulent times, the journey to form a more perfect union often appears as difficult as ever. The "shortest distance theory" is seldom part of the playbook of progress. A host of factors have created a political atmosphere of hyper-partisanship in which effective governance is elusive, and principled compromise is frequently derided as a fourletter word. As a result, public confidence in our political institutions, especially at the federal level, is at a low ebb.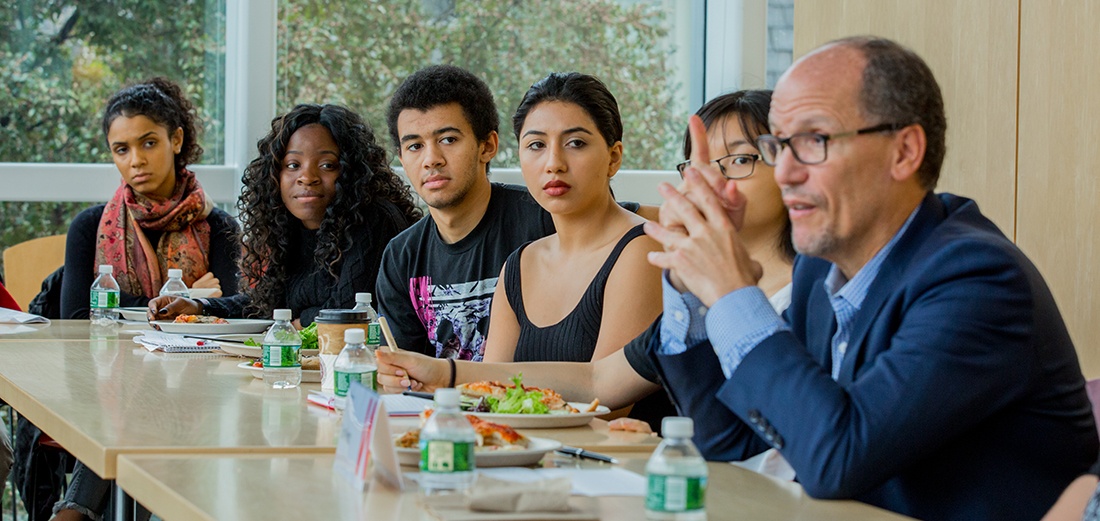 This Study Group examines problem solving in challenging times in a governmental setting. Through a series of case studies of contemporary problems, participants will wrestle with the core components of problem solving, and will tackle contemporary challenges and opportunities in a variety of critical governmental contexts. The case studies will focus on the following areas:
Voting Rights
Health Care
Federal Effort to Address Income Inequality and Wage Stagnation
The Future of Work in an Everchanging Economy
The Emerging Retirement Security Crisis
Public Leadership in Turbulent Times
The Role of the Media in a Turbulent World
Problem Solving at the State and Local Governmental Level
The goals of the Study Group are:
Bridging theory and practice- Participants have been exposed to many theoretical constructs in the course of the Brown educational experience.  This Study Group will dig into the nitty gritty of problem solving at a federal, state and local level, that is, the "how does it really happen" dimension.   Through a series of case studies tackling the issues outlined above, participants will examine how problems get solved (or fail to get solved), and identify and wrestle with a variety of legal, administrative, communications, political, and other challenging
Interacting with Leaders who have been in the fray- Throughout the semester, participants will hear from a series of guest speakers who will reflect on their experiences and offer their insights into how they tackled (or were tackled by) a particular challenge. Guest speakers will include Melody Barnes, former head of President Obama's Domestic Policy Council; Jeff Zients, former head of the National Economic Council; Gina McCarthy, former Administrator of the EPA; and Ken Zimmerman, head of US programs for the Open Society Foundations.
Introducing a Problem Solving Paradigm- While every issue is different, and many problems require unique approaches and a healthy dose of creative thinking and mid-course correction, there are some basic tenets of problem solving that can frequently guide a leader's actions. Throughout the semester, participants will be introduced to a problem-solving framework that can guide action in a variety of settings.  
Wrestling with Ethical Challenges- Invariably, ethical challenges will arise in the course of wrestling with a particular issue, and the cases studies will allow participants to work through these issues, and develop a framework for resolution.  
 Learning to how to debate hot button issues in a professional manner- Many of the issues that will be addressed in this Study Group are hot button issues for which there are passionate views on each side. Our goal is to create a robust space in which participants can learn how to advocate with passion and mutual respect.  
Inspiring Participants to Pursue Public Service- Times may be chaotic, and one might be tempted to run away from public service. It is a goal of this Study Group to inspire participants to pursue a career in public service by gaining a more granular understanding of the remarkable opportunities that present themselves to build a more perfect union. 
Study Group Materials and Classroom Rhythm and Flow
There will be readings that will be suggested for each class, which will provide the foundational materials for class discussions. I recognize that each participant has other class responsibilities that go on your transcript. As such, I will attempt not to overload students with reading. We will have guest speakers in a number of classes, and I will frequently attempt to arrange lunches or more informal settings in which we can interact with the speaker.
Meeting Times
The Seminar will meet on Thursdays from 2:30-4:00 pm. In addition, I will have office hours to continue discussions and address other issues that students may want to tackle.
The seminar will meet on the following Thursdays:
February 15
February 22
March 1
March 15
March 22
April 5
April 12