Option 1: Capstone Seminar Paper
INTL18xx or approved senior seminar
Students take a seminar in their senior * year—from either the INTL (IR) seminar offerings or, with the approval of the IR Director or Associate Director, a seminar in a related area—and use that seminar as a platform for writing a capstone seminar paper. Key here is working with your Track and Concentration Advisors your junior year to identify your capstone area of interest given your coursework to date and to make that area work with the topic of the seminar. The goal is to produce an interdisciplinary research paper of publishable quality under the supervision of the seminar instructor. Seminar paper capstones should go beyond the typical term paper and pay closer attention to research questions, intellectual context, interdisciplinary approaches, evidence, and methods. This option does not lead to honors in IR. 
Registration Policy
Brown does not lift the 20 person enrollment cap, even if requested by the instructor.
Preference goes first to IR students over those in other concentrations.
Within IR, preference goes by seniority (i.e. seniors first, juniors next). 
Enrollment limited to seniors and juniors ONLY.
To enroll: Register for an approved seminar in Banner.

Option 2: Independent Study Research Project
INTL 1970, Independent Study Course
An independent study research project enables students to pursue focused independent research in a specific subject area (for which there are no existing courses) for one semester. The product is on a smaller scale than an honors thesis and may include a media component and group work; however, like the thesis, it is the student's responsibility to find a faculty member willing to advise the project. All proposals must be based on an analytic framework and review of the literature relevant to an international political, economic, or policy problem and be approved by the IR program prior to the beginning of the semester in which the work is to be completed. This capstone option does not lead to honors in IR.
Pre-approved team research projects are possible with the caveat that the quantity and quality of the work is expected to far exceed what one person might reasonably accomplish in a similar defined period of time AND that the unique and complementary contribution of each team member is clear. Group projects must be approved by the IR director and the IR concentration advisor. They should, of course, be internationally focused.
Students interested in new media projects, which typically take the form of a documentary, must include an analytic paper and literature review written component. Students must have already completed relevant classes in MCM, work with an MCM supervisor, and have pre-approval of the IR director, IR concentration advisor, and faculty sponsor.
All Independent Studies require a syllabus, prospectus, and faculty sponsorship. Once the research prospectus and faculty confirmation of support is approved by the IR Concentration Advisor, the student will be assigned a section number needed for registration.
To enroll: Students must submit to the Concentration Advisor the Independent Study Research Proposal form

Option 3: Honors Thesis
2-semester multi-chapter length work
Students who meet the criteria listed on the website are eligible to undertake original research on a pressing global problem leading to an Honors degree in International Relations. Key here is successful completion of two honors seminars INTL 1910 and INTL 1920 while writing a senior thesis under supervision of a two-member faculty committee. Through the writing of a thesis, students make the transition from being a consumer of other scholars' analyses to being a contributor to knowledge. Regardless of future plans, students find writing a thesis to be their most challenging and rewarding intellectual achievement at Brown. Read more about the Honors Program, including student testimonials and application information.
To enroll:
Students must submit to the Concentration Advisor the Honors Program application
Students must be accepted into the Honors Program.
Capstone Option Comparison Chart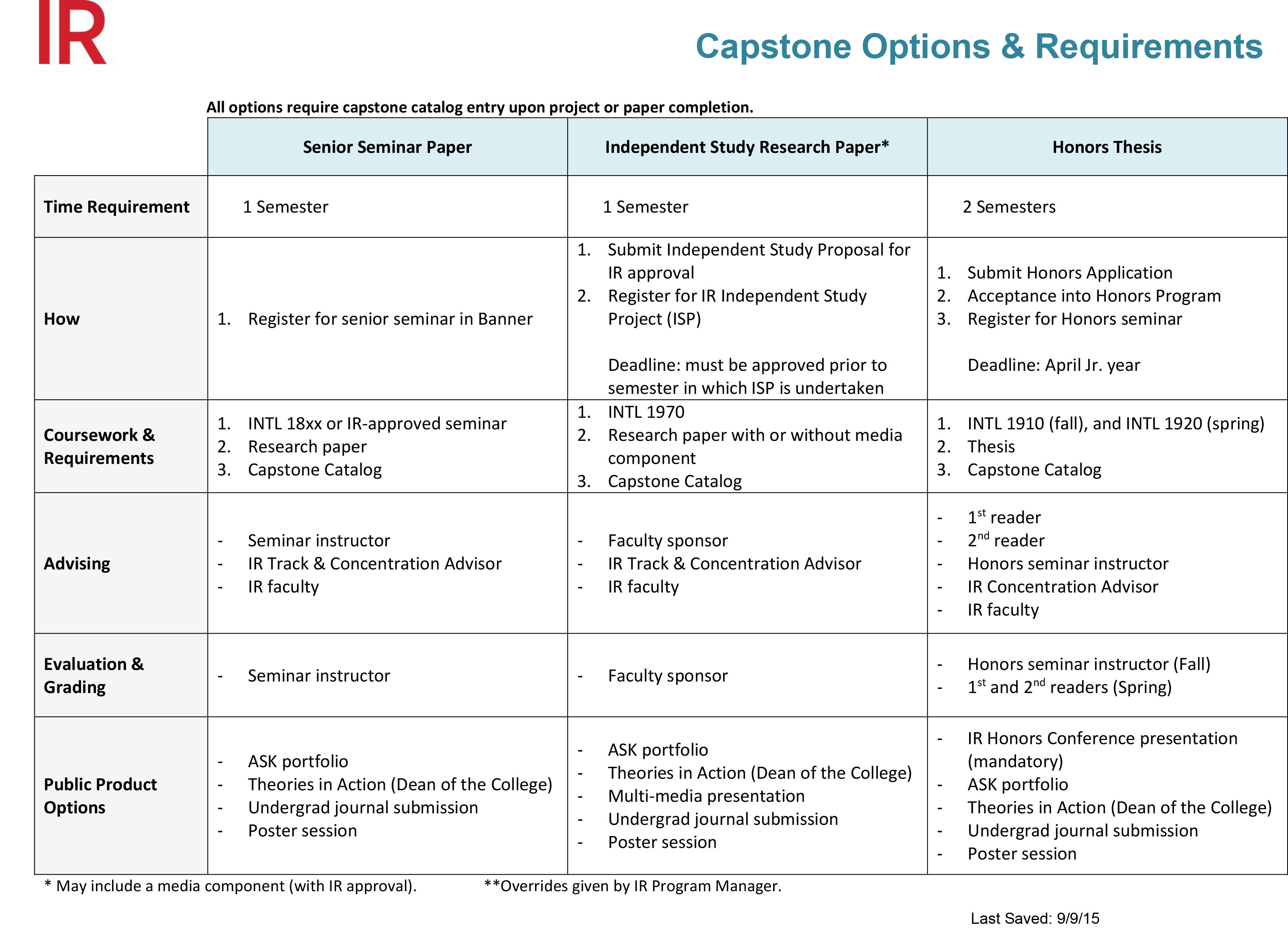 Download as pdf