Living in Providence
Brown University is situated on the East Side of Providence, on historic College Hill, overlooking downtown Providence. The area around Brown has a friendly, residential vibe, with plentiful housing options,  grocery shopping, cafes, and restaurants all within walking distance of campus.
With its low cost of living, historic architecture, and nationally renowned dining scene, the capital city is a vibrant place to live and work. Rhode Island covers just over 1,200 square miles yet boasts more than 400 miles of coastline and 100 beaches. Providence has a vibrant arts and culture scene, including many music, theater, and arts venues.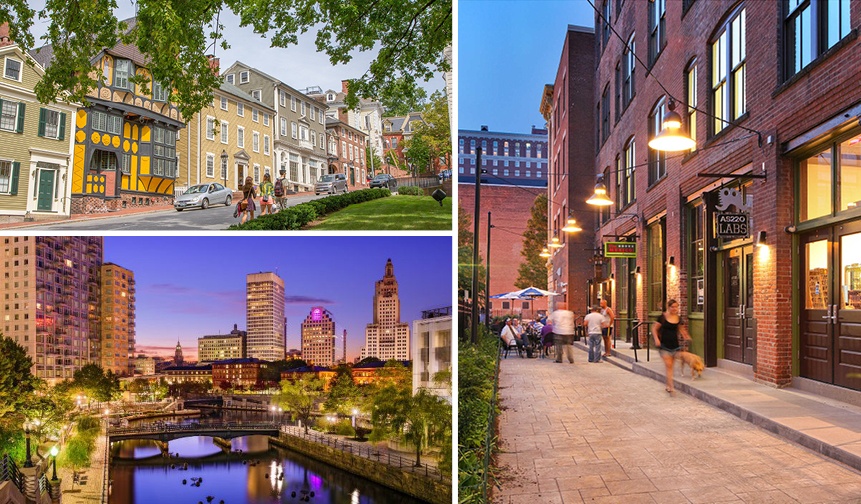 Housing
Brown's campus is bordered by residential areas with many apartments and multi-bedroom houses. Most Brown graduate students live off campus in the neighborhoods surrounding the University. See the Brown campus map to locate the Watson Institute at Thayer and Charlesfield Streets and get a sense of the campus in general.
Neighborhoods
Walking distance: Generally termed "East Side," includes Wayland Square, Wickenden Street, Fox Point, part of the Hope Street area.
On a bus line: Blackstone Boulevard and Rochambeau are also considered to be on the "East Side"; Oak Hill, Downtown; the "West Side" includes Broadway, Federal Hill, and the Armory District. 
Brown Graduate Student Housing
Graduate students are offered a limited number of efficiency, one-bedroom, and two-bedroom apartments located on campus. Detailed descriptions of each type of unit, floor plans, pricing, and photos of apartment interiors and exteriors are available. The typical rental unit includes utilities such as heat, hot water, gas, electricity, and water/sewer fees. Telephone service, cable television service, Internet access, and the wiring for these services are available through private providers. The application process typically opens March 1. Lease periods are for 12 months. Contracts begin June 1, July 1, or August 1. Prices range from $950-$1450/month, and further unit details can be found on the Auxilary Housing website.
Off-Campus Housing
The Off-Campus Housing Service at Brown provides resources including current listings of privately owned, furnished, and unfurnished rooms, apartments, houses for rent, sublets, sabbaticals, and shared accommodations in Providence and the surrounding area.
Other resources to find housing include Craigslist, Samson Realty, Residential Properties, Coldwell Banker.
River House
Located in the Jewelry District, adjacent to South Street Landing, River House has available units reserved for Brown University affiliated students, faculty and staff. Information on availability, rates, floor plans and amenities are located on the River House website. For additional information, please contact  info@myriverhouse.com.
Getting Around
All Brown students ride free on the RIPTA bus system using a Brown I.D. The train station, located a 10-minute walk from campus, provides an easy connection to Boston and New York City. Nearby airports include T.F. Green in Warwick, Rhode Island (15 minutes by car) and Logan airport in Boston, Massachusetts (one hour by car).
Learn More About the Graduate Experience at Brown