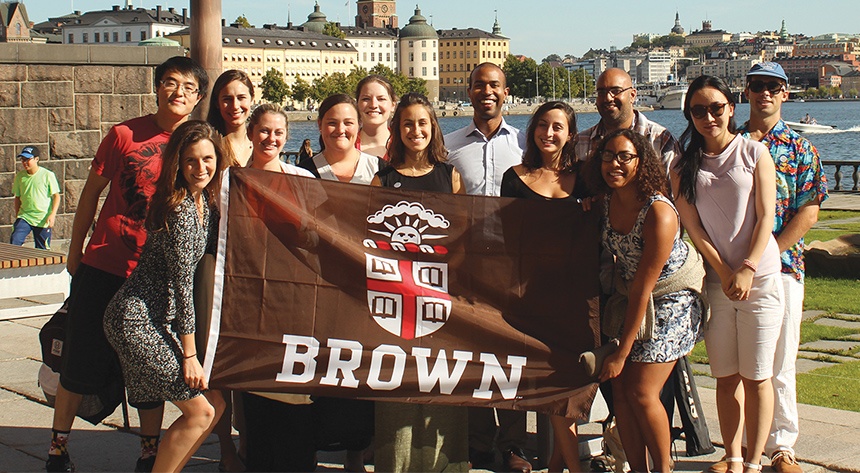 MPA students in Stockholm, Sweden during the Global Policy Experience.
Brown MPA Admissions at Tufts University
Office Hours with Associate Director Carrie Nordlund 
Thursday, February 2, 2017 • 11:00 a.m.-1:00 p.m.
Mayer Campus Center, 44 Professors Row, Medford, MA
Stop by Mayer Campus center to learn more about Brown's one-year Master of Public Affairs program. 
---
Our MPA students build the skills to change the world.
Master of Public Affairs (MPA) at the Watson Institute is an exciting one-year (June to May) program. Students will develop the analytic, communication, and strategic leadership skills they need to tackle societal challenges. 
MPA students can expect a rigorous and well-rounded curriculum, but also the flexibility to ensure they graduate with the knowledge and experience needed to succeed in their careers. Students can choose from faculty-driven policy specializations, or they create their own, benefiting from our diverse faculty and access to a multitude of Brown graduate offerings.  
Unique to the MPA progam is an emphasis on global policy — a two-week trip to an international site is a required component of the program. We are the only program in the country to integrate an international policy experience into our core curriculum. Students meet with elected officials, entrepreneurs, and lawmakers to see policy up close.
We also require a 12-week "Policy in Action" consultancy in the spring. This consultancy, coupled with elective coursework in a policy specialization, provides all our students with the opportunity to develop the ideas, knowledge, and skills needed to make a difference.