International Journalism: Foreign Reporting in Practice
During this year's spring break, ten Brown students are traveling to Cuba as the culmination of their senior seminar "International Journalism: Foreign Reporting in Practice." Each student will be investigating a different aspect of Cuban life with the guidance of Professor Stephen Kinzer, a former New York Times foreign correspondent. The students will be blogging from Cuba every day through April 2.  
---
Ariadne Ellsworth '17
Sunday, March 26th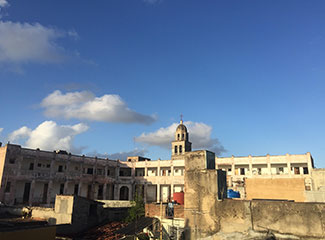 The rooftop view from the Hostal D'Cordero looks over a church and local school. Orlando Cordero opened the casa particular — Cuba's equivalent of an bed and breakfast — in 1997. Taking advantage of a house exchange offered by the Cuban government at the time, he traded in his home for the eight bedroom house where Hostel D'Cordero stands today. Since then he has conducted extensive renovations on the early 18th century home and decorated it with Cuban art and period pieces. Before the rollout of the Internet in Cuba two years ago, Orlando relied on American and European tour organizers and an informal network of casa particular owners to spread the word about his hostel. He explains that the Internet, and particularly access to Airbnb, has changed the game for him, saying, "It is always high season here now."
---
James Packs '17
Monday, March 27th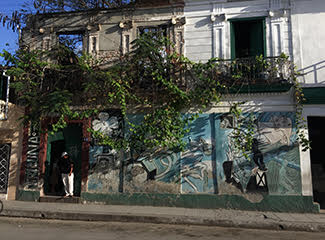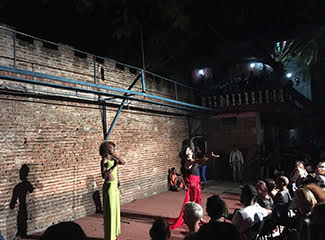 "This is the most inclusive place in Cuba," says Alex, who has been working at Mejunje for over twenty years. Mejunje, which is located in the city of Santa Clara, was the first bar in Cuba to fly the gay pride flag and continues to be a space where LGBT Cubans find support and community. "Everyone is the same when they come in the door. That's our philosophy," says Alex, who also explains how the space was founded at a time when LGBT Cubans were still being sent to sanitorios (state-run psychiatric facilities) for failing to fit into the heteronormative culture instilled by the revolution. Today, Mejunje is not only a gathering place for LGBT Cubans but also serves as a community center with programming for youth, the elderly, and all of the "forgotten and misunderstood" residents of the Santa Clara area, as Alex puts it. This message is a reflected in nearly all of Mejunje's programming. On a crowded Saturday night, for example, a drag queen dressed in a tight sequined dress yells above the fervent crowd: "this is who we are."
---
Professor Stephen Kinzer
Tuesday, March 28th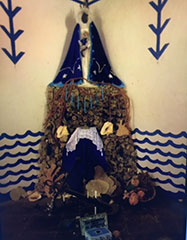 This is a photo of the Casa Templo de Santería Yemalla, a temple in Trinidad, Cuba. Santería is an Afro-Cuban religion that combines the Yoruba religion from West Africa and Spanish Catholicism. The photo features an altar dedicated to Yemalla, Goddess of the Sea and the figure of maternity. Below the figure are offerings from the ocean - coral, shells, and an iron anchor. The temple is open for tourists to visit and meet the santeros, practitioners of the religion who share a well-rehearsed Sunday of the history and beliefs if Santería.
---
Monica Palid '17
Wednesday, March 29th

Reiner Guerra Peres comes to the Parque Vidal every Sunday afternoon to enjoy a beer and bump into friends. This park is the most accessible WiFi hotspot in Santa Clara, a provincial capital in northern Cuba, and today it is filled with families crowded around tablets and iPhones. A card that grants access to one hour of Wifi costs the equivalent of two dollars. Guerra Peres has not connected to WiFi - he is a soldier in the Cuban army, and his monthly salary of about $25 makes the WiFi cards a luxury he can rarely afford. He uses his Samsung phone to gesture to the family next to us video chatting on their iPad: "Everyone here on the internet, they know people in the U.S. They receive $80, $100 every month," says Guerra Peres. "It is easy for them."
---
Nicolas Montano '17
Wednesday, March 29th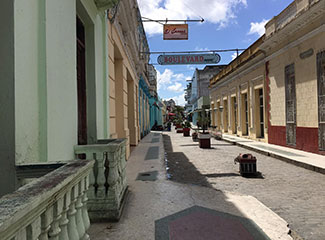 In Santa Clara, a provincial capital on Cuba's northern coast, the marriage office sits just off of the city's winding pastel colored "el boulevard." Here is where the locals come to get married, most opting for a simple civic union where they are considered "married in the eyes of society" instead of more complicated Catholic ceremonies that were prevalent before the revolution. As recently as last decade, newlyweds would receive a case of beer, a wedding cake and a weekend at the beach from the state to celebrate their union. However, as government benefits have been pared down, and as it has become more culturally acceptable to move in with a long term partner, marriages, and therefore weddings, are becoming less and less common.
---
Carolyn Kelly '17
Wednesday, March 29th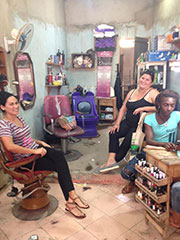 Amid the tourist hubbub of Trinidad, on Cuba's southern coast, Yisel has a vision for her beauty salon, Salon Giselle. She hopes construction of the floor and walls will be finished by week's end, and that a ventilation system will be installed by the end of the month.
The salon is still open for business amid the plaster dust. Patrons step over corrugated metal to reach the three mismatched hair care chairs and the single manicure station.
But after Yisel's long road to owning a salon, the fact that she is keeping it open despite the construction is no surprise. She studied theater in Havana, but went back to school to become a beautician a few years later. Soon afterward she earned a license to own a beauty salon, and opened her own shop.
That first shop was mismanaged by her business partner. Her second did not have adequate ventilation, and the third was too small. But she is determined that the fourth time will be the charm. She has four full time employees, all with the "cuenta propista," or self-employment, license needed to do so legally.
After the construction is complete, she dreams of a fresh coat of paint on the walls and most of all, matching towels. "White, purple, and black are the salon's colors," she says. "Then we will be a great salon."
---
Danielle Galván Gomez '17
Thursday, March 30th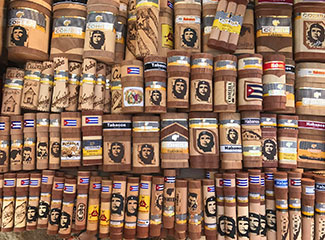 Santa Clara, Cuba.--The closest thing you'll find to a national consumer culture in Cuba is the objectification of Che Guevara.
His image and words are produced, reproduced, packaged and sold throughout the city. This can take the form of government funded propaganda that promotes healthcare or the spirit of the revolution: "La Revolution Es Salud" (the revolution is health) or "Hasta La Victoria Siempre" (towards victory always). 
Children wear his face on their shirts. You can only go a few blocks in any direction without being bombarded by a memorialization of Che. His image adorns humidors and cigar holders, like in the image above. 
Che, although an Argentinian by birth, is the signature Cuban brand. 
---
Lisa Lee '17
Thursday, March 30th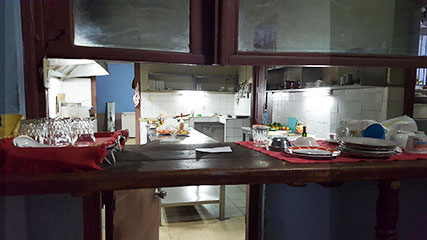 (A view of the industrial kitchen in See Saw, completely empty.)
The Chinese restaurant is enormous, grand and absolutely empty. It's not closed, though, because the lights are still on. There's no waiter, no cashier, no chef, but when a group of three people enter, footsteps resounding in the space, an old Chinese woman hobbles toward them on a cane. 
One person in the group knows her, and they hug one another. "Ahh, Mirta!" the customer says to her. Mirta is over seventy years old and is simultaneously the host, cashier and waitress. She takes their orders and slowly walks to get their drinks, one at a time. Her husband is the only one who cooks in a kitchen in the back that could easily accommodate ten cooks. 
Mirta is a second generation Chinese Cuban, owner of the Chinese restaurant, See Say, and the president of the Chinese Socialist Alliance of Cuba. Her father came here to Cuba in the 1930s and married a Cuban woman. Mirta is old enough to remember a time when Havana's Chinatown was full and bustling with Chinese. Now it's nearly empty. From thousands, she guesses that there are probably only a hundred pure Chinese people left. Others are mixed Chinese-Cuban, but they look more Cuban than Chinese and only some of them keep Chinese traditions. 
The Alliance that she runs is a small office opposite the restaurant. It has several roles in Havana's tiny Chinatown. It gives out licenses and loans money for Chinese restaurants to be built and run, in return for a small fee or cut of the profits. It works just well enough to function. Mirta has to run the See Saw restaurant for extra money in retirement in addition to the small stipend the government gives her. She is spritely and energetic, but she does not know how long she will be able to keep open the grand and spacious restaurant when everyone else has left. 
---
Ximena Carranza Risco '17
Friday, March 31st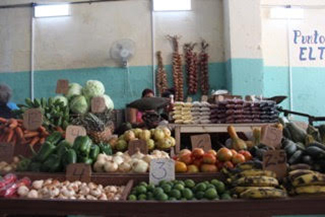 On a busy street in Old Havana, a small commercial produce market- where the vendors are allowed to set their own prices - oozes with ripe and colorful peppers, tomatoes, garlic, and a wide variety of fruits and vegetables. 
Less than half a block away, at a state-owned market where prices have been capped by the Cuban government, only a few pumpkins, yuccas, wrinkled chilies and plantains can be found. Other vegetables and fruits are only promises. What they sell depends on what government suppliers bring in in the mornings. Prices are low to protect consumers but so is the variety and quality of the produce on sale.
Yet at the better stocked commercial markets, prices are much higher. Most Cubans, who on average earn $25/month cannot afford to buy food there. Prices are sky high relative to Cuban wages, catering to tourists and a growing number of private restaurants. 
Barbara, a commercial vendor in Havana, makes 1200 Cuban pesos a month - almost three times as much as she used to make as a literature teacher on a state salary.
For the regular Cuban, however, the outlook is not as positive. As these two markets run in parallel, even basic items remain a luxury.
---
Alexander Podolsky '17
Friday, March 31st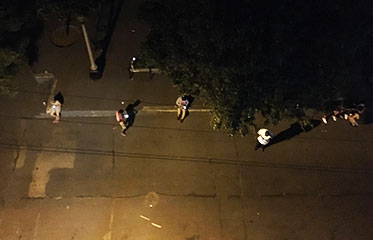 This morning in Havana I concluded my reporting on tech entrepreneurship in Cuba. When I initially came to Cuba, I was under the impression that the government wouldn't readily provide internet access to tech entrepreneurs. Indeed this is a country that sometimes punishes Cubans who speak with foreigners with a fine for three months of salary. Contrary to conventional thoughts on the rigidity of the Cuban regime, the Cuban government provides unlimited Internet access to Cubans who work on software projects on a freelance basis inside the Bacardi building in old Havana. While expensive by Cuban standards--$60 a month--Cuban freelancers tell me that the government has never placed any prohibitions on the work of software engineers, and wants them to succeed.