Middle East Studies enters a new era at Brown
This September, the Middle East Studies program at Watson welcomed students back to campus as the Center for Middle East Studies. This change signals a significant shift from being an undergraduate concentration to serving as a hub of Middle East-related scholarship and teaching. Indeed, as the Center continues to nurture the work of both undergraduate and graduate students, it will also focus on establishing more collaborations at Brown and beyond. In addition, it will continue to pursue its key initiatives, Islam and the Humanities and New Directions in Palestinian Studies and a wide variety of other programming, while aiming to increase teaching and research on Iran and Turkey. 
Shahzad Bashir, MES's director since 2018, sees this change in status as an opportunity to expand – not necessarily in the number of events the Center produces, but in the depth of research projects and its ability to attract people of different interests across campus and beyond.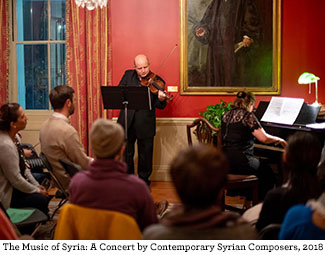 "We want everyone who wants to be a part of MES to feel welcome," he says.
That might mean a closer connection with the Center for Language Studies, for example, given the importance of languages in MES. Or coordination with the Joukowsky Institute for Archaeology and the Ancient World, many of whose projects are located in this area of the world. Or collaboration with the Program in Judaic Studies, on topics of shared interest, such as Jewish cultures around the Middle East.
Bashir says he also hopes to bring experts to Brown for more than just a one-hour lecture. "After the lecture, there's a Q&A, and that's it. You never see the person again. I'm interested in devising new types of residencies, where someone might come for a couple of weeks." One such scholar is Ali Al-Senussi, who will spend three days at Brown, participating in the course "Tracing Translations," giving a presentation, and holding office hours.
Indeed, the arts will have a strong presence at the Center. Other plans include an exhibition of Middle Eastern and South Asian materials at the John Hay Library, and, in 2020, an academic conference and performance by the dance group ANIKAYA, based on the 12th-century Persian epic poem "The Conference of the Birds." Bashir, who has collaborated on the work, says that bringing the troupe to Brown and Providence will require fundraising, but it's "the kind of thing we're working toward." 
The arts, says Bashir, complement a social-science approach to understanding this critical part of the world. Similarly, he says, the Center seeks to be "unbound" by geography: "We'll collobarote on events about Europe, about China, parts of central Asia. We have tremendous overlap with Africa, and will hold events on Sudan and North Africa. We're interested in connectivity in conjunction with other units at Watson and Brown." 
- Sarah C. Baldwin