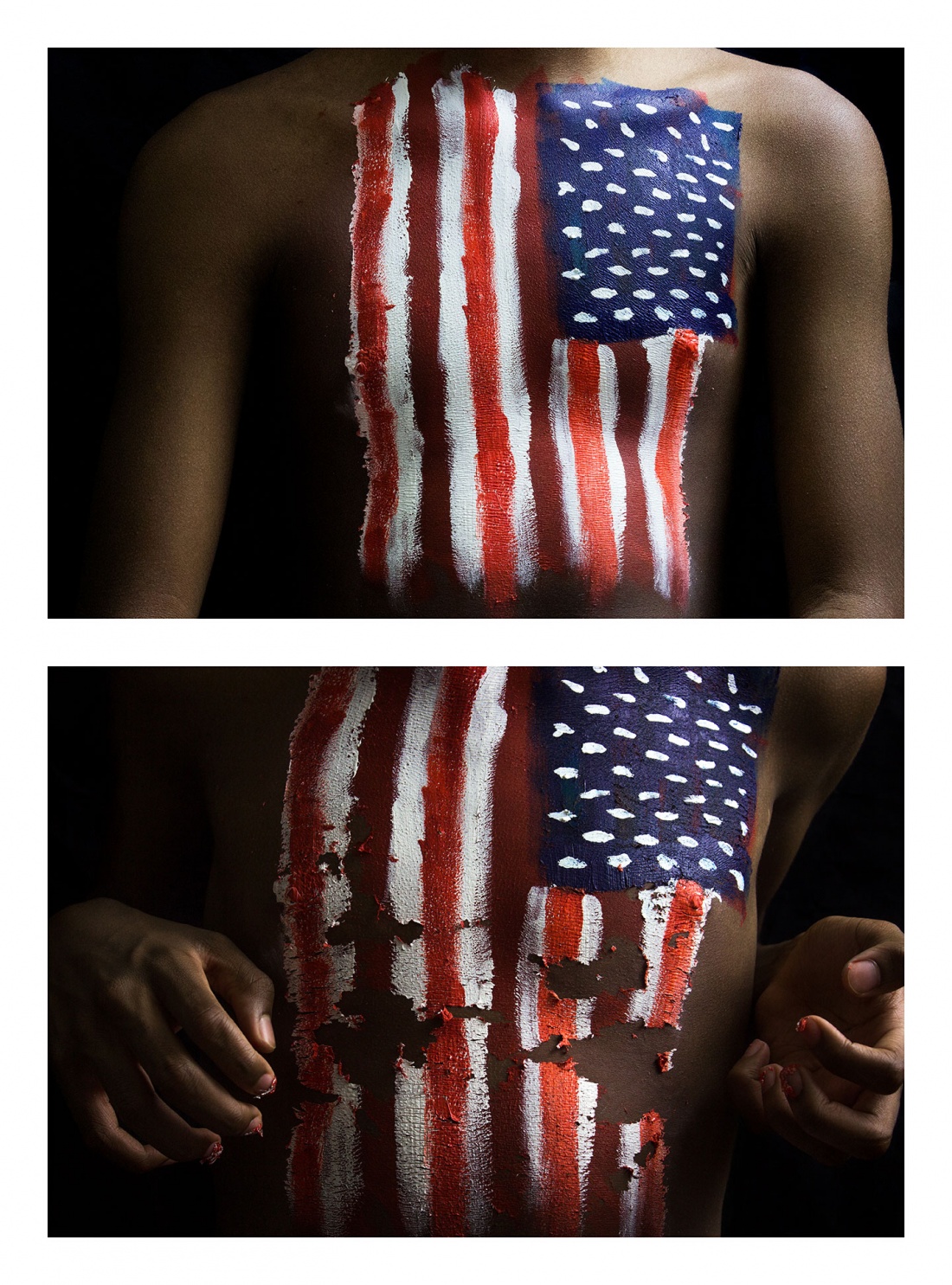 Altar of Stars, 2015
Digital inkjet print
27 x 20 (vertical diptych)
Photo credit: Vanessa Leroy
Statement on Altar of Stars, 2015
These two images, composed here as a vertical diptych, were made in 2015. They became a part of a project titled, "But still, like air, I'll rise." The series title is a line from Maya Angelou's well-known poem, "Still I Rise" (1978). The title of this specific diptych is derived from an Untitled poem by Nayyirah Waheed in her book of poetry, salt (2013). The poem reads,
to you.
my people. of color.
you are an altar of stars.
remember this.
always. do not ever forget this.
I was extremely shaken as a high schooler after the death of Trayvon Martin in 2012, and I found out just how complacent and/or racist most of my predominantly white schoolmates were. I was once again deeply unsettled after the death of Michael Brown in 2014. It was that summer when I finally began to become vocal about the injustices that Black people face, and as I transitioned into being a photography major during the fall of that year, I wanted to make images that could express our widely shared anger and grief surrounding the abuse of power and systemic racism in this country. It's difficult to express how wicked it is to deal with the generational effects of systemic oppression, especially when the burden is often placed on Black people to help end a system that strategically works against us. It's exhausting and demoralizing to see our lives discarded carelessly with no repercussions, and so I made these images to speak for when I can't find the words.
---



Vanessa Leroy photographing
Photo credit: Wandy Pascoal

Biographical and Artist Statements

Vanessa Leroy (MassArt '21) is a photographer from Waltham, Massachusetts. She remains on the hunt for new ways of seeing, remembering, and altering the world through photography. Her one-person exhibition, appropriately entitled there's a place i want to take you, takes place in the Alcove Gallery, Gallery Kayafas, Boston, early this fall.

Leroy is drawn to image making because of the power it holds to create nuanced representation for marginalized people, and to uplift their stories. She sees photography as a tool for social justice, and with it she hopes to create worlds that people feel as though they can enter and draw from, as well as to provide a look into an experience that they may not personally recognize.