Jessica Deane Rosner ─ American Slinky
Rosner has widely exhibited her penetrating drawings since formative training in the Cleveland Institute of Art. Recognized for intricate works in ink, gouache and marker, she reveals a delicate human touch while combining abstraction, love of the mathematical, and the mechanically rendered. Her self-perceived drawing mistakes or hesitations are embraced and serve intentionally to "betray her humanity." American Slinky manages to combine the sensation of the flag while rendering a stilled helical toy. Yet this slinky speaks with political intent: perfection is never achievable and mistakes must be visible and admitted for human improvement to take place. Rosner lives in Cranston, Rhode Island.
Artist's Statement
My artwork is personal even when abstract, and somewhat obsessive in terms of complexity and detail. In my narrative pieces I write snapshots of the minutiae of daily life as well as national and global events. For decades I've worked on a "Ruled Un-Ruled" series that begins with mechanically rendered geometric shapes alongside my hand drawn attempts to copy them.
My figurative and abstract work are both personal. Both take a long time to make, and as I draw or sew I am thinking about everything from the house I need to clean, the dog I need to walk, and the country I want to save. I think of climate change, police shootings, birds, politics, and friends. I listen to books as I draw or paint or sew and they manage to influence my choices and thoughts.
My inspirations are math, textile design, and artists too numerous to list including Annie Albers, Hilma af Klint, Sol LeWitt, Bridget Riley, James Siena, and Rachel Whiteread.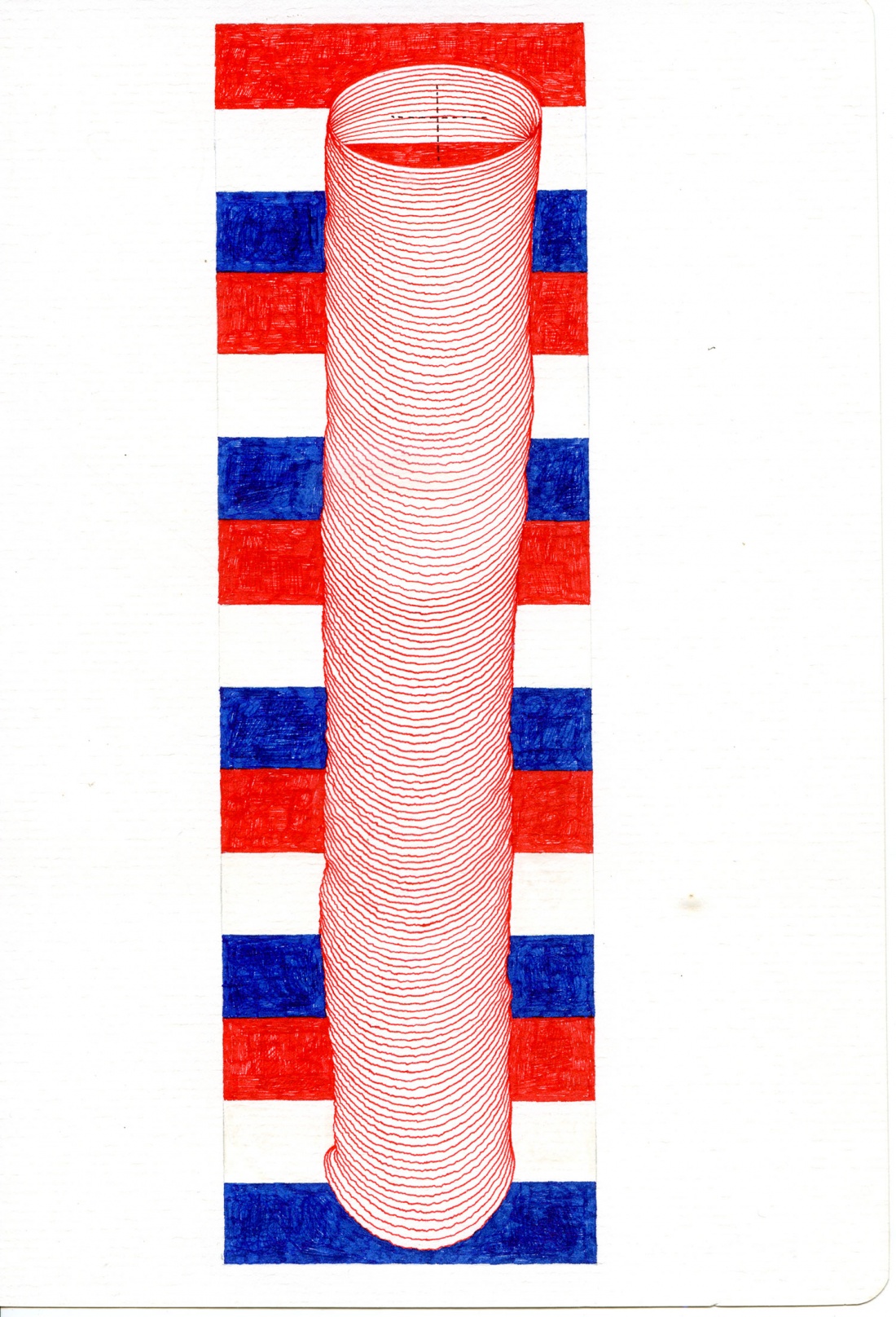 Jessica Deane Rosner
American Slinky, 2004
Colored ink on paper
8 x 5 1/2
Photo credit: Jessica Deane Rosner
Artist's Statement on American Slinky, 2004
I have been working on the "Slinky" series since 2003. Every slinky starts in the same way; by drawing one perfect circle using a template, or compass. All the lines that follow are drawn freehand. I named this series after slinkies because they remind me of the toy.
Within the larger context of my drawings I am always fighting between control and lack of control. I have one perfect shape I attempt to duplicate but it's impossible. My lines wiggle and waver, the circles widen and narrow. In the end, it is this betrayal of my humanity that gives the work complexity. I hope to reflect this lack of perfection to the viewer since we are more interesting and compassionate when we acknowledge and expose our imperfections.
With American Slinky I wanted a new spin on this series. As our country is ever forming, ever in turmoil, as our flag misrepresents and excludes so many people who exist here, it seems especially relevant to notice the idea of the perfection we want but are never able to attain. It remains important to appreciate our mistakes and mess, to leave them visible so that those who follow will see where we went wrong and keep trying, year by year, day by day, hour by hour, to create a 'better' United States.
---



Rosner at work
Photo credit: Andy Smith

Biographical Statement

Jessica Deane Rosner primarily works on paper with ink, gouache, and marker to create labor intensive, intricate drawings. Within every series and across media that includes cloth and rubber gloves, she strives for control allowing mistakes and accidents to remain visible, revealing a measure of fragility and humanity. Her work often incorporates text, giving it a diaristic quality.

Rosner holds a BFA from the Cleveland Institute of Art. Her works on paper are in public and private collections including the RISD Museum of Art and Smith College. She has exhibited nationally at galleries and museums including the de Cordova Sculpture Park and Museum (Lincoln, Massachusetts), the David Winton Bell Gallery, Brown University, and Dorsky Gallery Curatorial Programs (Long Island City, New York). Rosner has been a fellow at the MacDowell Colony in Peterborough, New Hampshire, and at the V.C.C.A. in Amherst, Virginia. Her drawings are in the flat files of Pierogi Gallery in New York and Carroll & Sons in Boston. She is represented by McKenzie Fine Art in New York. Most recently her Ulysses Glove Project was acquired by the RISD Museum for its permanent collection. Rosner is a full-time studio artist in Rhode Island.