Dave Cole ─ The Knitting Machine, American Flag (Bullets), American Flag (Lead), & Landfill Flag #1
The 2005 grandiose Knitting Machine event was, to paraphrase Cole, a "conceptually rich yet accessible" gesture, the sort favored by him. Its gender-bending contrasts, knitting from the sheer intensity of industrial labor, and making physical the symbolic weight of the flag are among its prominent characteristics. Cole has spent his career mining contrasts such as hard and soft or beauty and brutality. Penetrating interpretations of the American flag are a longtime part of his practice. Cole is a sculptor based in New York State.
Artist's Statement
When people ask me what my work is about, or what it is exactly that I am trying to say, or even if I consider my work to be political, I usually say something like: "It's a poem, not an essay." There are themes; there is no thesis. This is mostly due to the nature of my process. My life is an ongoing investigation of ideas and materials, tools and techniques, yet the ultimate idea always arrives spontaneously.
The idea for the form of the object itself—a flag made from a terrazzo of bullets or a flag sewn from lead—arrives intact and complete. Practically, what this means is I read a lot and have a lot of intense conversations and I buy tools and I experiment with materials, and then I have my good ideas as I am getting out of the shower. Figuring exactly why I think that something is a good idea is necessarily a process of excavation after the fact.
The Knitting Machine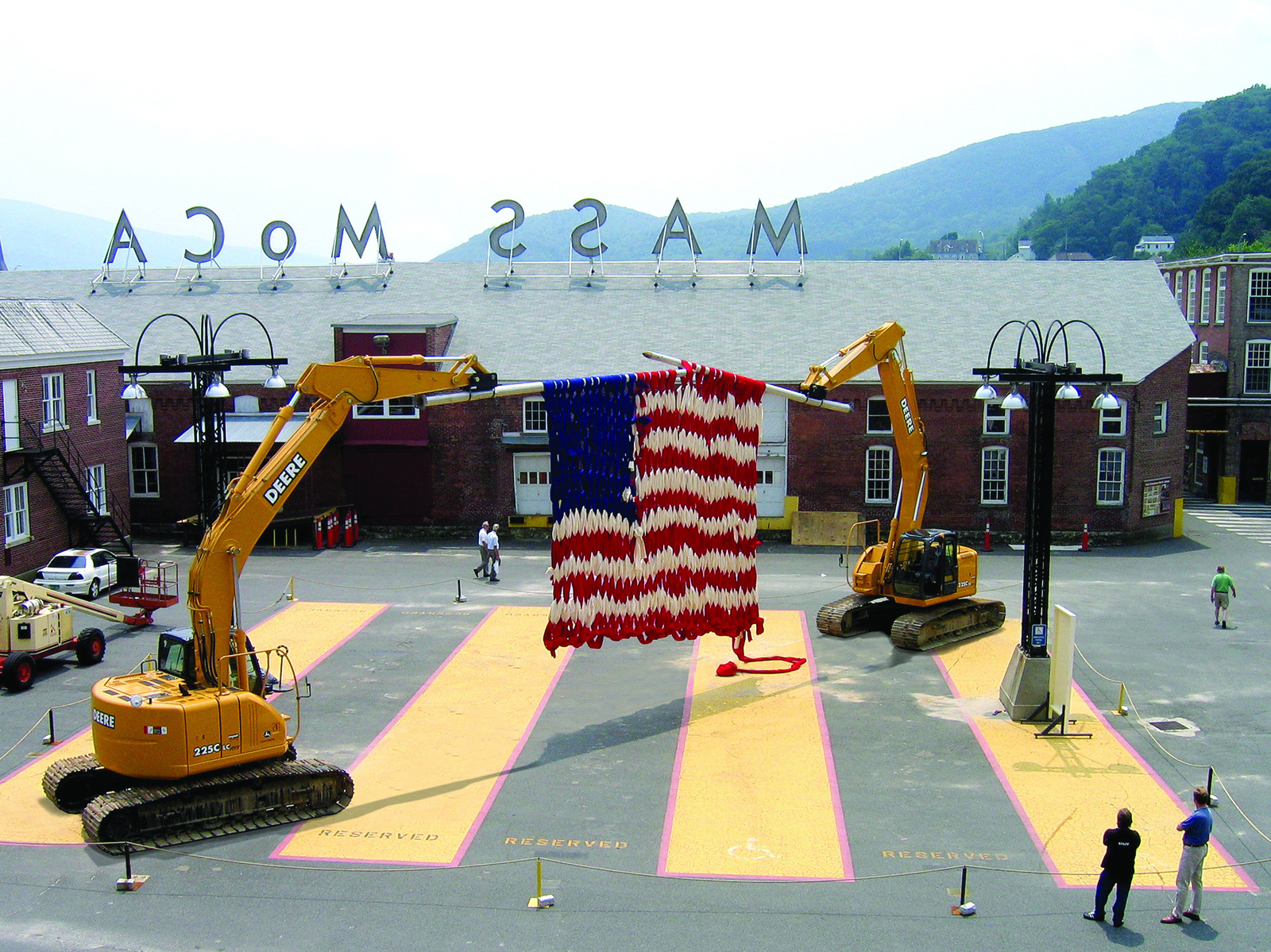 The Knitting Machine, 2005 
Functional installation with acrylic felt and excavators Shown in its final state, the installation took place over the period of a week, during which time the entire flag (approximately 500 stitches) was knit with the machines. 
Photo credit: Arjen Noordeman, MASS MoCA
Made possible with the support of John Deere, Schmidt Equipment, Foss Engineered Non-Woven Textiles, National Grid, Mass MoCA, and The Steel Yard, Providence.
Statement on The Knitting Machine, 2005
Fifteen years later I am still immensely proud of the Machine. Specifically I am proud of how it managed to be conceptually rich and completely accessible at the same time. I wish that all of my work might convey the same sense of good natured irreverence—plenty of irony but virtually no cynicism. Not that there isn't some conceptual 'bite' there, there is. Even so, it's pretty tough to be pretentious watching priapic machinery attempting needlecraft.
I have never been comfortable with the term 'performance' applied to this piece. Possibly that's because I have only the most rudimentary understanding of critical theory and terminology around performance art, theater, 'happenings,' and the like. The term 'performance ' has always seemed to me to be centered somehow on the perceptions of the viewers—or at the very least dependent upon their presence. The Knitting Machine was always more of an 'endeavor' to me. That is, it was dependent only on the accomplishment of the task at hand, and there was a significant chance of failure. This is not to say that the Machine wasn't theatrical—it certainly and intentionally was—but that theatricality was primarily about the experiences of the participants, rather than the viewers.
---
American Flag (Bullets)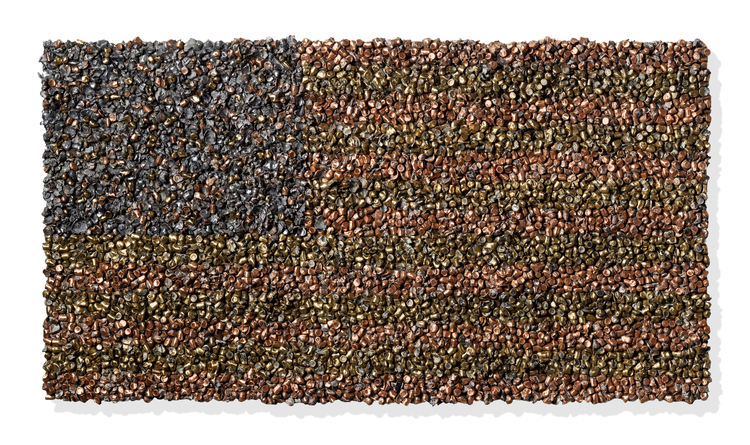 Dave Cole
American Flag (Bullets), 2013
Recovered bullets and bullet fragments
23 x 44 x 4
Photo credit: Stewart Clements Photography
Statement on American Flag (Bullets), 2013
I have a longstanding interest in coalescence, as when one becomes many becomes one again. I understand that this may be a dangerous concept to bring anywhere near a flag, but I don't mean it like that. I mean literally, like a flower/flowers/a fields of flowers.
There is something immensely satisfying in how every little piece is beautiful, like a tiny piece of industrial jewelry. And yet every element has been fired from a gun and recovered; each is a very real act of potentially deadly violence. This juxtaposition—beauty and brutality, creativity and violence—comes up again and again for me.
This work is also a worthy example of my interest in understanding materials in depth. I do my best to make conceptually accessible objects that become more interesting the more of an interest is taken in them. In this case it might learning/noticing/knowing that the 'red' stripes of the flag are copper jacketed (and therefore likely military ammunition) and how the 'white' stripes of the flag are brass jacketed (and therefore likely police ammunition), and what that implies. There are also the implications of how and why military ammunition became regulated in the first place—and the complicated idea of 'civilized warfare' to begin with.
---
American Flag (Lead)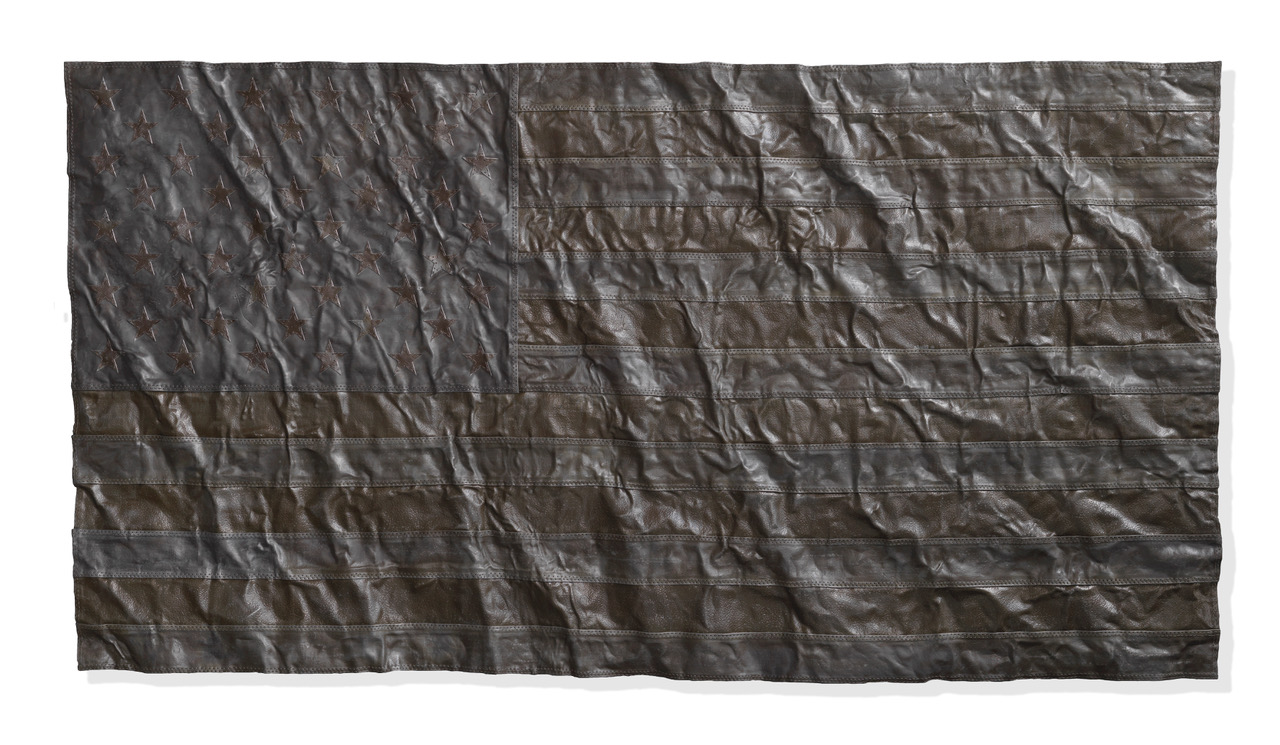 Dave Cole
American Flag (Lead), 2013
Pure lead sheet with stainless steel cable, hand-sewn
42 1/4 x 80 x 3
Photo credit: Stewart Clements Photography
Statement on American Flag (Lead), 2013
The lead flag is a strong example of my passion for materials and processes, specifically industrial materials and textile processes. I am particularly proud of how completely the material transcends its properties. The whole thing is metal—sheets of lead, hand sewn with ultra-fine steel aircraft cable—yet it looks like anything but. I also love the slight visual discomfort caused by a wavy flag that isn't waving.
Conceptually this is an American flag, made with assiduous adherence to official dimensions. And it's made of lead, that toxic cornerstone of civilization, still essential to any progress in industry or technology. Most of the conceptual content is right there, living in the uncomfortable space between the form and the material. The rest lies in the technical challenge of having the final object be good enough to fulfill the promise of the form-object of the original idea.
---
Landfill Flag #1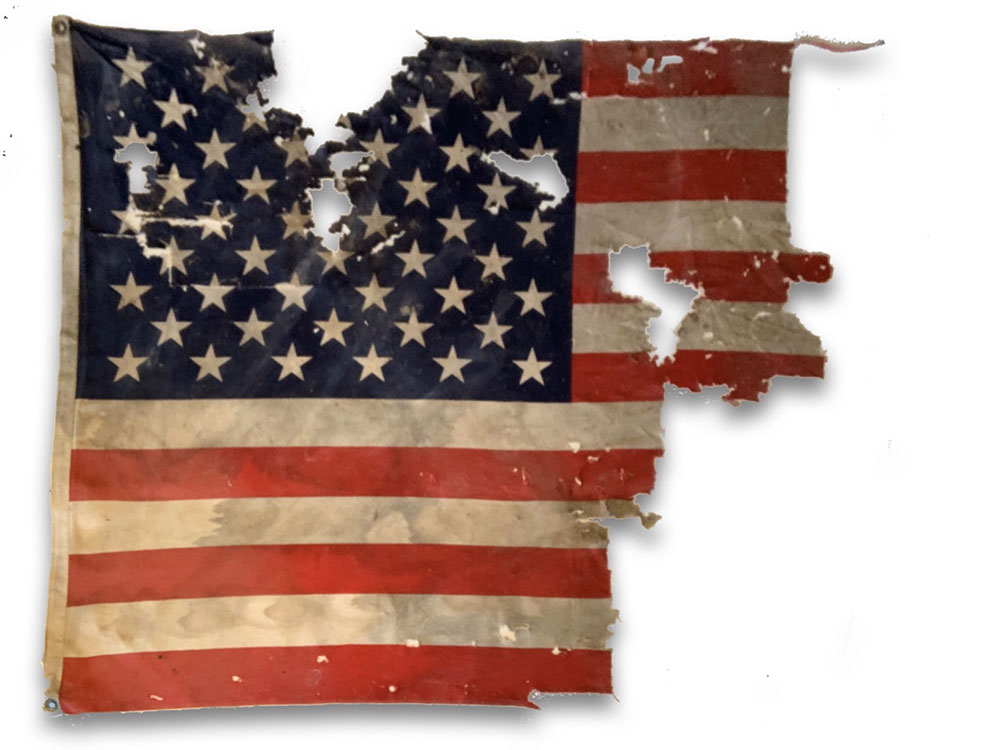 Dave Cole
Landfill Flag #1, 2020
Found flag mounted to linen
41 x 57 1/2
Photo credit: Dave Cole
Statement on Landfill Flag #1, 2020
This object is an example of something too recent for me to know fully what it is about, whether personally or conceptually. The obvious fact, and what I know right now, is that this is a tattered American flag I found wadded up under a pile of garbage at the local landfill. I knew immediately that it needed to be ironed & conservation mounted—that it needed to (and would) look exactly like a battle-torn regimental standard, at home on the wall of any general. And that this was worth doing.
I really don't know why I knew that this was a good idea; I usually don't. But I knew viscerally that, done right, the final object would exactly encapsulate some aspect of my life at that moment, and do so sufficiently to resonate with the experiences of others. Having completed the work, I feel even more strongly that there is some little bit of capital-t-Truth evident (if ineffable) in the piece. I am still excavating, and patiently awaiting the perspective of time, to discover exactly what that might be.
---



Dave Cole in his studio 
Photo credit: by Sam Cornwall

Biographical Statement 

"Art can be both intellectually rigorous and conceptually accessible without compromising either value—I think it comes closest to its purpose when it is." —Dave Cole

Dave Cole was raised on his family's farm in New Hampshire, and grew up working in his grandfather's blacksmith shop. He was awarded a BA from Brown University. As a practicing sculptor, Cole has become known for his large-scale work and his unconventional uses of industrial machines and materials. His installation work especially is known for its ability to successfully engage diverse audiences with conceptually challenging means.

Cole has exhibited nationally and internationally, including museum exhibitions at The Smithsonian American Art Museum, Washington; The Museum of Arts And Design, New York; the Museum of Fine Arts, Boston; MASS MoCA (North Adams, Massachusetts); The deCordova Sculpture Park and Museum, (Lincoln, Massachusetts); The Aldrich Contemporary Art, Museum (Ridgefield, Connecticut); The Norwegian National Museum; The Haifa Museum of Art and The National Museum of the Netherlands. Cole's work is part of public and private collections internationally, including the permanent collections of the Smithsonian American Art Museum, the Museum of Fine Arts, Boston, and Brown University. Cole lives and works in Hudson, New York.