Gary Graham (with Liz Collins) ─ Pride Dress
Originally trained as a painter, Graham is well-known for a design brand that cherishes history as a living experience. Janus faced, he looks back to look forward in creating admired collections and collaborations with museums, as with Collins as co-maker on the special dress pictured here. Currently Graham researches local histories to design with rare vintage and fine local textiles produced in domestic mills in a combined studio, storefront and a living space in New York State known as GaryGraham422.
Artist's Statement
I am an artist who approaches fashion design as a material culture of elegance and decay in works often combining historical narratives with fictional characters, blurring temporary distinctions in mysterious and unexpected ways. For over 20 years I have practiced in the fashion industry as his own eponymous label. Known for engineered jacquards, knitwear, intricate detailing, embroidery, and my own signature prints, my ready-to-wear collections have been featured in Barneys New York, Barneys Japan, Dover Street Market, If Boutique, Trois Pommes, and boutiques worldwide. Each iteration of the distinctive brand and aesthetic endeavors to forge new realities through process, collaboration, style and drama.
Over the years I have teamed with artists and museum curators in installations and performances exploring history as a living experience. Working with institutions such as The American Folk Art Museum, The Peabody Essex Museum and the RISD Museum, I have mined museological archives for inspiration and incorporated pieces into my own collections as textiles or surface treatments. Multi-media collaborations have been many. In The Conversation (2015), I partnered with Meredith Monk to recast her iconic Bird Code recording (1979) within an installation of historic furniture and textiles. For the Fall 2016 collection I filmed Palacetor, a trailer casting some of my most creative clientèle as seven female archetypes, including Kara Walker as "the General" and Parker Posey as "the Magician." In 2017 I worked with the Rhode Island Historical Society and Pollack Associates to design a textile collection inspired by several locales, showcasing my collection with an installation of furniture, video, performance and sound.
---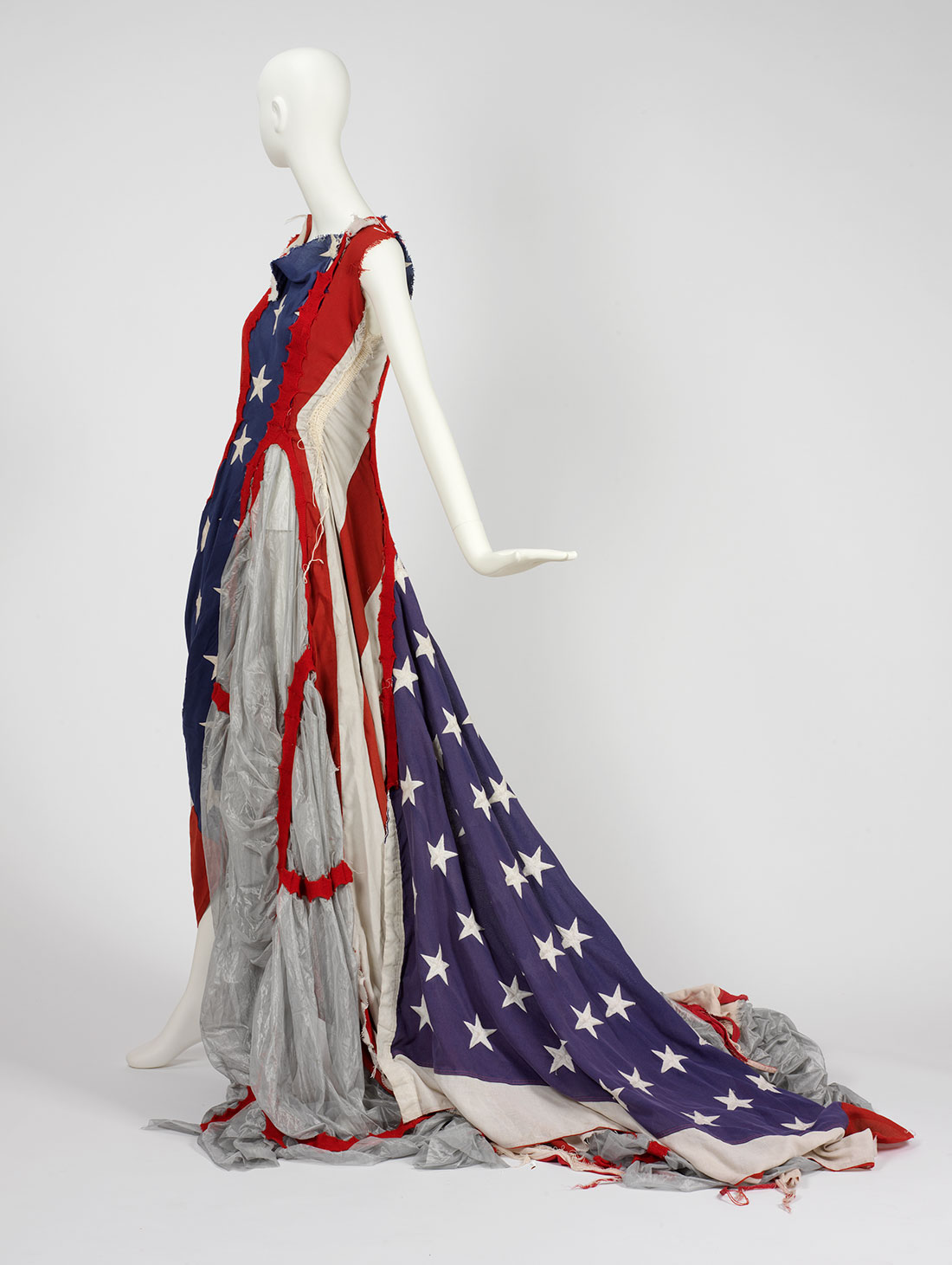 Pride Dress
From the collection "Seven Deadly Sins" Series, 2003 
Cotton, synthetic fiber, wool; plain weave, machine knit-grafted 
Center back length: 109 inches
Gift of Liz Collins and Gary Graham 2008.75.1 
Courtesy of the RISD Museum, Providence, RI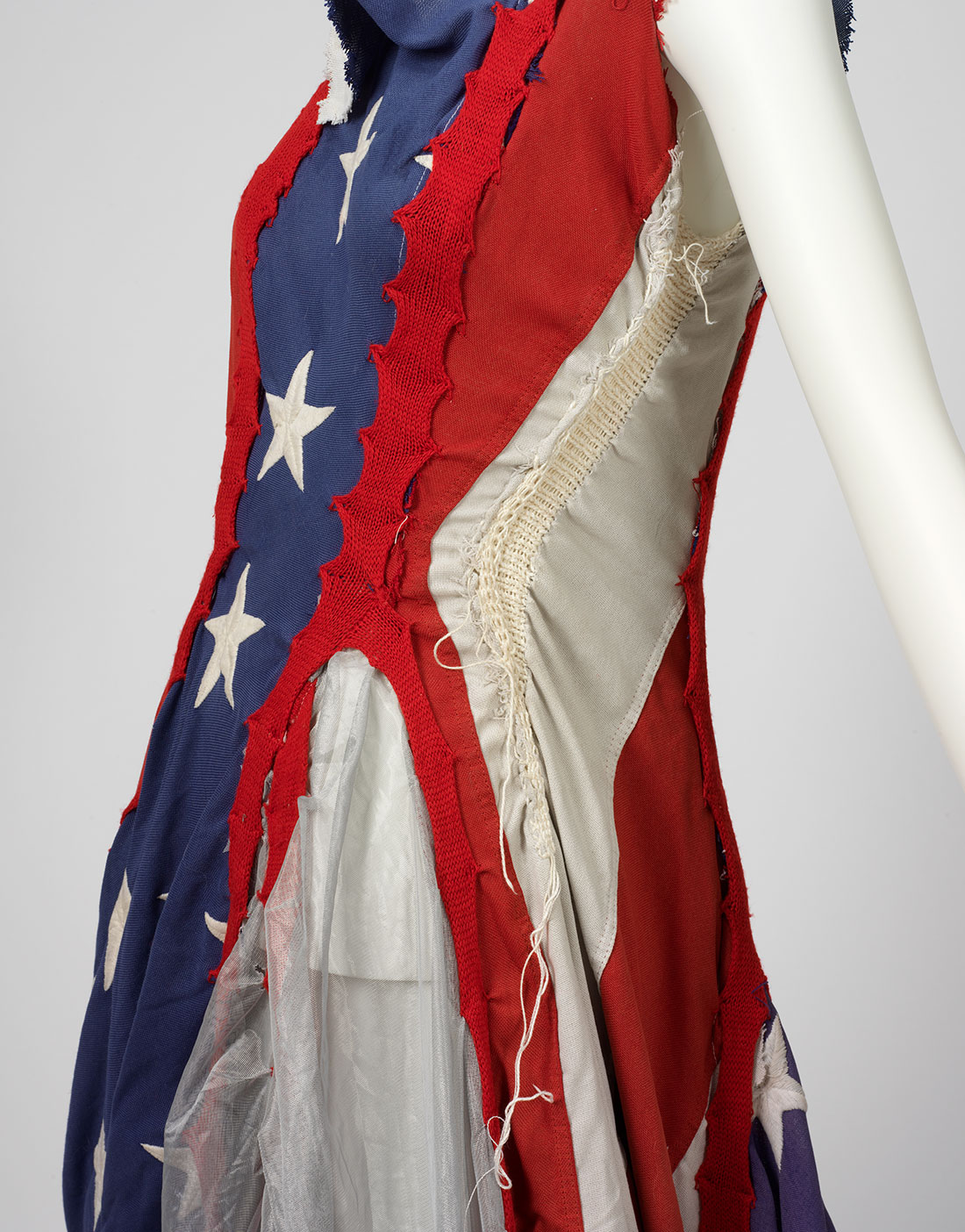 Detail, Pride Dress, 2003
Statement on Pride Dress, 2003
Liz and I had developed a conversational way of working back and forth between the dress form, my sewing machine, and her knitting machine. She would create a textile or I would drape a piece of fabric and then we would hand it off either by stitching or grafting until a shape started to form. We both wanted a certain expressive freedom from our businesses that we were fighting hard to maintain. I always see this dress as a materialization of shared ideas and the excitement we experienced in our friendship.
---



Gary Graham Working
Photo credit: Sean Scherer

Biographical Statement

Raised in Newark, Delaware, Gary Graham studied painting at the Maryland Institute College of Art and graduated with a BFA from the School of the Art Institute of Chicago. Upon graduation he moved to New York and began working for the artist and designer J. Morgan Puett, learning the craft of garment dyeing and less formal approaches to textiles and historical interpretation. In 1999 he designed his first collection and in 2006 opened the first designer clothing boutique at ABC Carpet & Home. Three years later Graham established his own boutique in Tribeca and was honored as a CFDA/Vogue finalist. His boutique achieved an instant cult following that continues to this day.

GaryGraham422, launched in 2018, is a site-specific, multi-dimensional operation stationed in Franklin, New York. Here Graham designs intimate collections drawn from local histories, using vintage and antique textiles as well as jacquards and wovens from domestic mills. As a studio, storefront and a living space, GaryGraham422 is the physical and conceptual reincarnation of his brand and a reflection of his aesthetic mission: looking back to look forward.