Liz Collins (with Gary Graham) ─ Pride Dress
Collins typically uses soft, sensuous materials like textile and fiber fluidly combined with metal and wood to create single works or vast immersive environments. This vintage flag dress was an early collaboration with Gary Graham, and bears their combined names in an invented design label. Collins' queer and feminist sensibilities inform her work, as do travel and industrial production. She is a subversive designer and installation artist based in New York.
Artist's Statement
I am an artist who uses textile and fiber in conjunction with hard materials (metal and wood) and other media (video, furniture ) to build artworks that range from small stitched drawings and paintings to multi-room immersive installations. The installations are containers for my multi-faceted artworks, and they function as social spaces.
Collaboration, travel, and industrial production—one or all—are usually part of what I do to actualize the work in one way or another, from collaborating with Italian textile mills to fabricate my pieces to using the act of curation as a method of space transformation and community engagement.
Dynamic pattern, vivid color and sensual materials are the primary ingredients with which I channel my very life force through my hands into this ongoing and ever-evolving vision. My ideas are informed by historical art and design movements such as Op and Pop Art, Arte Povera, and Memphis Design, as well as by nature and spirit, and infused with my own queer and feminist sensibilities. I identify with the concept of Queer Abstraction, as an artist who makes primarily non-representational work driven by materials and shapes and resistance and subversion of conventions.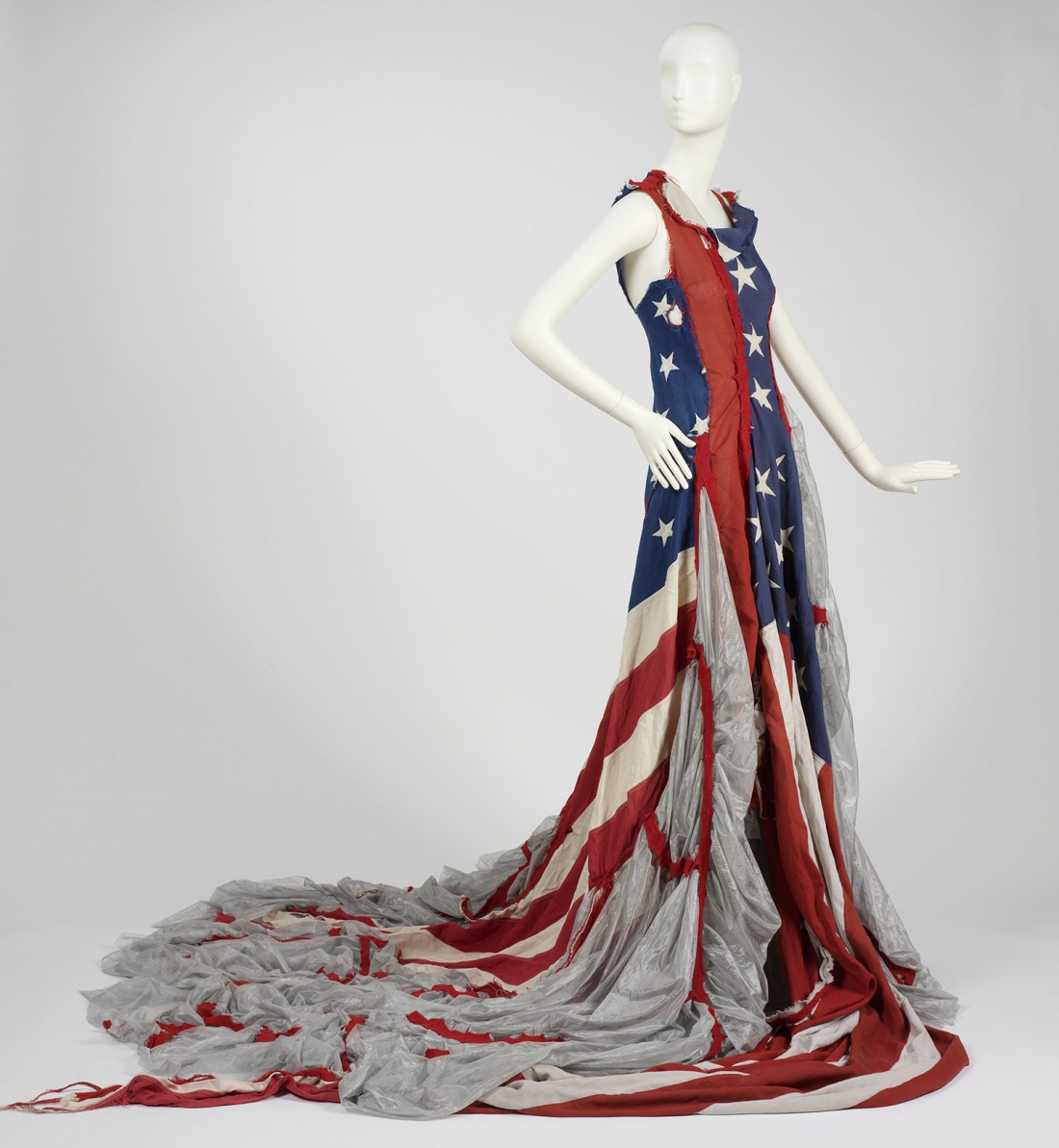 Liz Collins, designer, American, b. 1968 | Gary Graham, designer, American, b. 1969 | Griz, design label, American
Pride Dress From the collection "Seven Deadly Sins" series, 2003
Cotton, synthetic fiber, wool; plain weave, machine knit-grafted
109 inches (center back length)
Gift of Liz Collins and Gary Graham 2008.75.1
Courtesy of the RISD Museum, Providence, RI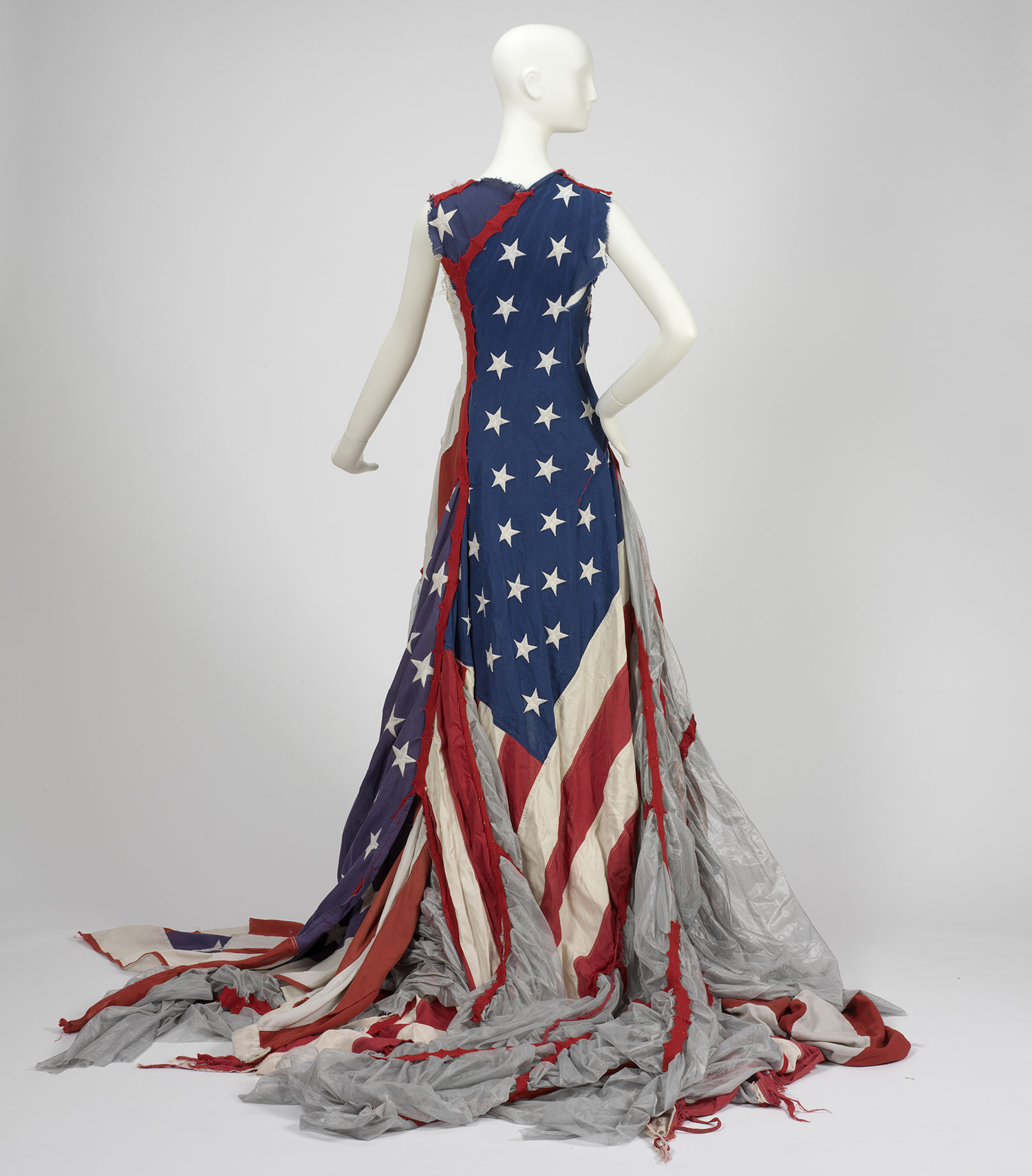 Statement on Pride Dress, 2003
Gary Graham and I decided to collaborate in early 2000s as we both wanted to create a space for a non-commercial collection. We named our collaboration Griz, combining the first two letters of his last name and the last two letters of my first. We liked the sound of the word; it conjured a shared nostalgia about our growing up in the 1980s, being into certain kinds of music and style.
We put together a project that was based on the "Seven Deadly Sins." We made one garment for each cardinal sin. Our collaboration was short-lived, but we went on to do other kinds of work together, specifically my designing knitwear for his brand over many seasons. The Pride Dress was made of vintage American flags that were given to us by E.V. Day, an artist and mutual friend. We made the dress with shared sensibilities about tailoring and deconstruction and idiosyncratic embellishment of knit cords that also functioned as an additional layer of structure for the gown. We liked the idea of these precious old flags dragging along the ground, and also being chopped up and pasted back together.
I love this piece—I've always loved it. It's had a great life so far. My dear friend, art historian Julia Bryan-Wilson, wore the dress as a costume for my very first KNITTING NATION project on Governors Island, Phase 1: Knitting During Wartime. Bryan-Wilson wore this gown while reading from Anne L. Macdonald's No Idle Hands: The Social History of Knitting (1988) and from contemporary articles about the complex problems of the global supply chain, and labor and manufacturing of apparel and textiles. Her reading added a layer of cacophony to the knitting machines that were running to knit an American flag onto the grounds of Governors Island. So we had two different versions of deconstructed reconstructed American flags in one context, both on the ground in different ways. . .
I think the Pride Dress is timeless. I think it holds up in terms of holding the energy—the anger and distress and destruction and desperation and reconstruction and pasting back together—that is happening on an ongoing basis in our time. I'm very happy to have it in the collection of the RISD Museum and also very happy that we get to show it in Out of the Fray.
---



Photo credit: Allison Michael Orenstein

Biographical Statement

Liz Collins works fluidly between art and design, with emphasis on and expertise in textile media. Liz's solo exhibitions and installations have been presented in New York at the Museum of Arts and Design; LMAK; Heller and BGSQD, and at the NADA, Collective, and Spring Break art fairs. Outside of New York, Liz has presented shows and projects at the Frances Young Tang Teaching Museum (Saratoga Springs, New York), AMP (Provincetown, Massachusetts), Knoxville Museum of Art (Tennessee), Gallery DLUL (Ljubljana, Slovenia), and Rossana Orlandi (Milan, Italy).

Collins' work has been included in group exhibitions in New York at Leslie Lohman Museum; Museum of FIT; the New Museum; MoMA; the Drawing Center; BRIC; Smack Mellon; Asya Geisberg Gallery; Sargent's Daughters, as well as the September Gallery (Hudson, New York); NoLaB (Istanbul, Turkey); Kristin Hjellegjerde Gallery (Berlin, Germany); Luis de Jesus Los Angeles; LAMAG (Los Angeles), and the Addison Gallery of American Art (Andover, Massachusetts).

Collins' honors include a USA Fellowship, a MacColl Johnson Fellowship, Foundation for Contemporary Arts & Artist Relief grants, Drawing Center Open Sessions, and art residencies at Siena Art Institute, MacDowell, Yaddo, Haystack, Museum of Arts and Design, and currently at the Two Trees Cultural Subsidy Studio Program in Brooklyn. She is affiliated with Luis de Jesus Gallery in Los Angeles.

Collins is a Queer Art Mentor. She is on the Advisory Board of Fire Island Art Residency, and a member of the Exhibitions Committee at Leslie Lohman Museum. The Tang Teaching Museum has just released Liz Collins Energy Field, her first major publication.