Tasha Dougé ─ Rhode to Brown
Through conceptual art, teaching, and performance, Dougé devotedly strives to empower and to forge broad understanding of the contributions of Black people, declaring that her "voice is the first tool within my art arsenal." A freshly created video historically elaborates the character of Justice in Rhode Island, based on a Black American flag she'd created from synthetic hair, chicken wire and cotton. Justice has developed an activist persona and aura of her own, connected to the Haitian-American artist's public-facing "cultural vigilante" work. Dougé is based in the Bronx, New York.
Artist's Statement
My work incites conversations around women, health advocacy, sexual education, societal "norms," identity and Black pride. As a proud Black woman of Haitian descent, it's very important and fundamental to my practice to depict a more holistic description of who we are as Black people and what we have contributed. I use my art to exercise expression, enact empowerment and to serve as a bridge to connect and highlight those that are excluded and overlooked. My voice is the first tool within my art arsenal. Through provocative works, I aim to activate change and REFORM.
Tasha Dougé
Rhode to Brown, 2020
HD Video, Color, Sound, 10:48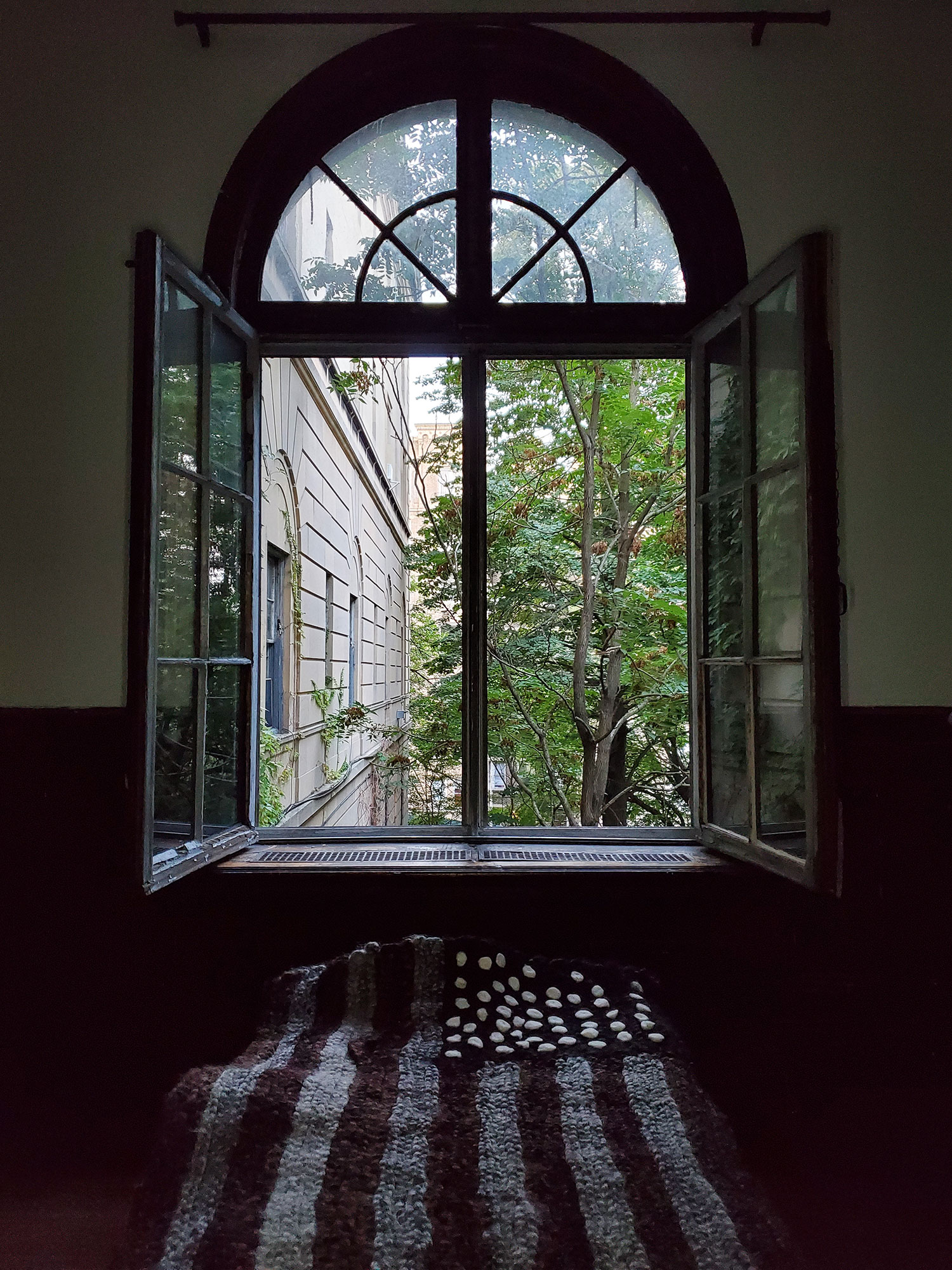 Tasha Dougé
Video Still, Rhode to Brown, 2020
Photo credit: Tasha Dougé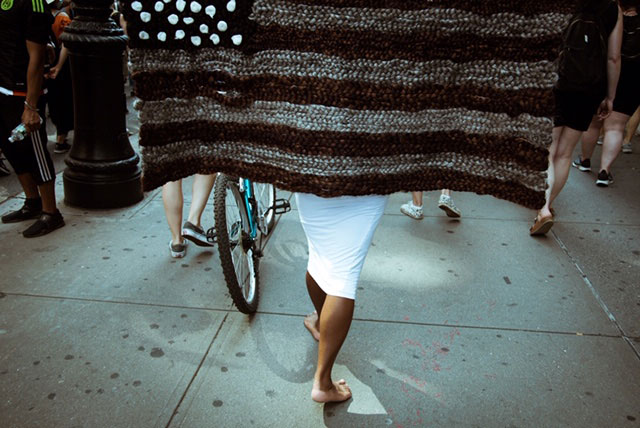 Tasha Dougé/RESIST
Digital Photograph
Photo credit: Doerte Fitschen-Rath
Statement on Rhode to Brown, 2020
Justice, a 3-foot-by-5-foot Black American flag made of synthetic hair, chicken wire and cotton, was created at the height of the 2016 presidential election. She speaks about the contributions of enslaved Africans and their descendants to the foundation of this country. The inhumane system of slavery continues to show its insidious nature and residual implications in today's society. Justice's message is still relevant.
Rhode to Brown is an original video that takes specific moments from Justice's journey and correlates them to significant facts and narratives tied to Rhode Island and Brown University. Drawing from their timelines, RTB will highlight parallels at points of intersection between the plight for Justice and impact of slavery. Four years later, here we stand in the midst of another presidential election. This time COVID-19 has lifted the shroud of what was deemed a post-racial America. With masks on our faces, we witness systems of capitalism and social inequities become frayed. The question is, How can we preserve our humanity?
---



Tasha Dougé seated under Justice
Digital photograph
Photo credit: Cris Vivar

Biographical Statement

Tasha Dougé is a Bronx-based conceptual mixed media artist, teaching artist and cultural vigilante. She has been featured in The New York Times, Essence magazine and Sugarcane magazine. She has shown nationally at the RISD Museum (Providence), The Apollo Theater (New York) and Rush Arts Gallery (Philadelphia). Internationally, Dougé has shown at the Hygiene Museum in Germany. She is an alum of the Laundromat Project's Create Change Fellowship, Urban Bush Women's Summer Leadership Institute, The Studio Museum of Harlem's Museum Education Program and the Caribbean Cultural Center African Diaspora Institute's Innovative Cultural Advocacy Fellowship.