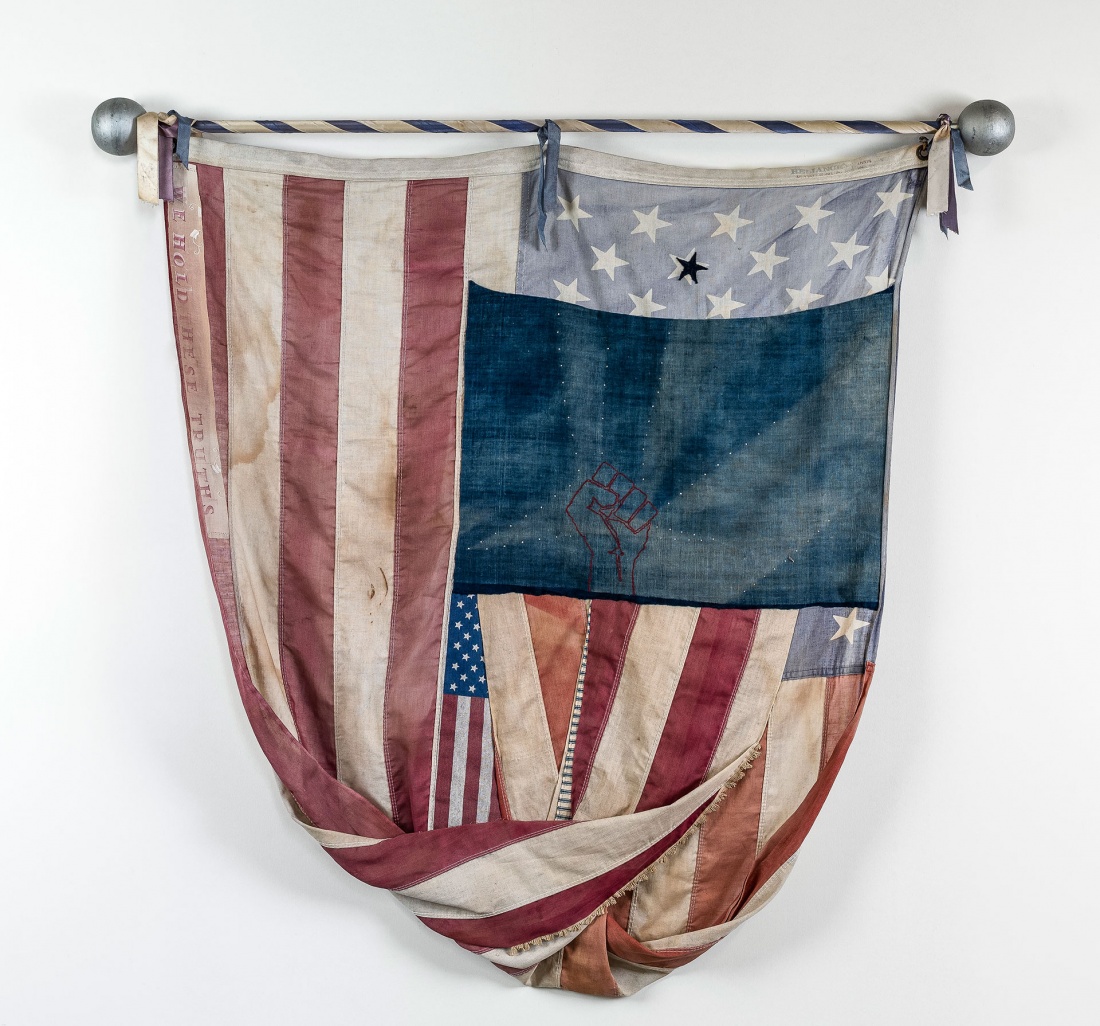 We Hold These Truths, 2018
Cloth, thread, ink, majorette's baton     
38 x 39 x 2 1/2
Collection Leslie and Nick Ward MA '74
Photo credit: Lindsay Raymondjack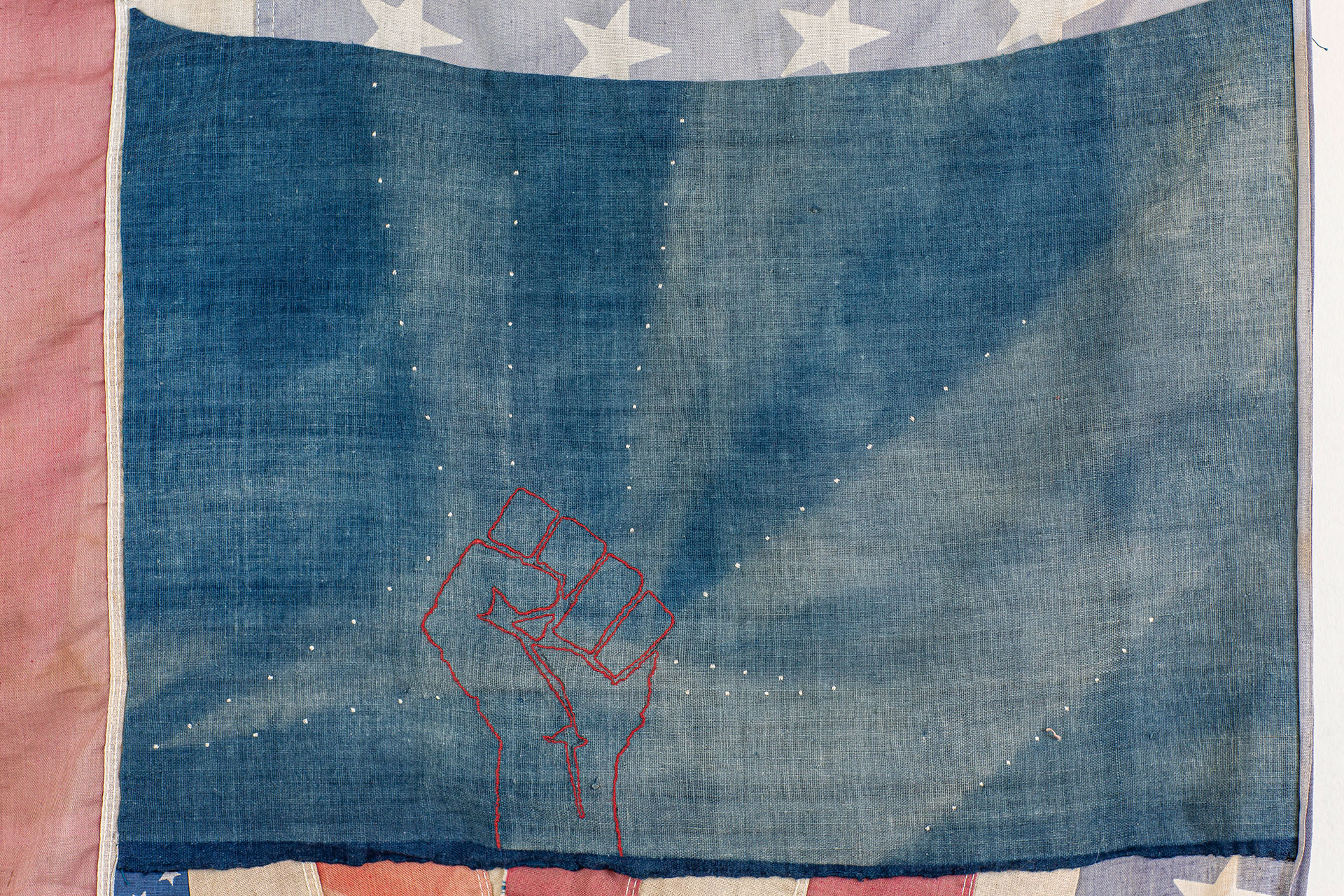 Janie Cohen
We Hold These Truths, 2018
(Detail of central section)
Photo credit: Lindsay Raymondjack
---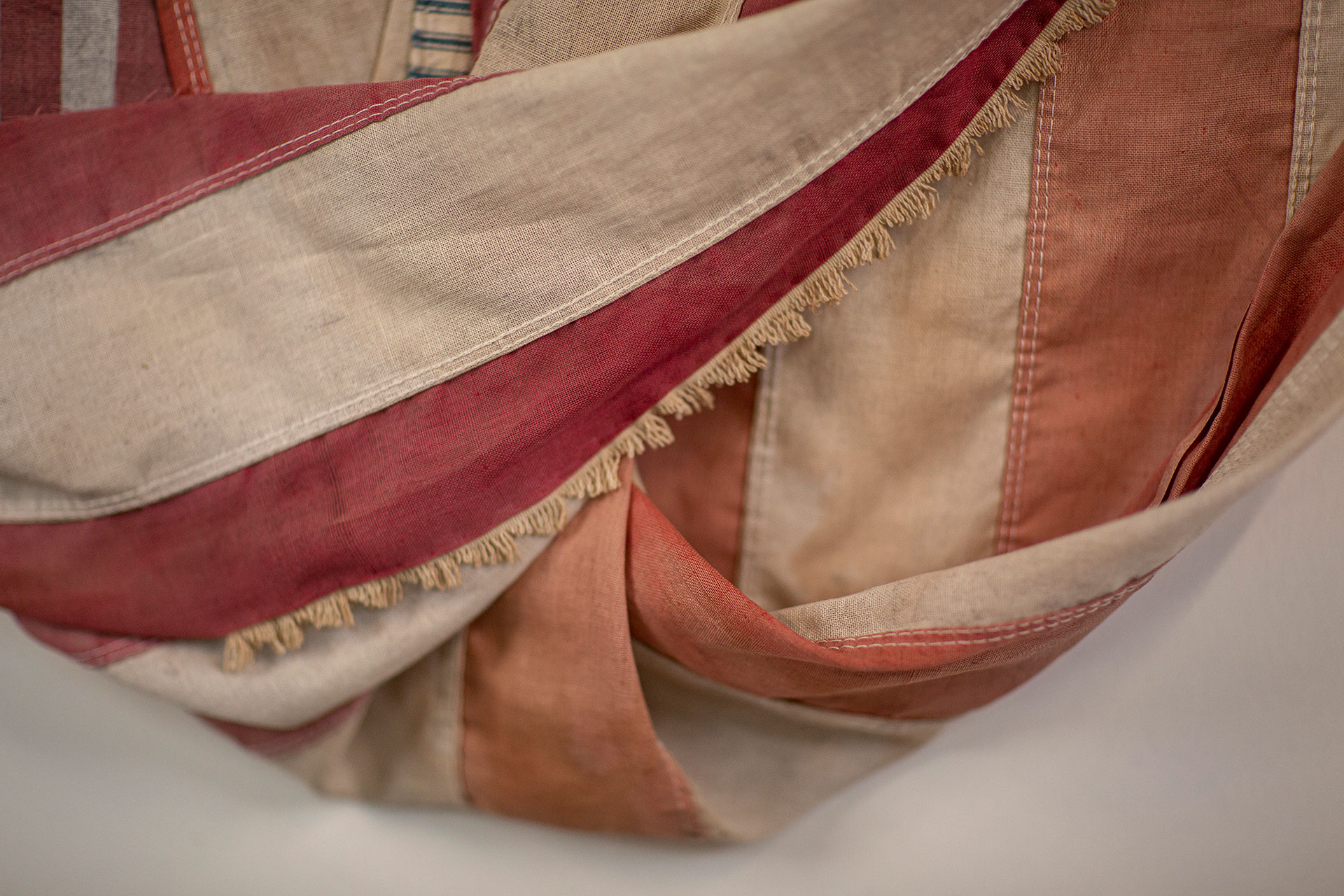 Janie Cohen
We Hold These Truths, 2018
(Detail of lower section)
Photo credit: Lindsay Raymondjack
---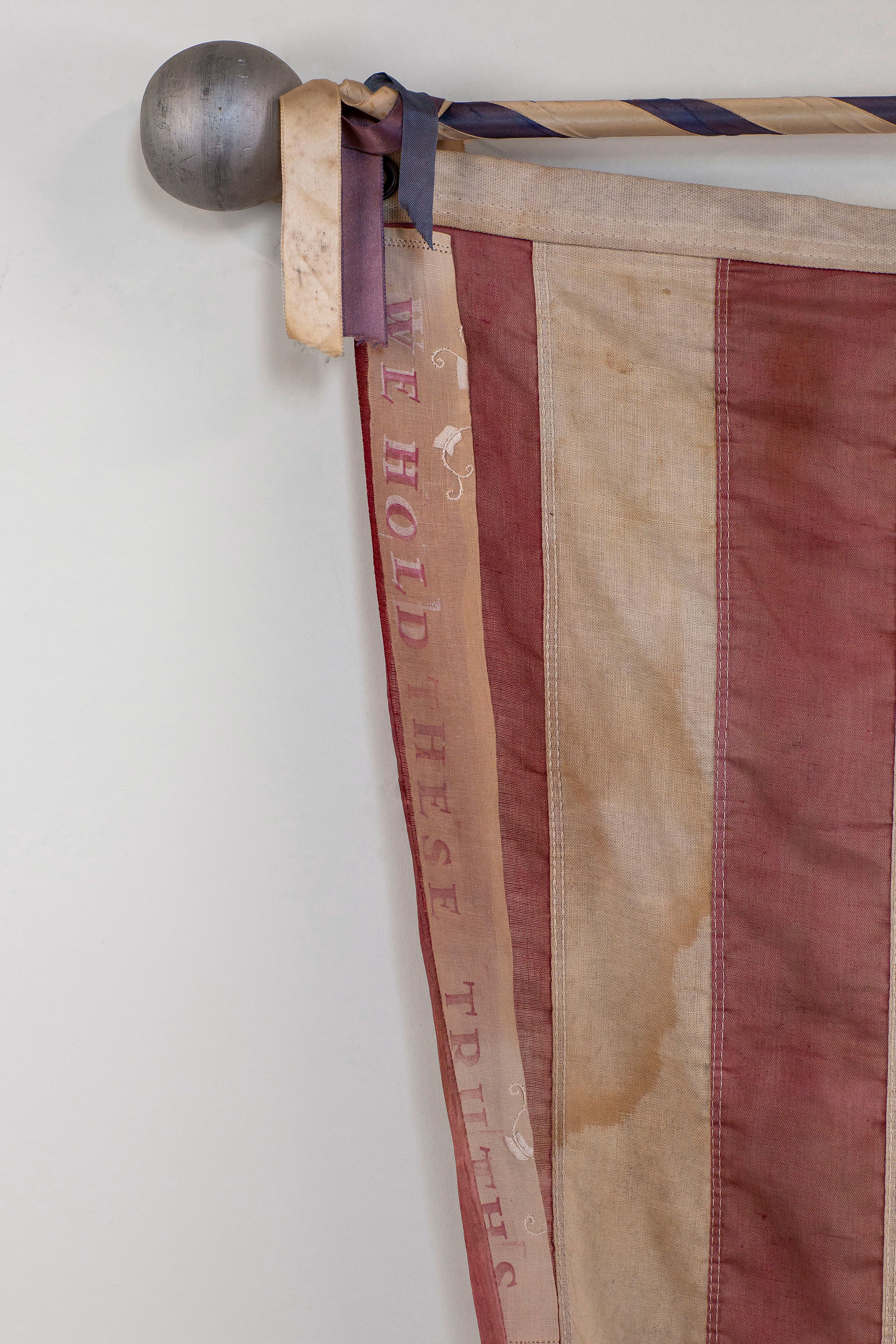 Janie Cohen
We Hold These Truths, 2018
(Detail of text)
Photo credit: Lindsay Raymondjack
---
Artist's Statement
The first cloth that I formed an attachment to was a pale, bluish-green blanket with a satiny binding across the top, which I sucked on, consuming most of it during my early childhood. I realized years later why the smell of mildew was always a comfort to me.
I have collected cloth for decades—often old, with traces of age and use. I learn what I can of its creation or production technique, original purpose and use, and cultural context. I combine and assemble cloth into new contexts, some driven by their histories, some patently ahistorical, some inspired by inherent content, some by formal concerns.
Historically, cloth carries associations of comfort, security, and survival. For centuries, cloth was central in the daily lives of women, from swaddling to shrouding, to utilitarian and creative production. Belying its protective role, cloth has also played a role in genocide: from smallpox-contaminated blankets used as biological warfare by European Americans against Native Americans, to the color-coded cloth identity badges used in Nazi-occupied countries and in death camps.
My curatorial side prevails when working with intact historical cloth; I do not cut into it, instead, transforming it in a way that is reversible. I like the occasional ambiguity regarding what I have done to the cloth, versus those before me. I sew only by hand, when I can, following the tracks of those who made, used, or repurposed the cloth long before I took my turn with it.
Statement on We Hold These Truths, 2018
Growing up in a college town, I witnessed the anti-war demonstrations of the late 1960s, and I came to view the American flag as a symbol of the political right. Throughout my life the flag has carried negative associations; it has never had a place in my home. In 2017, I was rummaging through a box of old cloth in a junk store, and I came across a flag—faded, stained, worn, and somehow heart-wrenchingly beautiful. I was surprised by the emotion it evoked; it was just old cloth, but it held so much promise and so much betrayal. At that moment, all the good that it represented was threatened by the president inaugurated earlier that year. The flag came home with me. 
In working on this piece over the following year, its primary elements—the words, Black Power fist, and twisted form—were responses to the Trump administration's threats to the basic tenets of our democracy and its incitement of racism and hatred in America. Seeing the flag in the context of abandoned, worn cloth enabled me to reclaim it and to shape it to speak to our nation's urgencies, central among them, entrenched, systemic racism.
---
Janie Cohen in her studio
Photo Credit: Lindsay Raymondjack

Biographical Statement

Janie Cohen hand sews cloth works assembled from a diverse collection of cloth she has accumulated over thirty years. Cohen is an art historian, and she sees her artistic practice as a combination of collecting, curating, and creating. She kept her cloth work in the private realm for decades, showing publicly only since 2016.

Cohen directs the Fleming Museum of Art at the University of Vermont. She previously served as the Fleming's curator, and as an independent curator working internationally. She is a Picasso scholar and has published articles and catalogue essays in the U.S. and Europe.