Work/Play
Danielle and Kevin McCoy are talented partners who leverage various media "to explore racial inequality, erasure, and redacted histories." They research, collect and investigate narratives to debate purported truths, actively drawing the curtain that is the flag, so to speak, to expose the harsh realities of current events. Graphic design is a forceful tool in their commentary on the deadly Unite the Right rally of 2017 in Virginia. WORK/PLAY questions whether overt and covert allegiances to the U.S. and far-right ideologies collide, or elide. WORK/PLAY is based in St. Louis.
Artists' Statement
WORK/PLAY integrates a hybrid of production methods such as printmaking, textile works, time-based media, and the book arts to explore racial inequality, erasure, and redacted histories. Graphic design is also deeply entrenched in their practice and is used as an effective tool for visual communication. The duo relies on their own personal archive of found images, findings from research, shared familial stories, and current events to further examine the relationship between 'master' narratives and the effects they have on the collective and historical consciousness.
---
Everything is ALT Right, 2017
WORK/PLAY
Everything is ALT Right, 2017
Fabric ink, U.S. Flag, t-pins
3 feet x 5 feet
Photo credit: WORK/PLAY
Statement on Everything is ALT Right, 2017
Everything is ALT Right employs the title text which is screen-printed on an American flag utilizing a typeface that bears sharp, angular lines that closely resemble those of the Iron Cross, a symbol adopted by the Nazi party during the 1930s. The piece was created in response to the tragic event that transpired during the Unite the Right rally in Charlottesville, Virginia on August 12, 2017, when skirmishes between supporters of the white nationalist movement and counter-protestors quickly turned deadly. A self-identified white supremacist purposefully drove his car into a crowd of counter-protesters, killing one person and injuring 19 others. The police presence during the rally utilized a 'hands-off' approach when tension between the neo-Nazi members and counter-protesters finally came to a head. The passivity of law enforcement could be viewed as a tacit demonstration in support of the nationalistic movement whereas, in Ferguson, protestors were met with a heavily militarized police force. This flag seeks to examine an overt allegiance both to the United States and far-right ideologies adopted by citizens, and perhaps a concealed allegiance to the two espoused by law enforcement and other political figures.
---
Statelessness, 2017
WORK/PLAY
Statelessness, 2017
Fabric ink, ripstop, grommets, pole, wall-mount, painted finial
30 x 60
Photo credit: Silvia Beatriz Abissab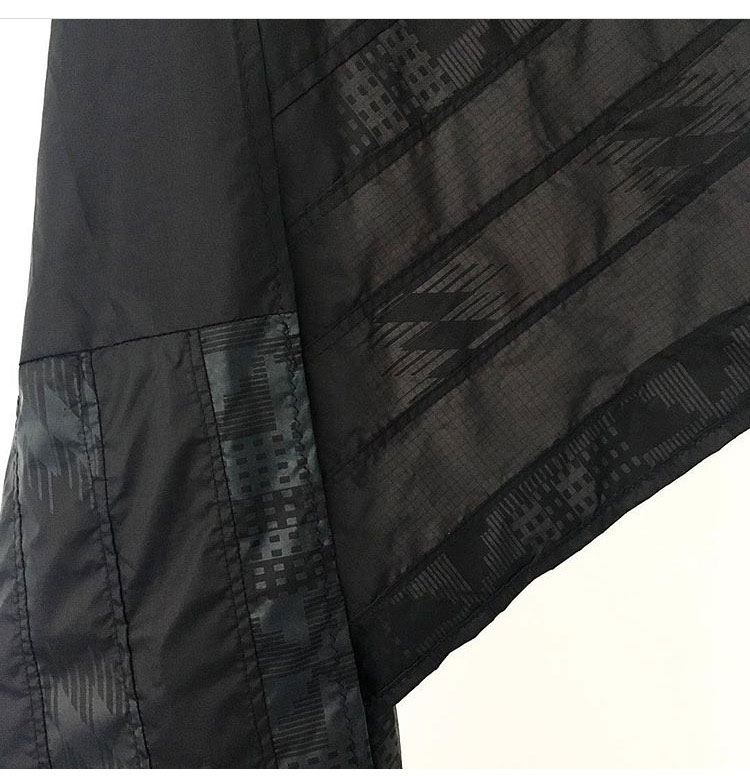 WORK/PLAY
Detail, Statelessness, 2017
Photo credit: Silvia Beatriz Abissab
Statement on Statelessness, 2017
Devoid of its traditional colors and stars, Statelessness references a time in which Black people were seen only as property, rather than citizens. The African patterns emblazoned on each alternating stripe acknowledge those forcibly taken from tribes and foreign lands only to be drafted into servitude. The Dred Scott v. Sanford case in 1857 clearly exhibited that Black people, whether enslaved or free, could not benefit from the privileges of the U.S. Constitution simply because American citizenship was not bestowed upon them. They were therefore denied access to basic rights.
---



WORK/PLAY (Danielle & Kevin McCoy)
Photo credit: WORK/PLAY

Biographical Statement

WORK/PLAY is an interdisciplinary design/art duo started by Danielle and Kevin McCoy and based in St. Louis, Missouri. Kevin received a BFA in Graphic Communication from the University of Missouri-St. Louis and recently graduated with his MFA from the Sam Fox School of Design and Visual Arts, Washington University. Danielle is a conceptual artist, writer, and educator.

The duo has exhibited locally and internationally. Recent exhibitions include America's Mythic Time, The Luminary (St. Louis, Missouri); Small Talk at Crystal Bridges Museum of American Art (Bentonville, Arkansas); SPF 1991 at projects+gallery (St. Louis); Dream Wavers at Laband Art Gallery, Loyola Marymount University (Los Angeles); Overview is a Place at SPRING/BREAK (New York); On & On at Beard and Weil Galleries, Wheaton College (Norton, Massachusetts); Change of State at The Wassaic Project (Wassaic, New York), and Color-ism at Kranzberg Arts Center (St. Louis). Recent book fairs include Printed Matter's LA Art Book Fair; Chicago Art Book Fair; Small Press Expo in St. Louis; Fully Booked Art Fair in Dubai, UAE, and Engaged Edition in New York.