WATSON UNDERGRADUATE THESIS CONFERENCE
Monday and Tuesday, May 18-19, 2020

12:00 - 4:30 pm EDT (approximate)
Graduating seniors in Development Studies, International Relations, and Public Policy present their senior thesis research findings on pressing global problems. Students are organized into six panels, followed by Q & A. Topics range from Effects of 'Community Schools', to Mexico's Humanitarian Migration Policy, to Queer Cambodians under the Khmer Rouge Regime. Interesting, important, and timely research accomplished by some of our best students! Intrigued by the process? It's never too early to see what writing a thesis entails.
All are welcome!
---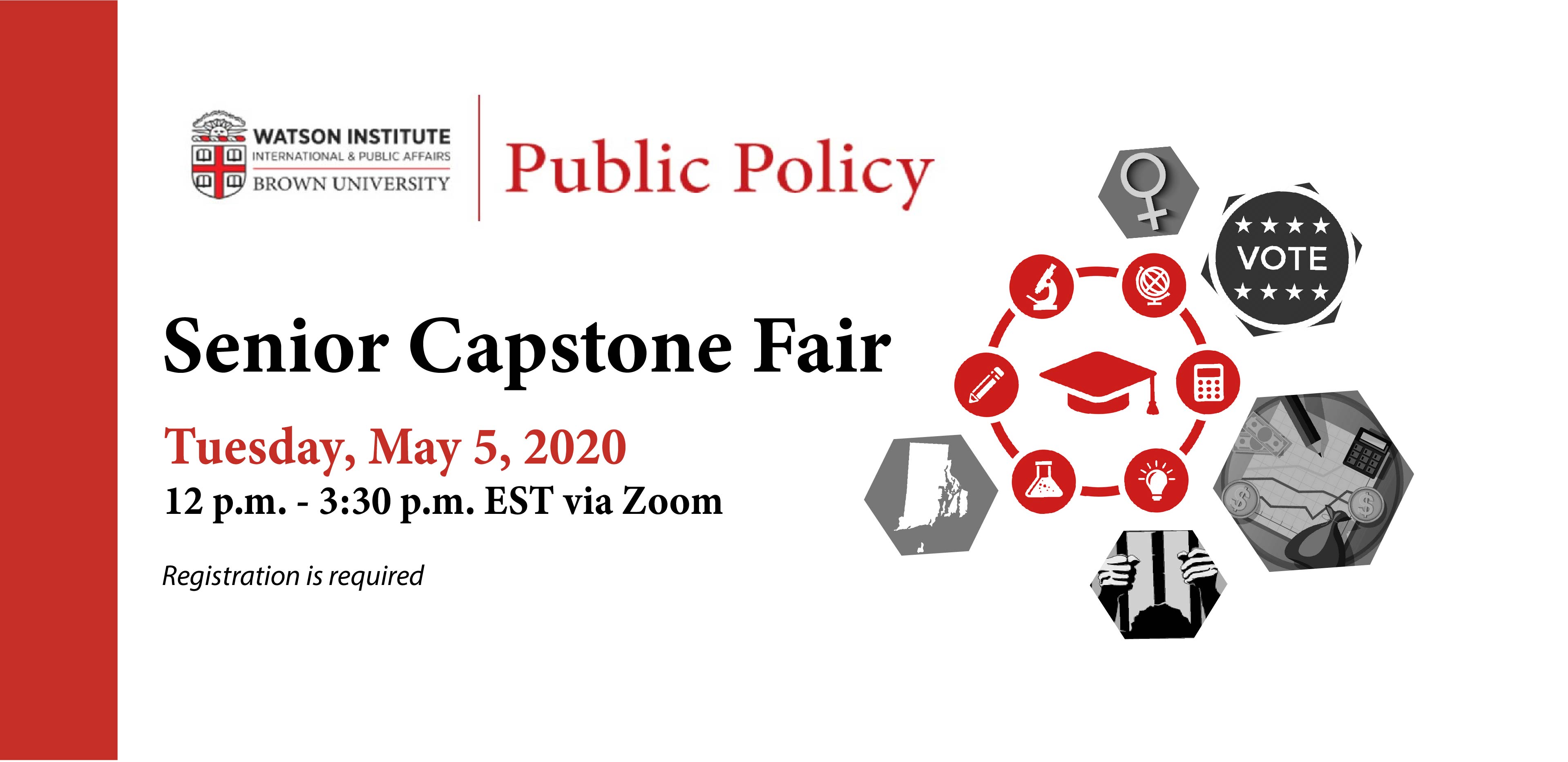 In this webinar, the following seniors shared about their capstone projects.
Andrew Castillo, Public Policy

Ellen Cola, Public Policy, Africana Studies & Economics

Noah Klein, Public Policy & Economics

Marie E. Lachance, Public Policy, Engaged Scholar

Sarah Shapiro, Public Policy, Engaged Scholar

Radhika Rangarajan, Public Policy & Applied Math and Economics

Emily Rehmet, Public Policy & Cognitive Neuroscience

Patience Adegboyega, Public Policy & Africana Studies

Alexandra Steinberg, Public Policy

Jourdan Smithwick, Public Policy, Engaged Scholar
Check out the description of each presentation.
---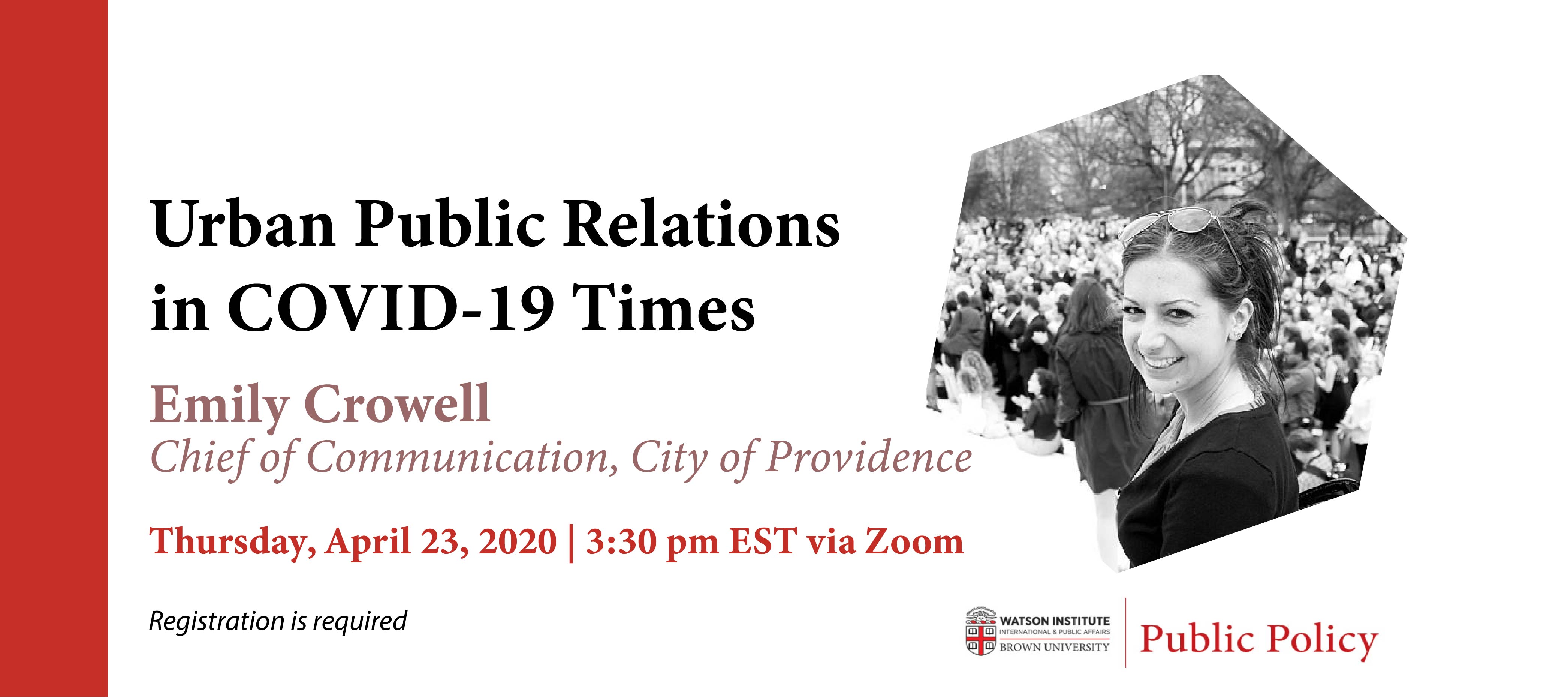 In this talk, Emily Crowell, Chief of Communications for the City of Providence discussed both how local governments need to communicate with the public during a pandemic, and the impact of the coronavirus on the organization and operations of the City of Providence.
Emily Crowell is a born and raised Rhode Islander. She attended St. Mary's Academy Bay View and went on to graduate from the University of Rhode Island with a double major in Political Science and Natural Resource Conservation and minors in Art and English. After college she worked for U.S. Senator Jack Reed as a Field Representative before leaving the federal office to work as Field and Outreach Manager for his successful 2014 campaign. As of January 2015, Emily has worked for Mayor Jorge Elorza and currently serves as his Chief of Communications and Senior Adviser. Emily also serves on the boards of the Downtown Improvement District and Styleweek NorthEast and is the Vice President of Rhode Island NOW, the local chapter of the National Organization for Women.  Specializing in strategic communications and outreach, Emily spends most of her free time reading the news and exploring ways to use new media to reach large and diverse audiences.
Here are a couple of articles that Emily recommended, one on "Speaking Bluntly" during the current crisis, and the other on how Providence is redeploying staff to keep the city running. Also, here is a TedTalk on "Starting with Why" by Simon Sinek that Emily makes all her staff watch, and which is pretty interesting.
View the recording here (must be logged in to Brown Zoom)
---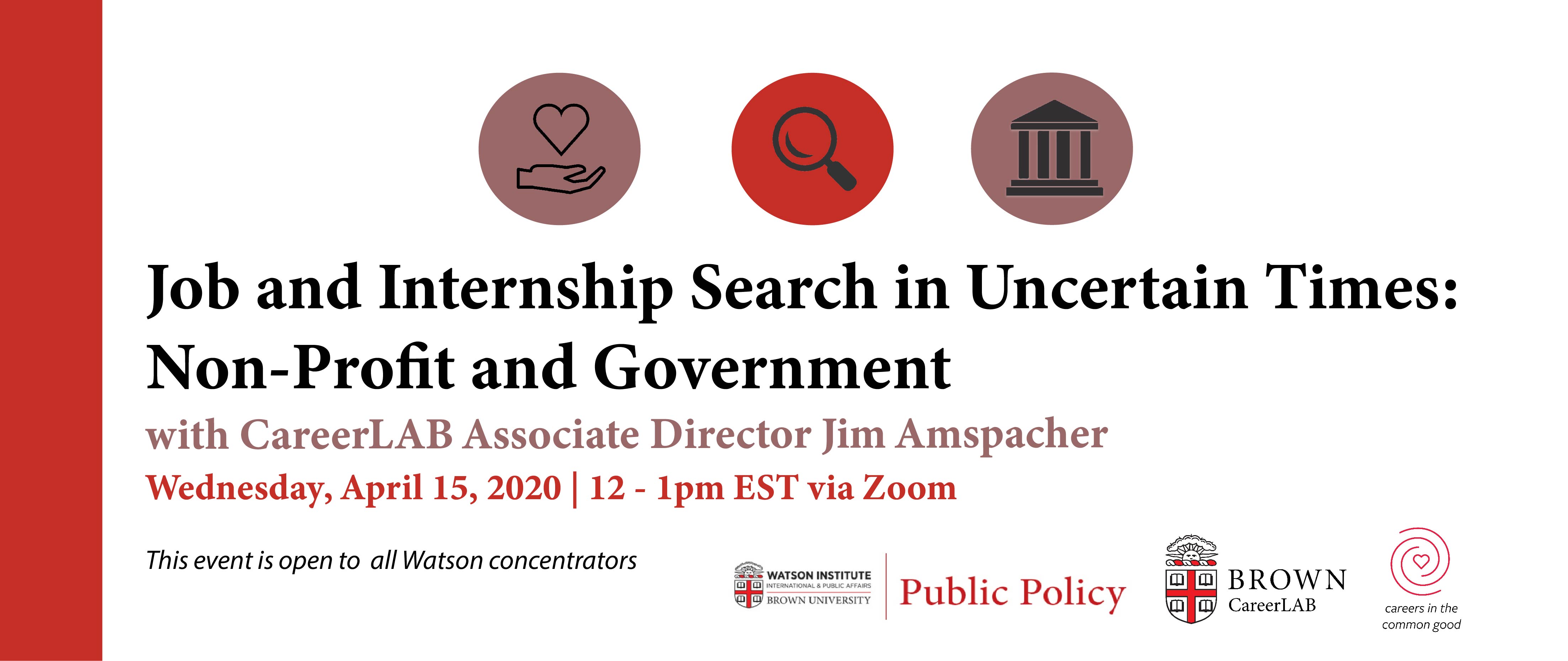 Almost 1/3 of graduating Brown seniors who seek employment after graduation, choose first jobs in non-profit or government work. But most of those employers don't recruit on college campuses. Learn more about how to build a target list of non-profit or government employers, connect with alum who work in those sectors, and how the resources of the Careers in the Common Good project can help you with your non-profit or government job or internship search.
In this workshop, CareerLAB staff will also share what they're hearing from employers as they navigate the pandemic and its effects, and offer tips and advice on how to navigate the job and internship search this Spring and talk about ways to make the most of your summer if you can't find an internship.
View the recording here (must be logged in to Brown Zoom)
---

View the recording here (must be logged in to Brown Zoom)