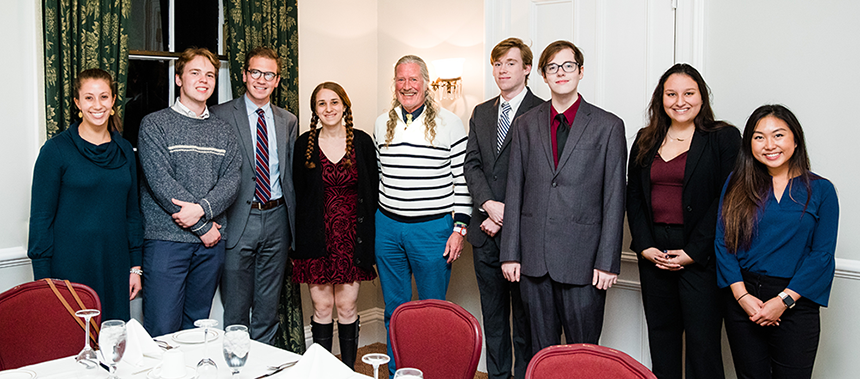 2019 John Hazen White, Sr. Interns with John Hazen White, Jr.
Internship Funding
All public policy concentrators have the opportunity to apply for internship funding through the following programs, which are funded through the Taubman Center for American Politics and Policy:
Noah Krieger '93 Internship
This award provides a $4,000 stipend for an outstanding public policy concentrator who is particularly interested in public service to pursue an eight-week unpaid summer internship. Applications for summer internships will be due in April. 
Happy and John Hazen White, Sr. Internship
Up to eight White award recipients receive $4,000 for an eight-week summer internship. Stipends are awarded based on academic performance and on the proposed integration of the internship with future academic work. Preference will be given to students who have not already received a White award. You may apply for a White internship without having secured a definite position with an organization (you may list several options on the application). Take a look at where students have interned!
Governor Frank Licht Internship
During the spring semester, two public policy concentrators will be named the Governor Frank Licht '38 interns and will work with Rhode Island legislature. The Licht interns will each receive a stipend of $2,500 through an endowment by the family of the late Governor Frank Licht '38. Applications are up in UFunds ("Governor Frank Licht '38 Internship - PLCY concentrators") and due by Monday, November 9th, 2020.
Grants
Public Policy Research & Travel Grants for Senior Theses and Capstone Projects
The Undergraduate Public Policy concentration offer research grants of up to $500 to support public policy concentrators working on senior theses and research-based capstone projects (not reflection papers). Grant recipients may receive only one research grant. Awards can be used to support travel, supplies, fees, data collection, and other research-related costs associated with writing senior theses or completing capstone projects, and meet the guidelines for University reimbursement. Awards are administered twice during the academic year. Click here for the application form. 
Applications for the first round of grants for the 2020-2021 academic year are due by Monday midnight, November 30th, 2020. Awards will be announced on Monday, December 14th, 2020. Submit via email to Anthony_Levitas@brown.edu and cc-ed to Anita_Nester@brown.edu with "PLCY Research Grant Proposal 2020" on the subject line.
Public Policy Concentrator Awards
These awards are announced at the annual end-of-year Public Policy Program celebration.
The Noah Krieger Prize for Academic Excellence
Established by his family in 1995 to honor the memory of Noah Krieger '93, the Krieger Prize recognizes a graduating senior for academic achievement in the concentration. Faculty members select a winner who is recognized at the annual awards ceremony and receives an endowed award from the Noah Krieger Memorial Prize Fund.
The Frederick Lippitt Prize for Public Service
The Frederick Lippitt Prize recognizes one member of each graduating class in honor of the late Mr. Lippitt's long career in public service. Faculty members select a student who has demonstrated outstanding public service during his or her years at Brown, and who holds the promise of pursuing a career in public service. The winner receives the Frederick Lippitt Prize at the year-end annual awards ceremony.
Public Policy Service Award
This award recognizes one or more students who have contributed outstanding service and leadership to the Public Policy Program, typically by supporting a strong and active Department Undergraduate Group (DUG).
Capstone Research Award
This award recognizes one or more students for the best capstone project based on independent research. 
Capstone Reflection Award
This award recognizes one or more students for the best capstone project based on internship or work experience.