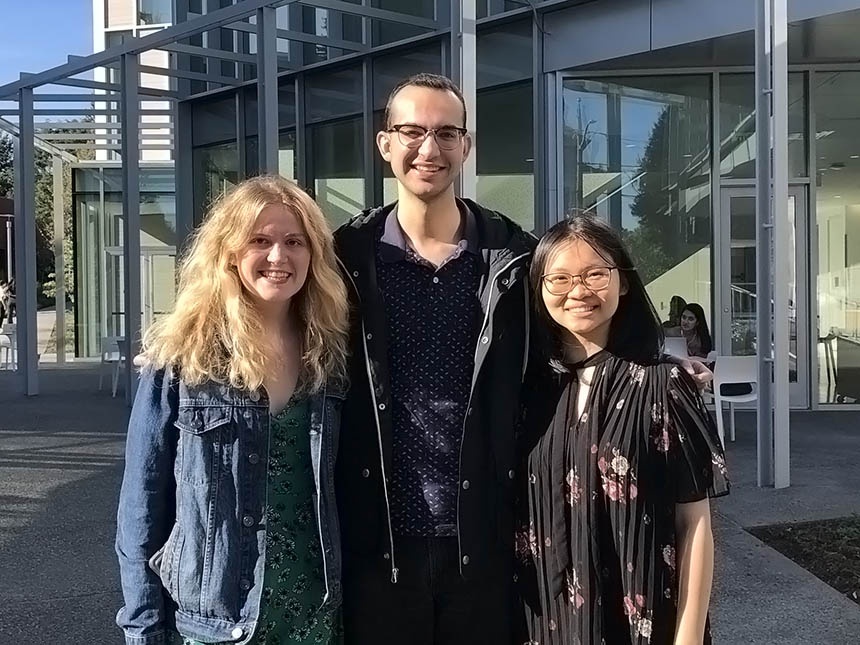 Public Policy DUG leaders. Left to right: Kamren Gilbard '20, Ben Ahmad '20, Amy Miao '20
The student-run DUG helps public policy students connect with one another, with faculty and with alumni. 
Office Hours
When: every Friday, 3 p.m. - 5 p.m.
Where: Stephen Robert Hall (New Watson), 280 Brook St.
Come by if you would like to meet Kamren, Ben, and Amy, discuss the concentration or need advice on courses or internships.
If this time does not work, please email them individually to schedule meetings.
Kamren Gilbard '20, kamren_gilbard@brown.edu
What DUGS do:
hold office hours
hold an April open house for prospective concentrators (required event)
host visiting lecturers
organize panel discussions for prospective concentrators and promote the discipline to undergraduates at concentration fairs
hold information sessions on capstone options
The DUG is expected to hold at least two events each semester and no fewer than four per academic year. Click here for additional DUG event ideas.
Funding
The DUG is eligible for annual funding of up to $1000: up to $500 from the Taubman Center will be matched by up to $500 from the Office of the Dean of the College. The student leader of the DUG must submit a letter that requests funding (specify amount), lists events and provides a budget for the academic year. The DUG's faculty advisor or department chair must also submit a written request stating the amount of departmental funds for which the DUG is requesting matching funds.
Links and Contacts
The Curricular Resource Center can assist with the planning and implementation of these events.
Visit the Dean of the College page on DUGS for more information.