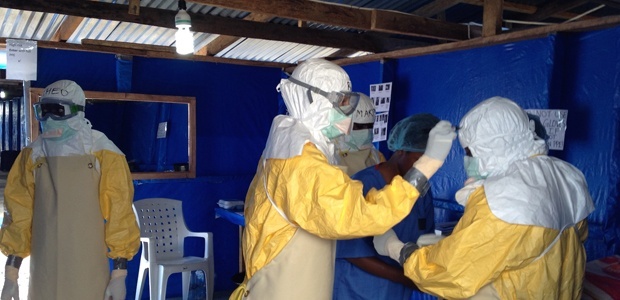 This project, funded by a consulting contract with International Medical Corps, seeks to analyze demographic, clinical, laboratory, and psychosocial data collected during the response to the recent Ebola Virus Disease epidemic in West Africa to develop new strategies for precenting, diagnosing and managing this deadly disease in sub-Saharan Africa.
The recent Ebola outbreak prompted International Medical Corps to begin the EVD Research Project, which conducts clinical and social science research related to EVD. Our research contributes to global learning for improved response capacity and management of pandemics and epidemics and informs our own future work. The EVD Research Project utilizes existing data routinely collected in International Medical Corps Ebola treatment facilities in the context of patient care, laboratory testing, and epidemiologic investigations to analyze the effectiveness of different diagnostic and treatment strategies. This analysis then contributes to evidence-based guidelines for the comprehensive management of patients with suspected and confirmed EVD.
International Medical Corps opened five ETUs, which cumulatively cared for over 2,500 patients, and dozens of Screening and Referral Units (SRUs), which have cared for thousands more. Over 25,000 patient charts containing epidemiologic, clinical, psychosocial, and operational data have been collected by International Medical Corps during the course of its Ebola response, and this data will be used to answer a variety of questions about the best methods for diagnosing EVD, predicting mortality, and optimizing clinical and psychosocial care in the context of an EVD outbreak.
RESEARCH
For a comprehensive list of related publications and research outputs visit the IMC Ebola Response Webpage