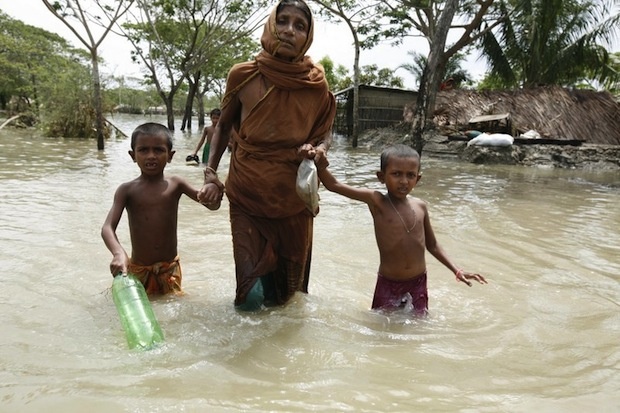 A family wades through floodwaters in Bangladesh, where salinity intrusion and increasingly severe cyclones resulting from a rising sea threaten the livelihoods of the 28 million living in the coastal belt. 
Brown's Climate and Development Lab contributes timely, accessible, and impactful content that informs more just and effective global policy making on climate change. We have a multi-regional focus on the climate policies of the Least Developed Countries (LDCs), in Latin America, and in the US.  During the three years that the Lab has been active, we have published ten policy reports on issues of equity and climate change financial flows, which have been cited widely by delegates in the UN climate change negotiations. We have garnered media attention in over 150 outlets ranging from the New York Times to the China Daily; developed Latin America's first multilingual website specializing on climate change (IntercambioClimático.com); and published fourteen academic articles and drafted two book manuscripts under contract at MIT Press. Importantly, we have engaged students in these activities, with the goal of fostering transformational learning experiences. This engagement has included leading groups of students to the annual UN Climate Change Conferences in Cancun, Durban and Warsaw.  
We have supported the LDCs negotiating group by compiling data on climate finance and climate disasters, drafting negotiating positions and public statements, and supporting basic logistical needs. This work and most of the policy briefs have been done through the London-based International Institute for Environment and Development (IIED).  We also work with the European Capacity Building Initiative, Oxford Institute for Energy Policy, Friedrich-Ebert-Stiftung, Climate and Development Knowledge Network, EU-LAC Foundation, and AdaptationWatch.  The group has organized two conferences at the Watson Institute, on Latin America and Climate Change, and one on China's impact on developing countries' positions on climate change.
---
Selected Publications
'A High-Carbon Partnership? Chinese-Latin American Relations in a Carbon-Constrained World' Brookings Institution Working Paper http://www.brookings.edu/research/papers/2014/03/carbon-partnership-china-latin-america-edwards-roberts
"The Climate and Development Lab: An Experiment in Engaged Education for Global Just Sustainability" in the Journal of Sustainability Education, May 2013
"The Politics of International Climate Adaptation Funding: Justice and Divisions in the Greenhouse" in Global Environmental Politics, February 2013
IIED Briefing, November 2012
A Climate of Injustice, by J. Timmons Roberts and Bradley Parks (MIT, 2007)