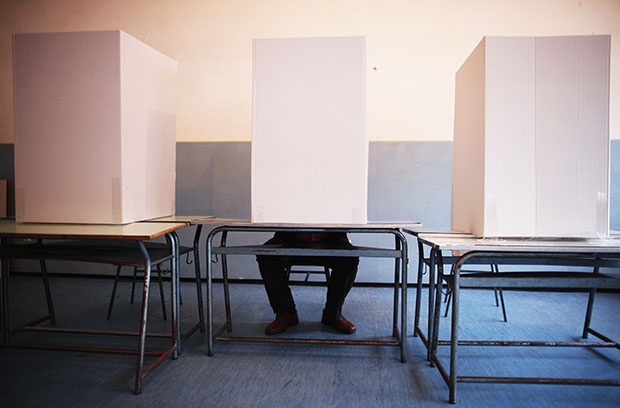 A man casts his vote at a polling booth in Potocari, near Srebrenica, October 7, 2012.
Led by Anthony Levitas and Natasha Acevska, the Fiscal Decentralization Indicators Project is helping the local government associations of Albania, Bosnia-Herzegovina, Bulgaria, Croatia, Kosovo, Moldova, Montenegro, Romania, Serbia, Slovenia, and Turkey to monitor, compare, and reform their intergovernmental finance systems. The project has trained two-person teams from each of the participating Municipal Associations to extract, aggregate, and analyze the local government revenue and expenditure data collected by their respective Ministries of Finance. Over the past two years, the research team has developed indicators that allow policy makers to compare trends in the adequacy, equity, and predictability of their national grant and transfer systems, as well as in the evolution and use of local government tax powers.
To date, the project has resulted in the publication of two major reports on Fiscal Decentralization Indicators for South-East Europe as well as a volume of policy recommendations, Discussions of the Changed Context and Trends in Fiscal Decentralization in South-East Europe. The second of the two reports has been translated into Albanian, Bulgarian, Macedonia, Serbian, and Turkish. It has also been used by the EU's Regional Cooperation Council in the drafting of its Strategy for South-East Europe 2020.
This year, the training component of the project will be expanded to include the development of indicators to measure the distributional consequences of different types of funding formulas. The 2014 edition of the report will include these new metrics while also continuing the longitudinal work that now covers seven years of data and cuts across numerous important policy areas including the development of local governments, tax policy, and education.
Documents
All the publications generated by the project, as well as other work products associated with it can be found on the website of NALAS' Knowledge Center.
---
The project is conducted with:
It is supported by: