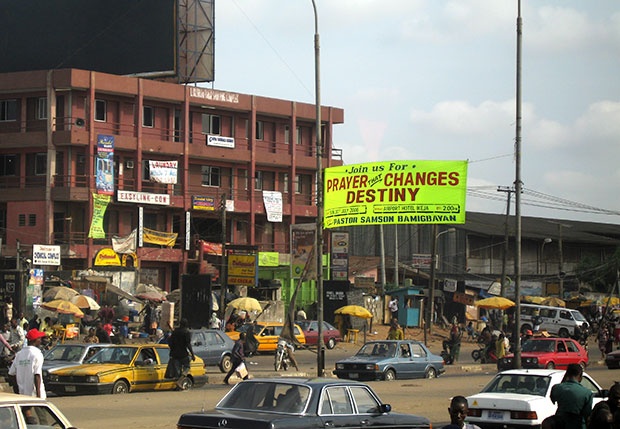 This project builds on another study, "Pentecostalism and AIDS in Nigeria," which examines the role widely popular Pentecostal churches in Nigeria play in prevention, treatment, and wider social responses to the disease. This comparative project on political culture is interested in the impact of Pentecostalism not only in its direct effects, such as the formation of political parties, the election of born-again politicians, the passage of new legislation, or the shape and work of formal state institutions, but also the way in which it has influenced political culture more broadly. An edited volume drawing on the work of an interdisciplinary group of scholars all funded under the Pentecostal and Charismatic Research Initiative is forthcoming.
Institute Faculty Fellow Daniel Smith focuses on how the messages and practices of Pentecostal Christianity in Nigeria shape collective political-cultural ideas about corruption, and by extension understandings of social inequality. Concerns about corruption have animated Pentecostal discourse, with Pentecostal preachers both voicing already existing public concerns about corruption and adding to the volume and popular resonance of these discontents. However, preachers and churches that promote the prosperity gospel can also be interpreted as legitimizing and protecting economic inequalities that, in Nigeria, are frequently the direct result of corruption. Most interesting of all, as Pentecostal pastors and churches themselves sometimes get caught up in corruption scandals, it is possible to see how Pentecostal critiques of corruption may have effects on political culture in ways that Pentecostal church leaders cannot control.
Related Publications
Daniel Jordan Smith, 2001. "'The Arrow of God': Pentecostalism, Inequality and the Supernatural in South-eastern Nigeria." Africa 71(4):587-613.
Daniel Jordan Smith. 2007. A Culture of Corruption: Everyday Deception and Popular Discontent in Nigeria. Princeton, NJ: Princeton University Press.
Daniel Jordan Smith. 2009. "The Paradoxes of Popular Participation in Corruption in Nigeria." In Corruption, Global Security, and World Order, Robert Rotberg, ed. Brookings Institution Press, pp.283-309.
Daniel Jordan Smith. 2010. "Corruption, NGOs, and Development in Nigeria." Third World Quarterly 32(2):243-258.
Daniel Jordan Smith. 2010. "Nigerian Scams as Political Critique: Globalization, Inequality and 419." In Perspectives on Africa: A Reader in Culture, History, & Representation, Richard Grinker, Stephen Lubkemann, and Christopher Steiner, eds. Blackwell Publishers, pp. 616-628.
Daniel Jordan Smith. In press. AIDS Doesn't Show Its Face: Inequality, Morality, and Social Change in Nigeria. Chicago: University of Chicago Press.