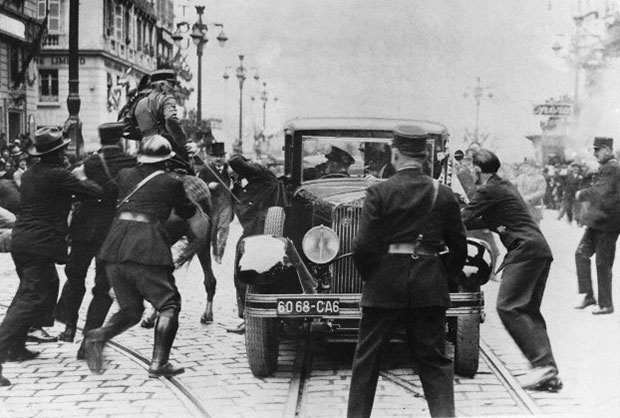 This project examines the structures of loyalty and the struggles over ideology in twentieth-century Balkan political history. In the first part of the century, the Internal Macedonian Revolutionary Organization (IMRO) earned a reputation as the ultimate terror network. Drawing on new technologies of destruction in tandem with traditionally-based methods of recruitment and organization, and operating across national frontiers, IMRO's career in the international spotlight reached its apex in 1934 when an operative working with the Croatian Ustashe movement assassinated King Alexander of Yugoslavia and Foreign Minister Barthou of France in Marseille.
The assassination, captured on newsreel and watched around the world, prompted the League of Nations to convene a working group to combat international terrorism, which issued a joint policy statement in 1937. The militant unilateralism of Germany, Italy, and Japan ensured that this policy was never enacted. Policies of divide-and-rule by individual great powers also ensured that attempts at cooperation against international terrorist groups by Bulgarian, Yugoslav, and other authorities were also stymied.
Yet, while violence was aided and abetted from the "top-down" in the international system of sovereign states, IMRO and Ustashe found their methods rejected by the ordinary people in whose names they claimed to operate. Macedonians at home and abroad, once willing to support armed means of independence struggle, increasingly turned away from terrorist methods and shifted their political activism into other, peaceful modes. In North America in particular, the Macedonian Political Organization (MPO), once a stalwart backer of IMRO, responded to its members' concerns and focused on lobbying and, together with strong local church organizations, welfare and cultural issues.
The project examines IMRO's early history, the Marseille assassinations, and the evolution of activism among Macedonian migrants in North America. In addition, the long arc of IMRO's 40-year evolution – from a Christian national liberation movement in the Ottoman Empire, to a transnational terror network seeking to change state frontiers – offers lessons of wider relevance for understanding terrorist violence and ways to combat it.
Related Publications
Principle, Pragmatism, and Political Capital: Assessing Macedonia's Leadership, 1992-2004
Loyal Unto Death: Trust and Terror in Revolutionary Macedonia (2013)
The King is Dead (2001)