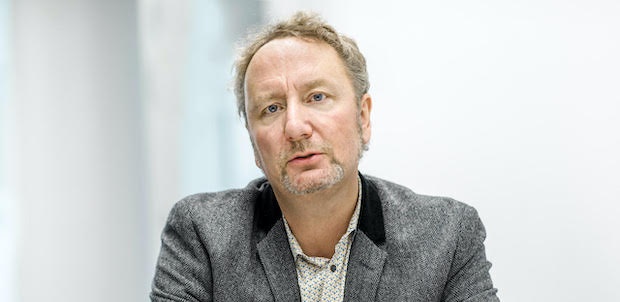 Welcome to the William R. Rhodes Center for International Economics and Finance!
From Mark Blyth, Rhodes Center Director
As Director of the Rhodes Center, I would like to welcome you back to Brown for what we all hope will be a much more normal semester and beyond. Our year with COVID, here at the Watson Institute and in the wider Brown community, taught us a great deal about how Centers at Brown can continue with their mission of producing new knowledge through innovative programing, even in highly unusual circumstances.
 We learned that if done correctly, on-line talks can be almost as good as in-person talks. And when it comes to numbers who can join such events, a digital room has no limits. We found that by using YouTube live and other technologies we were able to engage a much wider audience than usual. We aim to keep that edge going forward.
Similarly, we pivoted from one form of research workshop – the in-person one day conference - to a technologically enabled multi-day format that enriched our conversations and led to the formation of new research groups. Specifically, we ran two successful workshops in the Spring of 2021 on the 'Labor and the Franchise Economy' and another on 'Economic Warfare in the 21st Century.' The networks that we built during these iterative events will become a regular part of Rhodes activities going forwards. 
Moving into a post-COVID future, we look forward to getting back to in-person events, but we shall continue to utilize the online presence we have built. This coming fall (2021) we shall keep our speaker series virtual. Likewise, rather than jump straight back in with in-person workshops, we want to take this moment of reopening to refocus and redefine our activities for the next couple of years. 
Despite the pandemic, Rhodes has been building up its postdoctoral research capacity. This time last year we welcomed Erik Peinert, a Brown PhD in political science who works on the political determinants of competition and monopoly in the economy, and Nicolo Fracarroli, an economist and ex-Bank of England researcher, who works on how political parties interact with Central Banks. 
The fall we are excited to join with the Watson Climate Solutions Lab to co-sponsor two additional Post-Doctoral Fellows. Alice Lepissier, who works on how the international financial system facilitates environmental degradation, will join us from UCSB, and Alexander Gard-Murray, who works on the distributional politics of climate change, who will join us from Harvard. 
Part of what we want our post-docs to do is to put together research workshops that can bring voices and issues to Brown that are not our usual concerns. And in that regard, we also aim to make the Rhodes Center a key resource for faculty and students all over the university who study aspects of the international economy and finance in an interdisciplinary manner. Details of how we aim to do this are to be found under Research Workshop Grants in the research section of our website. This Fall we shall also launch programs that will encourage visiting faculty from other institutions to come to Brown, for one or two semesters, when they have research leaves from their institutions, to further enrich our research and programming. 
We are currently planning our Fall and Spring programming and will post details of these events here as soon as we have them finalized. We have an exciting line up of speakers coming soon.
Again, welcome back. I do hope to see you at these events and more as Brown gets back to what it does best this fall – generate knowledge, make connections, and build community.