---
Note to incoming students: The Watson Institute recently launched a new International and Public Affairs concentration. The new concentration embodies many of the strengths of the international relations curriculum, and we urge interested students to talk to staff and faculty about the new opportunities already being offered. The Institute will continue to offer International Relations through 2023. 
---
The International Relations (IR) concentration is an undergraduate cross-disciplinary concentration that draws on courses from a variety of departments to offer a rigorous international and comparative perspective on the contemporary global system. Its mission is to  foster creative thinking about complex global problems and to equip students with the analytic tools, language expertise, and cross-cultural understanding to guide them in that process. The concentration draws on over 25 departments and programs including political science, history, economics, anthropology, sociology, psychology, religious studies, and environmental studies, as well as area studies. 
The IR concentration emphasizes a solid grounding in the methods of analysis used in the social sciences and humanities to help students think critically about international phenomena. It fosters the exploration of the empirical and the normative domains of the subject. It also requires advanced competency in one foreign language.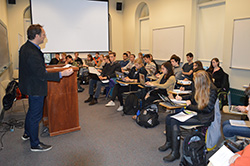 The IR concentration is organized around a "core" set of requirements and two "tracks:" "Political Economy and Society" and "Security and Society." Students choose one of these tracks on which to focus. The "core" provides students with a variety of disciplinary perspectives on contemporary global phenomena. Each of the "tracks" combines macro (systemic) and micro (society and culture) perspectives and methods into the study of international relations. Within the curriculum, students have significant flexibility to customize their IR concentration. 
The concentration requires a capstone project in the senior year that integrates research in a second language. It also offers a rigorous senior honors program where students undertake two-semester thesis research on an international topic under the guidance of two faculty advisors while participating in a dedicated honors thesis seminar. Students must apply and be admitted to the honors program.
The concentration is administered by the International Relations Program. The Program is located within the Watson Institute for International and Public Affairs—Brown's research, teaching, and policy institute that seeks to promote a just and peaceful world.
Why International Relations?
In an ever-changing globalizing world, International Relations offers a broad, interdisciplinary perspective that provides a solid grounding for many future endeavors.  However, students deciding on a concentration often want to know the difference between IR and two closely related concentrations with which there is some overlap: Political Science and Development Studies.
IR vs Political Science
Students interested in international politics may also consider the "International and Comparative" track within Political Science.  The main difference is that in the Political Science concentration, all the courses are political science courses.  In contrast, in the IR concentration courses are drawn not only from political science but also from history, economics, sociology, anthropology, and so on.  In other words, IR is interdisciplinary whereas Political Science is not. A second difference is that there is no language requirement in Political Science, whereas IR has a significant language requirement.
IR vs Development Studies
Although there is some overlap in courses, the main difference between IR and Development Studies (DS) is that IR tends to take a more macro "state-system" perspective (e.g., international law, diplomacy, international organizations, the international trade system) and the role of societal forces within that system, whereas DS tends to take a more micro-level focus on development with a particular interest in questions of poverty and inequality. DS also focuses exclusively on the Global South, whereas IR studies the entire world. For example, DS students who study abroad are required to go to a developing country, whereas IR students are not.