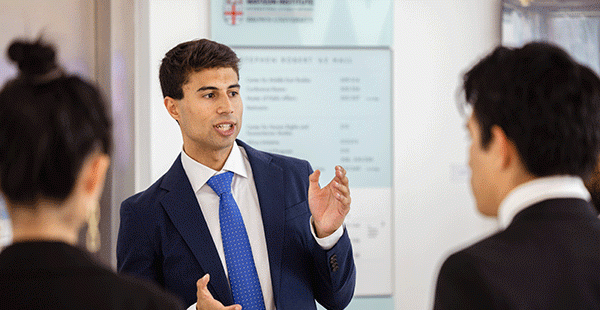 Alumni and practitioners I met at Brown advised that so-called "soft skills" are essential and underrated. I had some of these skills going into the MPA, but the exercises we completed in class sharpened and honed them, giving me the confidence to take on any project — even in a time of global crisis. —Alex Barba MPA '18
Career Development Planning
Our career director conducts a career assessment and development path tailored to each student, including:
Coaching on exploring options within the public policy arena
Developing a career vision--from developing an elevator pitch to transitioning into a new career
Mastering career development skills including goal setting, resume and cover letter writing, interviewing, and negotating offers
Career Advancement and Employer Connections
The Brown MPA Program offers assistance in researching career options and connecting students to potential career opportunities. Resources available to MPA students include:
A database of prospective internships, fellowships and employment opportunities in the nonprofit, private, and public sectors
On-campus networking and recruitment programs led by employers, alumni, faculty, and public affairs practitioners
Access to Brown's ongoing development of relationships with prospective employers and vast alumni network
Our students emerge from the program with the skills and knowledge to solve real-world policy challenges as policy analysts, researchers, and communications professionals in organizations involved in making, analyzing, or implementing public policy — from government and nonprofit organizations to consulting and private sector companies.
The Policy-in-Action Project
The Policy-In-Action Project is a consulting-type opportunity for MPA students to enhance their career development by applying their academic and professional experiences to examine and analyze a real-world, policy-related challenge or problem for a nonprofit, public, or private sector partner organization Learn more about the Policy-In-Action Project.