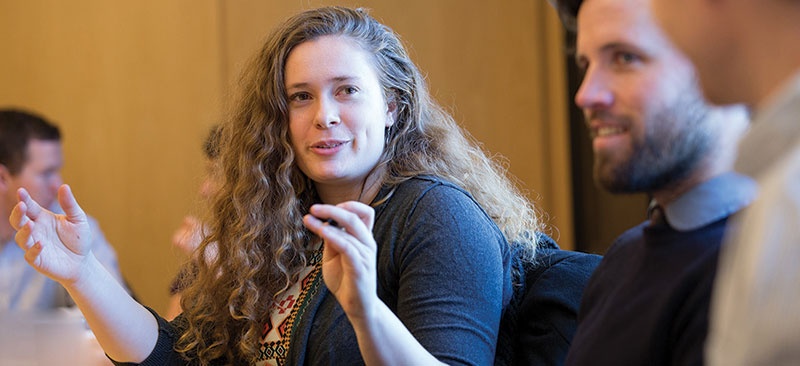 Mintaka Angell MPA '16 
Data-Driven Policy Track
This track prepares MPA students to do data analytic work in government, nonprofit, and for-profit organizations. Students are introduced to a variety of programming languages used to manipulate and analyze data including Stata, SQL, and Python, and gain the tools to turn large data sets and behavioral science into improved policy. Students also acquire hands-on, practical experience with data cleaning, analysis, visualization, and designing and implementing policy evaluations through the three required electives. Students may apply to the Data-Driven Policy Track in mid-July, at the conclusion of Summer Sequence 1. 
Requirements for the track
Fall semester
Introduction to Data Science and Programming (MPA 2065) Introduces students to the process of gathering, manipulating, and analyzing data in programs such as Python and SQL.

How Do You Conduct Research that Changes Public Policy? (MPA 2605) A hands-on exploration of how evidence is used — and not used — in the real-world trenches of day-to-day government. Learn how to conduct and use research in ways most likely to have a meaningful impact on public affairs.
Spring semester
Policy-In-Action Consultancy (MPA 2800) Students pursue a data-driven consultancy project at The Policy Lab at Brown or at another approved location.
Introduction to Statistical Machine Learning (MPA 2066) This course is a highly applied introduction to statistical machine learning. In particular, the key aim of this course is to give students the knowledge and tools to incorporate statistical machine learning methods to answer policy-related research questions.
Find full course descriptions on Courses @ Brown
---

Design Your Own Specialization
In the spirit of Brown's Open Curriculum, students may work with a faculty advisor to design their own specialization. Students choose electives to pursue deeper knowledge and gain proficiency in the methods, skills, and substance of particular policy areas. MPA graduates have focused on areas as diverse as cybersecurity, health policy, environmental advocacy, national intelligence, and early-childhood education.
Electives
In addition to courses offered at the Watson Institute, MPA students can take advantage of the breadth of teaching that happens across Brown. They can choose from a wide range of courses throughout the University. Students will most often take classes in departments such as: Political Science, Urban Studies, Sociology, Economics, Education, Environmental Studies, Public Health, and International Relations. Find all Brown courses on the Courses@Brown website. Students may also choose MPA-designated electives. MPA electives have included:
Tools / Critical thinking 
GIS and Public Policy (MPA 2710)
How Do You Conduct Research That Changes Public Policy? (MPA 2605)
Introduction to Data Science and Programming (MPA 2065)
Introduction to Statistical Machine Learning (MPA 2066)
Leadership and Social Change (MPA 2603)
Public Budgeting and Management (MPA 2020)
Social policy / Policy domains
Disaster, Displacement and Response: A Practitioner, People-Focused Lens on Urban Policy & Practice (MPA 2772)
Envisioning and Building Prosperous, Inclusive Communities (MPA 2061)
Introduction to Health Policy (MPA 2222)
The Corporation and Public Policy (MPA 2604)
Politics and policy / Global policy
Public Policy and Politics in Partisan Times (MPA 2606)
Skills for Future Diplomats (MPA 2230)
U.S. Foreign Policy: The Institutional Basis (MPA 2775)
Women and Nations (MPA 2735)
Please note that elective course offerings are subject to change.