During the year-long capstone, second-year public policy master's students focus on a consulting project with a client. After meeting with their client to delineate the scope of their research, each student team interviews key stakeholders, does field research, and analyzes related data and case studies. In May 2015, the five teams presented their research and recommendations to peers, faculty, and clients ranging from local government agencies and nonprofits to international and multinational non-governmental organizations. The American Waterworks Association team (pictured below) received a Taubman Center Director's Award for this year's best capstone.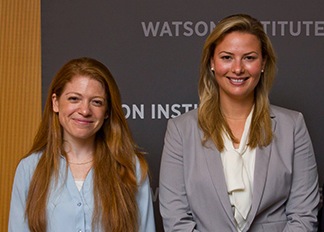 "Tapping the Energy Potential of Water Utilities: A Scoping Study on Efficiency Measures and Verification Methods"
Client: American Water Works Association (AWWA)
Team: Sarah Roberto, Meredith Stone
AWWA is a scientific and educational association whose focus is improving water quality and supply. This project focused on understanding the implications of a proposed EPA rule known as the Clean Power Plan on the water suppliers. The team examined the methodologies for evaluating, measuring, and verifying energy efficiency improvements under the context of this rule, and analyzed their applicability to common energy efficiency measures undertaken by the water sector. The team produced detailed analysis for which methodologies are suitable for water sector use by five common water utility energy efficiency measures.
---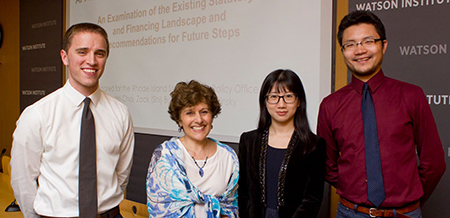 "Affordable Housing in Rhode Island: An Examination of the Existing Statutory and Financing Landscape and Recommendations for Future Steps"
Client: Rhode Island Senate Policy Office
Team: Jonathan Wolinsky, Kangni Chai, Shi Bu
(with Marie Ganim, Director of Policy, Office of the President of the Senate)
This team examined existing Rhode Island laws and financing methods for affordable housing and found that currently there is little incentive for developers to create affordable housing and further, there is insufficient funding to do so. Currently 13,000 additional units would need to be created to meet the state's goals (about 1,500 units were added between 2006 and 2013). The team provided a number of recommendations to close the funding gap. Most importantly, they suggested that the state look at creating affordable housing--not only for the poor but also those climbing into the middle class--as a key component in the state's overall economic and workforce development plan.
---
"Rebuilding Pawtucket's Foundation"
Client: The Pawtucket Foundation
Team: Geyang Chai, Kyle Lynch, Lan Pei, Siqi Yao

The Pawtucket Foundation, a nonprofit that advocates for the rejuvenation of downtown Pawtucket, asked this team to analyze the vacancy and underutilization of properties in the city's business district. The team collected the first meaningful set of baseline data on vacancy rates, which not only framed past developments, but will also lend legitimacy to future efforts. This data and the methodology that the team established will be used Pawtucket Foundation and the City of Pawtucket to track the city's revitalization progress into the future. The team provided a GIS user's manual to aid the client in continuing data collection and analysis.
---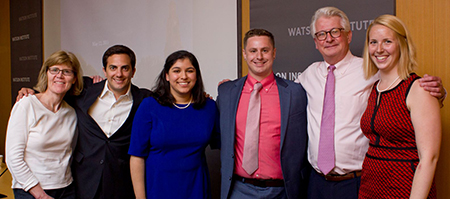 "Gateway to the Andes: Improving Quito's Competitiveness Through Tax Preference Zone Development"
Client: EPMSA (The Public Metropolitan Company of Airport Services)
Team: Santiago Alban, Kanika Khanna, Alison Canavan, Evan Lehrer
(with Professors Terri Devine and Bill Allen)
EPMSA is a municipality-owned company which oversees the operations of the International Airport of Quito. The team set out to identify options for the development of free trade zone land adjacent to the airport, based on the provision of Ecuadorean law. The team provided a competitiveness report including twelve indicators ranging from economic data to public safety and a policy recommendations report on the use of the land.
---

"Broad Street Economic Revitalization Plan"
Client: OIC of Rhode Island
Team: Zhe Huang, Ran Huo, Chao Wang, Xiaofan Wei (not pictured)
Opportunities Industrialization Center (OIC) of Rhode Island is a comprehensive training and community development center that serves Rhode Island. This team Initiated a development plan for the economic revitalization of Broad Street to build a viable investment environment, which will help create job opportunities, reduce the unemployment rate and enrich business types around the area. The team created a robust database including economic activities and demographics to identify the social challenges and potential opportunities faced by the area. Their final report defined a series of five recommendations to facilitate political and private sector allies, including re-forming the dormant Broad Street Business Association to secure city and foundation grants as the first step in the development plan.
---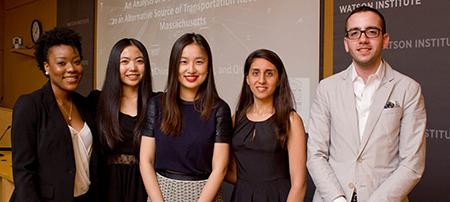 "An Analysis of a Vehicle Miles Traveled Fee as an Alternative Source of Transportation Revenue in Massachusetts"
Client: Kanaan Consulting US (KCUS)
Team: Chiamaka Uzor, Jia Shi, Qing Tian, Leila Chammas (with KCUS client Firas Said, right)
KCUS is a Boston-based consulting firm that focuses on transportation policy. This team conducted a literature review of vehicle miles traveled (VMT) fee as an alternative source of revenue to the gas tax, which provides inadequate funding for maintaining the state's transportation infrastructure. We utilized public data and data collected by KCUS to calculate a VMT fee that may be applicable to the state of Massachusetts.