IN MEMORIAM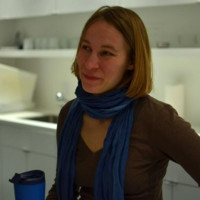 Fiona Heckscher was an outdoorswoman and a scholar. She was also a dream student for a professor. In a seminar setting, Fiona was as anxious to ask questions as she was to answer them. She took others seriously and she made positive contributions to discussions. As a thesis advisee, she was a constant pleasure. She followed up on leads, she thought for herself, she did what she said she'd do, and she never cut corners. She was among the most serious and accomplished students I've known in more than thirty years of teaching.
Fiona loved researching and writing her honors thesis about the IRB process (Heckscher, Managing Risk or Creating Knowledge: The effects of the Institutional Review Board (IRB) process on social science researchers; Brown University, 2009). It was a privilege for me to be her primary advisor. Most thesis writers reach some moment of serious crisis or setback. Not Fiona. My strongest memory of that year is the boundless good cheer that Fiona maintained about her topic and her inquiry. Meeting after meeting Fiona exuded the enthusiasm that many students express only at the beginning of the process. Her project faced some significant hurdles, but she approached them with a combination of optimism and determination. It was a pleasure to meet with her and watch her study unfold.

Fiona's thesis became a minor legend at Brown, particularly among Public Policy students. In true Brown tradition, Fiona asked critical questions about the IRB that stemmed from her natural inquisitiveness and from her willingness to question existing power structures. She took on the IRB and managed to convince them that the IRB at the University of Rhode Island had to approve the project because the Brown IRB had a conflict of interest. (The IRB was reticent to admit this.) Her thesis attracted attention from a host of academics who have their own concerns about the IRB process. Fiona communicated with professors of law and sociology with competence and assurance. Fiona knew her strengths and she handled herself with maturity and grace.

Outside the classroom, Fiona was giving, caring, and professional, as her nights working as an EMT showed. She was just as generous to the host of students I put in touch with her since she graduated. Some were interested in research ethics, others in thesis writing, and yet others in law school. She always responded with enthusiasm, giving generously of herself.

I had dinner with Fiona when I was in DC a few years ago. She was so thrilled to be hired in a government law position that was based on skill, not partisanship. These recent years were a challenge, of course, but she maintained hope and good cheer. The last time we communicated, she was encouraging me to do a 100-mile ride and she was promising to come along. Now I want to do it in her honor.

My overriding recollection of Fiona is of someone filled with life and energy, with an inquiring mind and scary smart intellect that you might not fully appreciate because she was, more than anything, always kind to others and never full of herself. She was a joy.
Written by Ross Cheit
Professor of Political Science & International and Public Affairs