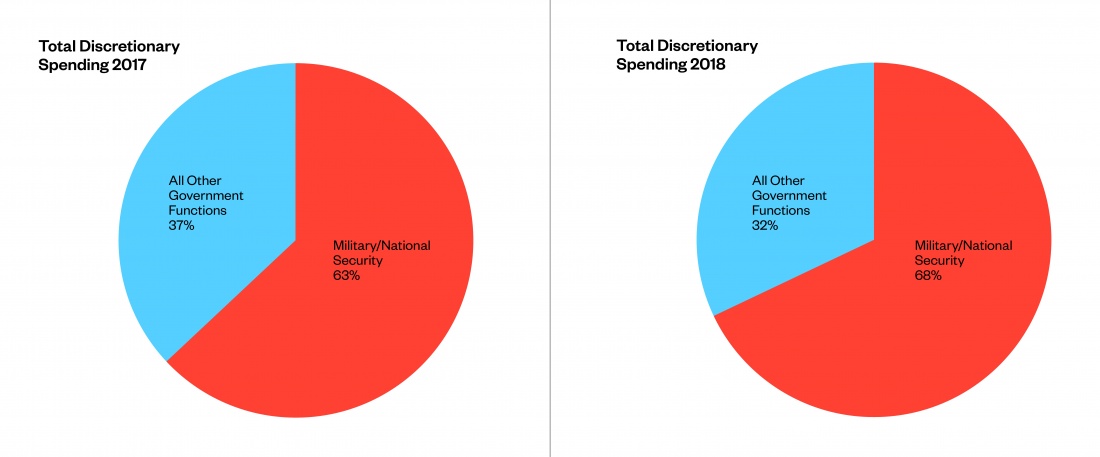 What are the consequences of Trump's proposal?
 Our research at the Costs of War Project provides many insights into the larger context and consequences of this increase.
We have to look beyond the Department of Defense "Overseas Contingency Operation," or "war budget," to understand the true costs of the US war against the Islamic State in Iraq and Syria, and the ongoing war in Afghanistan, Yemen, and elsewhere. Trump's budget also increases spending for other military-related issues, including nuclear weapons, veterans, and homeland security.

We have to look at the influence of military corporations on security policy. Trump's proposals closely match those of the Heritage Foundation, which takes significant donations from the defense industry. Moreover, many former employees of these companies have important positions in the Trump administration.


We should look beyond the common claim that this military spending, whatever other problems it might have, at least creates jobs. Economist Heidi Garrett-Peltier has shown that government funds spent in other sectors, such as education, healthcare, or green energy, create far more jobs per dollar spent. Moreover, cuts to domestic spending in such sectors will substantially reduce employment opportunities.  


We must look at the long term consequence of the choice for war. Economist Linda Bilmes estimates that the US will spend over $1 trillion on veterans' health care and disability by the 2050s, based on current obligations from the war on terror to date.
Will Trump's larger military budget translate into improved national security for the United States or collective security more generally?
Past experience has shown us that it is extremely difficult for force to accomplish what it promises to do. As a result of US military interventions in Iraq, Afghanistan, and Pakistan in the past fifteen years, Iraq has been destabilized, sectarianism has been fomented across the region, the Islamic State has an opening among disaffected Sunnis, and over a million people have died. Political scientist Matthew Evangelista has shown that previous terror threats around the world have been addressed much more effectively with policing and responses to the grievances that underlay the violence. President Trump's proposal includes spending billions of dollars on equipment, such as Navy vessels, which is irrelevant to the terror threat.
Click here for an overview of the Costs of War Project's findings.