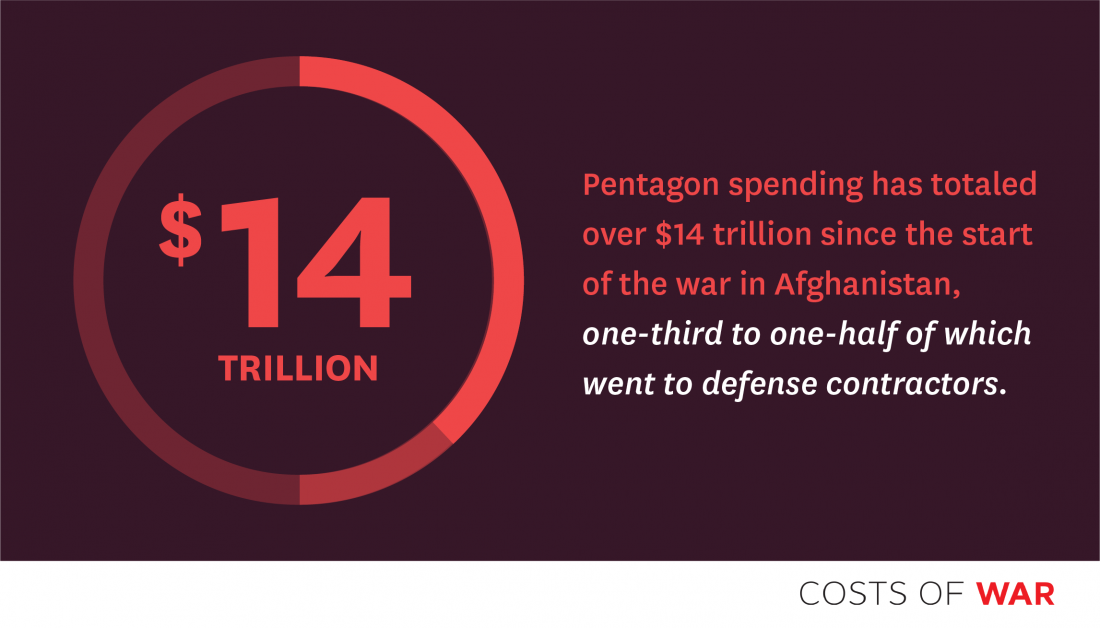 Pentagon spending has totaled over $14 trillion since the start of the war in Afghanistan, with one-third to one-half of the total going to military contractors.
A large portion of these contracts -- one-quarter to one-third of all Pentagon contracts in recent years -- have gone to just five major corporations: Lockheed Martin, Boeing, General Dynamics, Raytheon, and Northrop Grumman. The $75 billion in Pentagon contracts received by Lockheed Martin in fiscal year 2020 is well over one and one-half times the entire budget for the State Department and Agency for International Development for that year, which totaled $44 billion.
Weapons makers have spent $2.5 billion on lobbying over the past two decades, employing, on average, over 700 lobbyists per year over the past five years. That is more than one for every member of Congress.
Numerous companies took advantage of wartime conditions—which require speed of delivery and often involve less rigorous oversight—to overcharge the government or engage in outright fraud. In 2011, the Commission on Wartime Contracting in Iraq and Afghanistan estimated that waste, fraud and abuse had totaled between $31 billion and $60 billion.
As the U.S. reduces the size of its military footprint in Iraq and Afghanistan, exaggerated estimates of the military challenges posed by China have become the new rationale of choice in arguments for keeping the Pentagon budget at historically high levels. Military contractors will continue to profit from this inflated spending.