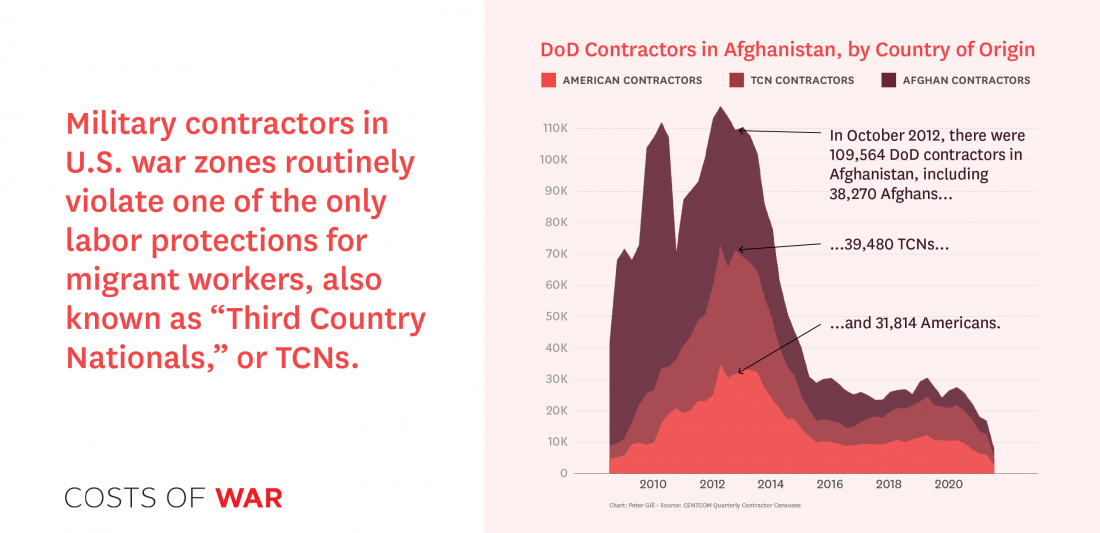 This paper examines labor abuses during the war in Afghanistan, focusing on how the U.S. is denying legally-required compensation to foreign workers in war zones. The U.S. government leaned heavily on contractors to do its essential work during the war in Afghanistan. In 2020, approximately 65% of wartime contractors were citizens of Afghanistan or a third-party country, such as Nepal. This paper focuses on how the U.S. military and Department of Labor have done little to enforce the U.S. Defense Base Act (DBA), which calls for the provision of compensation to all workers, regardless of their nationality, injured under U.S. contracts, and for the provision of financial compensation to their kin in case of death.
Through FOIA requests and interviews with over 200 third-country nationals, many of them Nepali, the authors found that:
Over twelve years between 2009 and 2021, the Department of Labor fined contracting companies performing work in Afghanistan only six times for failing to report Defense Base Act claims for their employees. The total amount of these fines amounted to just $3,250.
The Army Contracting Command-Afghanistan was able to show that it terminated just four contracts in Afghanistan due to contractor failure to purchase DBA insurance between 2009 and 2020.
Of the Nepali contractors the authors interviewed, they found 12 cases of contractors who were injured or killed while working under U.S. government subcontracts in Afghanistan, which were not properly compensated. In two additional cases, they interviewed Nepalis who received DBA compensation for injuries in Iraq only after filing legal challenges with the help of American lawyers.
SIGAR has estimated that the U.S. Army Corps of Engineers alone paid companies $58.5 million between 2005-2011 that was supposed to go towards insurance premiums for their workers, but which was instead pocketed. Even though the U.S. has withdrawn from Afghanistan, U.S. Central Command reports that it still relies on more than 21,000 contractors in its area of responsibility — more than 9,000 of whom are third-country nationals.
This report notes there is reason to believe the exploitative practices that lead to these violations may become even more egregious in the future, since they will be difficult to monitor in conflict zones where wars are smaller and there is less international media attention.